DEALING A FULL HOUSE
World Poker Tour Continues to Grow as it Looks to the Future with Some Recent Changes
By Sean Chaffin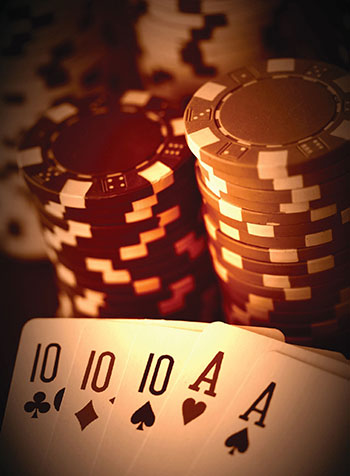 It was a busy September for the World Poker Tour. The tour that helped spawn the poker boom when it debuted on the Travel Channel in 2002, hosted tournaments in Atlantic City, Maryland, Houston, Korea, Portugal, Japan, Morocco, and Vietnam.
In 2017, the tour celebrated giving away a total of $1 billion since its debut 16 years ago and continues to grow its brand. This year has brought plenty of changes and additions along with big plans for the future as a small poker boom continues.
For the tour, there is an emphasis on global events and building its entertainment brand. That was certainly evident in 2018 as the tour awarded millions of dollars at events around the globe.
A Brand is Born
Long a popular American pastime, poker was taken to a new audience when the WPT television show debuted on the Travel Channel in 2003. For the first time, many Americans were introduced to the game of Texas Hold'em, and for the first time could actually see players' hole cards and how they played certain hands – from betting to folding to making a big bluff. It was fascinating television.
The WPT was the brainchild of attorney/television producer Steven Lipscomb and poker player and entrepreneur Lyle Berman. Longtime poker pro Mike Sexton and actor and former professional tennis player Vince Van Patten would commentate on the tour's inaugural 13 events just as John Madden and Pat Summerall might call a football game.
In his autobiography I'm All In, Berman writes about how the WPT would be a bit different than other sports leagues.
"We wanted to take poker to the next level, to make it a spectator sport like the PGA, NBA, or NFL," Berman writes. 'We believed that tournament poker would draw a spectator base, just like the established sports leagues, but with a distinct difference: amateur players could compete against professionals."
Unlike in pro baseball or football, players could buy in and battle it out with players who would become major poker names like Daniel Negreanu, Doyle Brunson, Gus Hansen, and others.
It was an instant hit with players and viewers alike. As the show's audience grew and regular Americans began playing in casinos and online, WPT fields ballooned. Chris Moneymaker's unlikely win in the 2003 World Series of Main Event, in which he qualified online for only $86 and went on to win $2.5 million, propelled the game even more. Poker was now more than just a pastime – it was cool.
Growing the Game
Today, the tour continues to attract large turnouts with final tables aired on Fox Sports regional networks. The weekly WPT television show airs in 150 countries from around the world.
The tour's success hasn't always been easy. The poker boom waned a bit in the late-2000s and translating a popular tour and television show into a profitable business wasn't always easy. The company tried to branch out with the Professional Poker Tour, but that was short-lived.
Purchased by PartyGaming (owner of the online gaming site partypoker.com) in 2009 for $12.3 million, the tour was then acquired in 2015 by OurGame International for $35 million. OurGame is based in China and is a leading online card and board game developer and operator throughout Asia.
That acquisition has helped the company increase its licensing ventures throughout the world. Tour officials believe the WPT is hitting its stride as it moves into its 18th season of international events.
Along with its Main Tour, which features buy-ins from $3,500 to more than $10,000, WPTDeepStacks serves as another opportunity for players to get in on the action. That tour features smaller buy-ins (usually in the $1,000 range) with events held all over the world. That includes newer markets like India, Korea, and Vietnam.
In September, the WPTDeepStacks even staged an event in Houston, Texas, partnering with one of several poker clubs that have sprouted up in the state. There is also the WPT500, which feature a lower-tier buy-in of around $500.
At a WPT media summit over the summer in Las Vegas, tour officials outlined some plans for the company's future. In a partnership with MGM, all future Main Tour final tables will now be played at the Esports Arena at the Luxor in Las Vegas. The arena offers a venue not only for video gaming, but the facility will also be used for poker.
The tour expects those plans to be in place in 2019, with each final table players being flown out to Vegas and playing down to a winner. The change allows a unique atmosphere with high-tech production facilities, a bar and restaurant, and much more. WPT officials see it as a way to elevate the tour and games with final tables now attached to an "iconic location." Players are expected to play the final table in Vegas within three to six weeks, and plans are to record nine final tables for television.
"The move aims not to just take WPT to new heights, but to also elevate the game of poker as a whole," says Angelica Hael, vice president of global tour management. "So, we firmly believe that by having our televised final tables in this brand new $30 million facility, that is going to offer a world of possibilities and opportunities for the World Poker Tour."
Branching Out
In recent years, tour officials have put an emphasis to turning the WPT into more than just a poker tour, but an entertainment brand. An emphasis has been made on finding quality partners who can benefit from aligning themselves with the tour.
A few recent partner sponsors have included Dr. Pepper's RockStar energy drink, Hublot watches, Fiat, and Monster headphones. The tour tries to find sponsors that fit well with its players and the company's goals.
"We don't have a partner that isn't integrated with the [WPT poker] community," President and CEO Adam Pliska says. "The sponsorship program that has developed has been, 'What can they do for the community? What can we do better for them?' We can give so much more value to those sponsors without taking away from the game. We are light years ahead of where we were."
Beyond live poker tournaments, the company has also run its sweepstakes online site since 2008. At CIubWPT.com, players pay a monthly fee of $19.95 and the site awards $100,000 in cash and prizes each month including jewelry, sports equipment, and electronics. WPT bills the site as a "real poker" alternative that is legal for U.S. players, who also have an opportunity to earn seats into WPT events.
The tour also runs a social gaming app, PIayWPT, allowing players to play cash games, tournaments, and sit and go's to get the final table experience. The tour also recently announced a partnership with social game developer Zynga, which will include adding tour-branded elements to the popular Zynga Poker.
The game is the most popular free social poker game in the world. Beyond that, Zynga already has a multi-year partnership with the tour and has sponsored previous WPT events.
"Featuring state-of-the art integrations and enhanced gameplay, millions of Zynga Poker players around the world can now experience the true feeling of competing on the global World Poker Tour stage," Pliska said after the announcement.
The company also operate a poker training site, LearnWPT.com, which features videos and strategy advice from the pros. The tour even offers poker vacations aboard WPTthemed cruises and a travel site to assist players with upcoming events. As it attempts to grow the game, the WPT is also making a major push to encourage more women to play and held its first Women in Poker summit in August.
The tour also has a significant social media with tour events and videos shared on YouTube and other platforms.
And while the WPT may be looking to become more than just a league for playing cards, poker is still the name of the game and the WPT has made even more inroads in recent months to offer in more tournaments on a global scale. In a new four-year deal with partypoker LIVE, the live events arm of the online poker operator, the two companies will now partner on producing up to seven events across Canada and Europe, each with a prize pool guarantee up to €3 million.
The deal expands the tour's global reach, but also for the first time will incorporate tournaments from its three major brands – the Main Tour, WPTDeepStacks, and WPT500. Partypoker players around the world will be able to qualify for the events in online satellites. The tour has already held an event in Montreal and announced three other upcoming stops: Sochi, Russia; Barcelona, Spain; and Nottingham, U.K.
As the WPT looks to the future, tour officials are pleased where the brand is headed, but hoping for even more for players and fans. So many years later and with so many changes in the game, company leaders believe it's still on the right path appealing to both hardcore poker fans and Average Joe viewers and players alike.
"We're getting unbelievable ratings even after all these years," Pliska says. "It's 16 years of television -that's incredible."
Sean Chaffin is a freelance writer in Crandall, Texas. His work appears in numerous websites and publications. Follow him on Twitter @PokerTraditions. He is also the host of the True Gambling Stories podcast, available on iTunes, Google Play, Tuneln Radio, Spotify, Stitcher, PokerNews.com, HoldemRadio.com, and other platforms.