Crown Champ
New Champion Crowned in World Series of Poker Main Event
By Sean Chaffin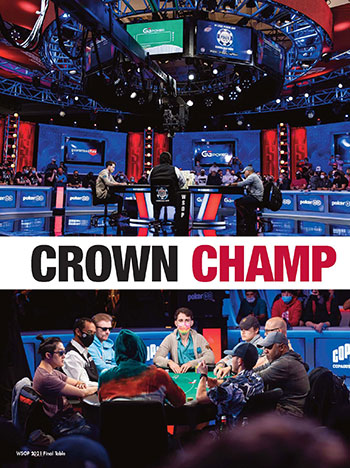 After battling for nine days, Germany's Koray Aldemir rose to the top in the World Series of Poker $10,000 Main Event in November. The 31-year-old poker pro scored $8 million and the championship gold bracelet for the victory.
"It's just the dream of every poker player, honestly," Aldemir told PokerGO after his win. "I don't know what to say. George [Holmes] was so tough, so I'm really happy that I could beat him.
"It was an incredibly stressful week for all of us, I think. I'm sure I had lots of mistakes, but I just tried to stay calm and play as good as possible."
The tournament brought in 6,650 entries for a $62 million prize pool and offered players the first live series since 2019. Argentina's Damian Salas won the 2020 event, with much of the action playing out online.
Aldemir entered the final table with a massive chip lead and that continued when play reached the final three, when he battled the United Kingdom's Jack Oliver and George Holmes, of Atlanta, Georgia, and formerly of New Jersey. Oliver sat second in chips and Holmes in third; however, Aldemir began with more chips than both of his opponents combined. Aldemir pressed the action early, making use of his big stack, but both shorter stacks seemed ready to battle. Oliver and Holmes still had fairly deep stacks and proved to be quite the challenge. Holmes moved up to second in chips after winning a few early hands from Oliver.
After about two hours, Holmes sent Oliver to the rail. The Englishman moved all in on a short stack from the small blind with Ace-Eight with Holmes eventually calling from the big blind with Queen- Jack. A Jack on the turn card gave Holmes the pot, with Oliver exiting the tournament with $3 million for third place.
When heads-up play kicked off, Aldemir held 262 million chips, with Holmes at 137.4 million. Aldemir had more than $13 million in live tournament winnings coming into the event. Holmes is a recreational poker player and his only career tournament cash came in the 2019 Main Event for $50,855. Both players had lively rails cheering them on throughout the tournament. Holmes' wife was also in attendance and had never seen him play poker before following his final table action on PokerGO.
Despite his inexperience in major tournaments, Holmes proved a tough adversary and quickly cut into his opponent's lead with some daring play mixed with a bluff here and there. Holmes proved to be much more than just an average home-game player.
The two players clashed with some big hands at times, including an Ace- King versus Ace-Queen scenario. However, both seemed in control and found big folds and some ways to avoid dangerous spots at times. Aldemir caught some nice hands in the middle of heads-up play, including a straight flush  to maintain his lead  However  Holmes battled back and even took the lead for a time  At one point it seemed the part-time player may actually ride a wave of momentum to capture the title.
However, Aldemir remained patient and steady, never going on tilt or getting rattled. He picked off a big Holmes bluff to retake the lead, but play continued to go back and forth with the chip lead changing hands a few times.
The final hand saw Aldemir with a slightly bigger chip stack thn his opponent. Holmes raised the action to 6 million with K♣ Q♠ and received a call from Aldemir, who held 10♦ 7♦. The flop brought 10♥ 7♠ 2♥, giving Aldemir two pair, and he checked. Holmes bet 6 million and Aldemir raised to 19 million.
Holmes called and the K♠ fell on the turn. Aldemir thought a bit before betting 36.5 million. Holmes eventually called, swelling the pot to more than 100 million. When the 9 ♠ came on the river, Aldemir chose to check and may have been a bit surprised at the response. Holmes quickly moved all in for the last of his 133 million.
Aldemir faced an extremely tough decision. Did Holmes catch a flush? Maybe a straight or three of a kind? He had raised pre-flop, after all. Aldemir would have only a short stack left if he called and lost. After about three minutes, however, he made the right decision. The tournament was over and Aldemir was engulfed by a boisterous group of supporters. For runner-up, Holmes scored $4.3 million and made a massive effort against a tough opponent.
"Unbelievable, I still can't put it into words," Holmes said afterward. "It's been a grueling week and a half. This guy was amazing, tough all night. Good game, well played."
2021 World Series of Poker Main Event final table finishes:
Koray Aldemir – $8,000,000
George Holmes – $4,300,000
Jack Oliver – $3,000,000
Joshua Remitio – $2,300,000
Ozgur Secilmis – $1,800,000
Hye Park – $1,400,000
Alejandro Lococo – $1,225,000
Jareth East – $1,100,000
Chase Bianchi – $1,000,000