CRAZY EIGHTS
Incredible Technologies takes the persistent play feature to new heights with "Happy 8's" and "Jolly 8's"
By Frank Legato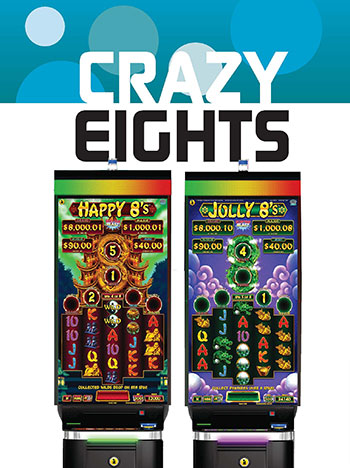 In China and other Asian countries, you are more likely to find slot machines paying out for three 8's than three 7's, because in that part of the world, the number 8 is lucky in the same way 7's are lucky in the U.S.
Game developers at Incredible Technologies certainly were aware of that fact when they embarked on their first effort to produce a slot game featuring a so-called "persistent" play feature.
A persistent feature is a goal presented to the player within a given number of spins. Bonus symbols, wild symbols or other icons are collected within a given number of spins, and at the end of those spins, they are rewarded, and the process begins for a new number of spins.
Some think the soaring popularity of this type of game mechanic is due to increasing numbers of younger players in the casino who already are familiar with a multitude of mobile games they can play on their smartphones. Those mobile games invariably feature goals to unlock new features or rewards, and people who play games on their phones are naturally gravitating toward slot machines that offer the same kind of goal-chasing.
Take a persistent feature and mix it in with that lucky 8, and you get the new twin games from Incredible Technologies, "Happy 8's" and "Jolly 8's." The only real difference between the two titles is cosmetic—Happy 8's carries a traditional Asian theme, communicated with beautiful 4K graphics centered  around a golden pagoda; Jolly 8's is more of a Western theme with the reel set floating in clouds.
Both titles are featured on IT's Infinity 55 cabinet, with its imposing 55-inch flat-screen 4K monitor.
The two titles are the first in a game family IT is calling "Scatter Blast." The Scatter Blast feature here is all about the number 8—it is an eight-spin persistent feature. "Our development team noticed the popularity of persistent features, so we decided to take a swing with this eight-spin feature," says Kelsey Sullivan, marketing coordinator for Incredible Technologies. "Throughout eight paid spins, players are able to collect wild scatter (symbols) and bonus scatters, and on the eighth spin, all of those collected wilds come back down onto the reels for what is usually a really big win."
The base game on which this plays out is unique in itself, with 40 paylines in a 4-5-6-5-4 configuration—four spaces on each of the outer reels, five on the second and fourth reels, and six spaces in the middle reel.
The rest of the display is filled with just what you can win within each cycle of eight paid spins. There are four jackpots displayed at the top of the screen—static jackpots of $40 (Mini) and $90 (Minor), and progressive jackpots resetting at $1,000 (Major) and $8,000 (Grand). A jackpot counter rests above all but the middle reel. Collecting five jackpot symbols on the fifth reel within eight spins nets the Major progressive; five on the first reel wins the top Grand jackpot. The Mini and Minor each are won by collecting four jackpot symbols within the eight-spin cycle.
Prominent on the top display are counting meters for wild symbols and bonus scatter symbols. Collecting three of the bonus scatters within the eight-spin cycle triggers eight free games.
One great part about the eight free games is that the wild symbols collected to the point of triggering the free-spin round go down to the main screen, shifting positions for each of the eight free spins. The other great part? More wild symbols can accumulate during the free spins, and they remain part of the wild-symbol count when the free spins are over.
And when the free spins are over, the count toward eight paid spins picks up right where it left off, with the free-spin wilds added to the total count. At the end of eight spins, all of the wilds go to the screen for one potential super-win. Sullivan says it's possible to collect enough wilds during the eight spins to fill the entire screen, in which case you'll win the game's top line jackpot for each of the 40 paylines—a big win times 40.
"The sweet spot I've discovered playing the game is when you trigger the bonus with three bonus scatters—again, collected through the eight spins—any of your collected wilds carry over to your free spins. Wilds carry over to and from the free spins.
"The real magic is when you can trigger your free spins early in your cycle of eight, because then, if you collect 12 wilds during your free spins, you get to jump back into your paid spins with all of those wilds from your free spins.
"The game also is exciting because instead of one spin and you're done, you have the chance during those eight spins to win those progressives and free-spin bonuses as well."
Interrupted Success
Happy 8's and Jolly 8's were both introduced early this year, and were already popular when the Covid-19 shutdown of casinos hit.
"But we're happy to see that as things are opening back up, the games are jumping right back to where they were, or above. And, as they're deployed at new casinos, they're doing well there also."
Sullivan says the games are available all over the country, and the V55 cabinet performs one other important function, post-Covid-19. Incredible Technologies designed the cabinet with the "V55 Edge," which is a separate 4K video monitor displaying game graphics that sits between  each machine. Those V55 Edge monitors allow for a lot of unique slot groupings, but they also effect social distancing between players—without the casino having to disable every other game to make that space.
These are the first two games of what Sullivan says is hoped to be a long-running game family. "We've had great success with this math, so we're looking to reiterate it in future games as well," she says.
The game math is what governs everything that happens in a slot game, and it is what makes the persistent feature in these two games one of the most enjoyable you'll find.
"It just feels like you're always close, and there's always a chance," Sullivan says. "You know that eighth spin is going to do something big for you. In my experience playing the game, it's always resulted in some great wins. That eighth spin is really exciting."
In the end, the adrenaline rush this game offers comes from the fact that the eight-spin cycle is much shorter than most games of this style, and lots of good things can happen in those eight spins.
"Happy 8's and Jolly 8's take the magic of persistence and the fun, and makes it even better with a shorter cycle of eight spins," says Sullivan. "There's something for every player with this game, and we've seen great success all over the country."