Coming Soon: Bugsy & Meyer's Steakhouse to Open at Flamingo Las Vegas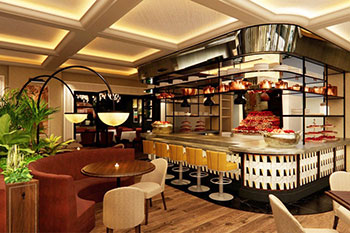 Introducing the latest addition to the "Forever Fabulous" Flamingo Las Vegas! The all-new Bugsy & Meyer's Steakhouse will transport guests back to the resort's vintage roots while serving a fresh and intriguing steakhouse experience in a modern way.
The restaurant's name is a nod to Benjamin "Bugsy" Siegel and business partner Meyer Lansky, who famously opened the Flamingo Las Vegas back in 1946 with the intention of bringing Hollywood glam to the desert. With the Flamingo, they created the first resort-style hotel on the Strip and forever changed Las Vegas. The Lansky family is involved in the new steakhouse and will even assist in the creation of unique merchandise, which will be available for purchase. Bugsy & Meyer's Steakhouse will be a one-of-a-kind destination steakhouse, much like its resort's origins, in menu, design and atmosphere.
Guests will be transported from the moment they arrive, as they enter through the "bakery" façade and past the kitchen and dry-aged meat cooler, giving the illusion of discreetly entering through the back as many did decades ago. Once inside the steakhouse proper, an eye-catching dining experience awaits. In collaboration with designers Studio K Creative out of Chicago and renowned designer Jonathan Adler, the restaurant boasts a variety of atmospheres, including the main bar, patio dining, the bustling main dining room, three private dining rooms and a raw bar.
Offering the ultimate throwback, exclusive experience, guests can venture into the luxurious speakeasy and private bar lounge, known as "The Count Room." This will be an intimate and ambient room with an expanded specialty cocktail menu that can be exclusively tasted here, but only guests "in-the-know" will be able to find this hidden gem. Lining the walls will be historical images, including vintage images from when the Flamingo first opened. Bugsy and Meyer would approve.