COMEDY AND KINGS
Brad Garrett teams with Zynga Poker and talks about his love of poker, gambling, Las Vegas, and bit laughs
By Sean Chaffin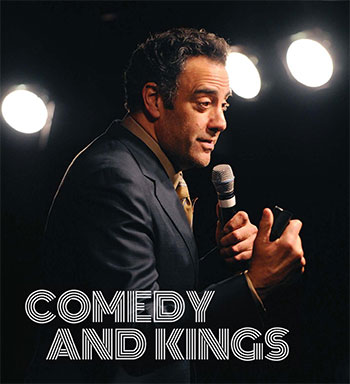 For nine seasons Brad Garrett played Robert Barone, the oft-ignored and lovable brother to Ray Romano's character on Everybody Loves Raymond. Now among the cast on the ABC comedy Single Parents, Garrett has also been a poker player and gambler for decades, who's been performing his standup act in Las Vegas for 30 years. He's also the owner of Brad Garrett's Comedy Club at the MGM Grand.
A night at the poker table with Garrett will definitely include one thing — plenty of laughs. Poker and comedy fans now have a unique opportunity to sit in on the comedian and actor's home game in conjunction with Zynga Poker.The platform is the biggest social poker game in the world and has teamed with the three-time Emmy winner for the site's "Celebrity Home Game" sweepstakes event. By completing daily challenges, two lucky Zynga players have a shot to win seats at Garrett's celebrity home game on Oct. 26 in southern California.
Following a two-week contest period, semi-finalists can submit a one-minute video comedy audition to be judged by the comedian. Two winners will fly out to play in a no-stakes poker game. Garrett's role in the promotion was to raise funds for his Maximum Hope Foundation, his non-profit organization that provides financial stabil- ity for parents of children diagnosed with life-limiting conditions.
Zynga will donate up to $100,000 as part of the promotion.
And while it may be for no stakes at this home game, Garrett promises plenty of fun, a group of A-list players, and something special for the winner.
Garrett got his start in comedy in 1980 performing standup at improv clubs around Los Angeles before winning the top prize in the comedy category on TV's Star Search. The 59-year-old spoke with Casino Player about his celebrity home game, gambling and poker, his unique life in comedy, and working to raise funds for his foundation.
Casino Player: How did this Zynga promotion come about?
Brad Garrett: I have a good friend and a wonderful philanthropist himself and he happens to be a designer for Zynga. We set up a couple of charity events and we were just talking about poker and gaming. He has a passion for that as well. I said to him that I really wanted to set up some home game we could maybe stream or film, and I would like it to just benefit my non-profit that I started about 13 years ago. He introduced me to Zynga and here we are.
We'll play at my house before it goes into foreclosure. It's very exciting. I have a home game that I play once every couple of months with some buddies, people who are in the entertainment industry and people who aren't in the industry. It's a low-stakes, fun game – more about the camaraderie and the food and the fun and catching up.
I just thought how cool would it be to have a couple Zynga players have the opportunity to sit down with some folks in my home game, and some great eats and have some fun and share the passion of poker – and to see really how much of a horrible player I am. I think that's what will be really eye opening.
Who are some of the other players who will be in the game?
I can tell you that my longtime buddy Ray Romano will be joining us. And Kevin Nealon, who I've been friends with for over 30 years, will be joining us as well as a very well-known pro and some other celebrities.
How does your game stand up to Kevin and Ray?
Kevin's not much of a player, but Ray and I go neck-and-neck. I think we have the same record as far as the Main Event in the World Series of Poker. I think we've each made it to one Day 3. It isn't how well we do, it's how quickly we get knocked out. We've always had little side bets about who would be the first to get knocked out.
Whatever we paid would go to each other's charity and foundation. We've had that going for a while.
Ray's probably a better player, but I may be a little more aggressive than he is. He's definitely more patient. Maybe at the end of the day it equals out. But it's always been fun – golf and poker have been in our life a long time.
How did you get into poker and gambling?
I've been working Vegas for a little over 30 years, and I've had my club at the MGM for seven years. So basically, I love gambling – I really do. I've done it less and less as I've gotten older and as I've gotten a little wiser. But as you work Vegas as much as I have, it's just something you get into, and poker's just always been something I've enjoyed.
I've had home games with buddies going back to my early 20s, before I was even successful in entertainment. It's always been a staple. My cousin and I have a group of Joes, that's what we call it, the same group of poker guys since we were in our 20s.We don't play as often as we'd like because we're in all different parts of the world, but we still get together once a year. I think it's always been in my blood.
What is your relationship with Las Vegas and what keeps you coming back?
I think one of the main things I love about Vegas is probably what most gamblers love to be able to do, and that's get a steak at three o'clock in the morning. Most gamblers aren't known for our physical health. If you look at most poker players, it looks like God's waiting room generally. I like to have a corn dog and a milkshake and just kind of hit it hard at 2 a.m. at the Aria.
I've always loved the allure of Vegas. When I was growing up, my father taught me how to play blackjack when I was 16. Probably not a great idea. He would take me to the racetrack for my birthday. I thought he was buying me a pony, but he really wasn't. So, I've always been around gambling.
And I think a lot of people in the entertainment industry, especially actors and especially comics, we like that rush. Good or bad, healthy or not healthy, gambling kind of brings that rush. It's different every time you sit down, poker especially. It's like standup, you can do well one night and the next night, you're like, "What happened?" I think it's the same with poker.
A lot of poker players want you to think that they're mathematicians, and a lot of them are geniuses. But at the end of the day, they're just sick gamblers – just like I am. I've beaten people in poker I have no right to beat because I got the cards. The math gets a little fuzzy for me, I'm not going to lie to you. I was absent a lot from school, so when it comes to the math, they see me counting on my fingers – which is a big tell.
What are you like at the tables?
When I play I talk a little bit. Here's the problem when you're kind of known – when you don't talk, you're a dick. And if you talk too much you're a dick, so you can't win.
Also, I know I'm all over the board here, but there's always a new trend. There was a while where everybody in poker dressed like the Unibomber. What is it now?
Why is everyone smelling their shirts? What the hell is going on? They're taking their shirt and putting it over their nose. It's like they're about to rob a bank. I'll go, "Dude, what's with the smelling of the shirt?" I asked someone that at the WSOP and it didn't go well. I said, "What's the matter, your mom doesn't do your laundry?"
When I say stuff like that, I'm not enjoyed like I wish I was. But at the home game, everything's going to fly, we're going to have a great time at my house and I'm excited.
The celebrity game is for no stakes? You can't play poker for no stakes?
It sounds to me like you're all about money. Life is more than that.
First of all, the winner, if you're ready for this – will have an opportunity to shave my back. I've got a Neanderthal thing happening around the undercarriage.
No, we're going to figure that out. For me and my guys, when we play my home game it isn't like the other crazy home games you hear about. It's a $2/$5 game and we have a $300 buy in. It's not about the dough with the people I play with. It's just about … the food. The food's more important than anything, and playing and catching up.
We're going to come up with something fun for whoever wins. And I think for the contestants it's about playing poker in an environment where they've never had that opportunity. I think it's about the trip, the fun, and everything else.
Can you tell me more about your non-profit group and Zynga's involvement?
This is about the generosity of Zynga tapping into my love of poker, but a bigger love is the Maximum Hope Foundation. I'm grateful, life has been good to me. This is an opportunity where they said, "Let's help these families with children with life-limiting illnesses. How can we help?" I just thought that was amazing, it's really the first time this has happened in the poker community. It's great and all coming from a point of charity.
Sean Chaffin is a freelance writer in Crandall, Texas, and senior writer for Casino Player and Strictly Slots magazines. His work appears in numerous websites and publications. Follow him on Twitter @PokerTraditions or email him at seanchaffin@sbcglobal.net for story assignments.