Comedian Sebastian Maniscalco To Perform Twelve Shows At Borgata Hotel Casino & Spa
'Comedian of the Year' Returns to Borgata Event Center for Historic Number of Shows in June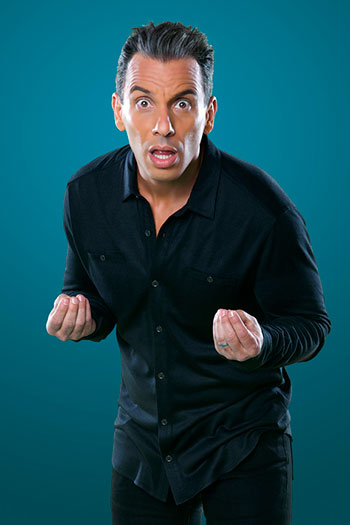 Borgata Hotel Casino & Spa  in Atlantic City, an MGM Resorts Luxury Destination, announced the addition of Sebastian Maniscalco to its upcoming entertainment lineup. The comedic superstar will perform a record-breaking dozen shows at Borgata's Event Center throughout the month of June; the most ever by one artist in Borgata's 16-year history. 
            
"The audiences in New Jersey have always been so supportive and have really responded to what I was doing early in my career," shared Maniscalco. "I first played Borgata's Music Box Theatre back in 2015. We've seen the crowds grow year after year. It is incredible to now, 5 years later, be playing 12 shows in their 2,500-seat venue. The energy in the room is always electric and I can't wait to come back."

Named one of the Top 10 highest-grossing comedians in the world Forbes for three consecutive years, Maniscalco's distinctive, physical style has been on display throughout his five comedy specials (for Netflix, Showtime and Comedy Central) prompting NBC Nightly News to describe him as "comedy's new superstar." In 2018 alone, Sebastian experienced a string of record-breaking, sold-out arena and theatre shows; a best-selling memoir, Stay Hungry; and a role in Green Book, which won Best Picture at the Academy Awards, so it's no surprise that Billboard honored him with their inaugural "Comedian of the Year" award.

"With the success of comedy, other opportunities opened themselves up," Maniscalco says. "I'm able to take on projects I'm passionate about, just do really quality stuff—I'm fortunate to be in a position where I can really calculate what I'm doing and not spread myself too thin."

The biggest focus for Sebastian Maniscalco in 2019 has been the launch of the "You Bother Me" tour, which began in September and included four sold out shows this past weekend at Borgata. 

"We can't think of a more perfect entertainer than Sebastian Maniscalco to book for a record-breaking twelve performances in 2020," said Mike Woodside, Vice President of Marketing for Borgata Hotel Casino & Spa. "Our customers absolutely love him, and the energy that he brings to his shows always makes for an unforgettable night out at Borgata." 

Tickets for all twelve shows are priced at $129; $109; $99; $79 and are on sale now.
Sebastian Maniscalco
Borgata Event Center
Friday, June 12 | 7PM & 10PM
Saturday, June 13 | 7PM & 10PM
Saturday, June 20 | 7PM & 10PM
Sunday, June 21 | 5PM & 8PM
Friday, June 26 | 7PM & 10PM
Saturday, June 27 | 7PM & 10PM
Tickets for the performances can be purchased by calling 866.900.4TIX (4849) or by visiting theborgata.com