City of Dreams – Las Vegas
With the opening of Aria, MGM Mirage hits an $8.5 billion high note
By Glenn and Melissa Fine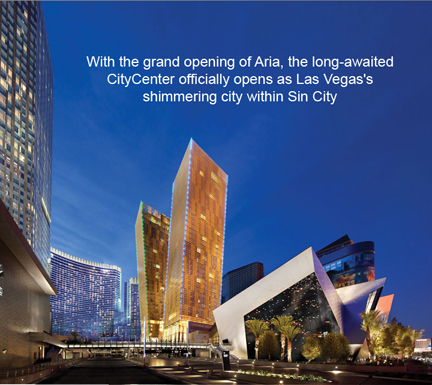 "The entirety of CityCenter, each individual component taken as a whole, comes together as one colossal, complex and completely engaging work of art."
Grand openings are not that unusual in Las Vegas. Despite the poor economy, despite the amount of attractions already up and running, and despite the usual crew of naysayers who swear the market is already stretched too thin, there always seems to be a brand-new hotspot; a fabulous new celebrity-owned restaurant; yet another place to pick up something from the latest issue of Vogue, or a newly-renovated suite, casino floor, or VIP lounge cutting a ribbon and throwing open its doors to the public.
But once in a great while, Las Vegas celebrates the opening of a project that forever changes the world's gaming mecca—a property so unique, so bold, it sets a new bar for all future projects to meet. It happened in 1989 with the opening of The Mirage; in 1998, when Bellagio's fountains first soared above the Strip; a year later, when The Venetian became the final opulent word in "themed" resorts; and yet again in 2005, when Steve Wynn built the $2.7 billion property that bears his name. Each of these resorts propelled Las Vegas in an entirely new direction and reinvented the meaning of the word "luxury."
December 16, 2009, marked such an event—the debut of Aria Resort & Casino, the heart of MGM Mirage's mammoth (and, until now, mostly mysterious) CityCenter project.
Aria… Even its name is perfect. Beyond elegant, it is, without doubt, the standout solo in the architectural opera that is CityCenter. You'll find no gimmicks here—no trompe l'oeil paintings on the ceilings; no scaled-down reproductions of global landmarks. In what can only be called an amazing feat of juxtaposition, Aria—indeed, all of CityCenter—is a throwback to the basics of beauty and bliss, blended with the best of 21st-century science, technology and responsible, socio-economic mindsets. This 67-acre city-within-a-city celebrates man's age-old appreciation of fine art, superb service, and the beauty of nature itself, while offering such cutting-edge computerized wonders as "smart" rooms, interactive directories, eco-conscious contraptions and, throughout its development, unprecedented opportunities for minority-owned firms.
In a word, CityCenter is different—completely different from anything Las Vegas has ever seen. And, unlike its groundbreaking predecessors, given the enormous scope of the project, it is safe to say no one will attempt to duplicate its unique concept any time soon.
Billed as "The Capital of the New World," CityCenter is comprised of a number of individual properties. In addition to the 61-story Aria gaming resort, there are three luxury non-gaming resorts: Vdara Hotel & Spa, The Harmon Hotel (opening late 2010), and Las Vegas's first Mandarin Oriental. And, while residential condos are available at the Mandarin and Vdara, there is also Veer Towers, the development's only strictly residential buildings. Between the three, CityCenter offers approximately 2,400 residences in total.
And then there is Crystals, a 500,000-square-foot retail and entertainment district that features the finest names in fashion, including flagships for Tiffany & Co., Prada, Gucci, Roberto Cavalli, and Ermenegildo Zegna; one of the largest Louis Vuitton stores in the world; and distinctive retailers such as Kiki De Montparnasse, Kiton, Miu Miu, and Porsche Design. For dining, one of Hollywood's Desperate Housewives, the beautiful Eva Longoria Parker, has opened her highly anticipated Latin steakhouse, Beso, which is joined by Mastro's Ocean Club, Todd English P.U.B., and two new concepts by the celebrity chef who revolutionized Las Vegas dining when he brought Spago to Sin City: Wolfgang Puck. His new eateries include The Pods by Wolfgang Puck and Brasserie PUCK.
As enticing as this may sound, it in no way does justice to experiencing CityCenter for yourself. The development utilizes many natural elements in its design: wood, glass, stones, and water— lots of water, in fountains, reflecting pools, water falling in sheets from the walls, water frozen in mesmerizing cylinders, water encased in glass and swirling in controlled tornadoes—and all of it lit with floods of light, pinpoints of light, or light that changes colors…
This is a tactile place. You want to reach out and run your hands down railings, along the curves of a travertine marble sculpture, over the wood, and especially through that water.
Deliberate angles guide your eyes upward, outward, toward corners you can't quite see around. Inside Aria, the aisles are wide, the ceilings high, and the palate warm, subdued and sexy. Yes, the contributions by acclaimed modern artists such as Maya Lin, Jenny Holzer, Henry Moore and, in The Gallery, the masterful pieces by Dale Chihuly, are magnificent. But, in truth, the entirety of CityCenter, each individual component taken as a whole, comes together as one colossal, complex and completely engaging work of art—one that, at once, both stimulates and soothes each of the senses, drawing you in until you, too, become part of the overall canvass.
And yet, the man most involved in the creation of this masterpiece can find little in the way of comfort on the premises. "It's hard to unwind in your own businesses because you are always working," CityCenter President and CEO Bobby Baldwin recently told Glenn Fine, publisher of Casino Player magazine, when the two sat down for a chat at CityCenter's bustling corporate offices. "You never really turn the clock off. Even if you're having an intimate dinner, business quickly bleeds in. You're always thinking that the lamp is crooked or the napkins aren't quite right. So, you never really relax."
As players and fans of the gaming lifestyle, we can't help but feel a certain sense of shared victory knowing that the leader of the largest privately funded construction project in the United States' history is not just another nameless corporate suit. Bobby Baldwin is a Poker Hall of Famer—the holder of no less than four World Series of Poker bracelets before becoming a consultant for the Golden Nugget in 1982. Two years later, he was named president of the downtown casino, and his switch to the management side of gaming was clearly established.
Baldwin, however, didn't leave his poker skills behind on his journey up the corporate ladder. When asked how poker helped him in management, he was quick to point to the shared need for an analytical mind.
"Obviously, analytics are very important to succeed in any contest, whether it be in a poker game or in competition in business," he stated, "because you have to project an outcome on very limited information, just like you have to do in a card game. Even with CityCenter, as large as it is and as well thought out as it was, its outcome was never clearly understood, because we cannot predict the future; we can only limit our risk. In a poker game, you're limiting your risk, and when the cards are in your favor, you're trying to maximize your gain. So, analytics is everything in business."
And, with reference to CityCenter, it wouldn't be long before this philosophy would be tested to the extreme. "The idea began about five and a half years ago," Baldwin explained. "It was an idea that Jim Murren had. Jim is the chairman of the company, the CEO of MGM Mirage. Jim floated the idea of CityCenter by the board of directors and got the board interested in it… I was given the assignment to actually head the design and construction, and, later on, to supervise the operations of CityCenter. So, the idea was Jim Murren's, and, of course, the board was very active in the beginning and throughout the entire project, which ran about 60 months."
The idea of offering the opportunity to actually allow people to live the high-rise city life at CityCenter was an intriguing part of the plan from the very beginning.
"It was part of the initial concept," Baldwin confirmed, adding: "It wasn't just mixing residential with casino; it was establishing a development that had a casino resort as its nucleus, but supported by not only non-gaming hotels—the Harmon and the Mandarin—but by a significant retail experience, which is now known as Crystals, in addition to the residential towers, which are Veer Towers, Vdara, and at the top of Mandarin."
Baldwin also has clear ideas about the types of people who have chosen to live at CityCenter. Surprisingly, gamblers are not at the top of his list.
"I think that the residents are primarily not gamblers in the serious sense of the word," he said. "Some are, and some may be, but primarily, the people who want to live here live here for other reasons—not to live here in order to be closer to casinos, which are worldwide, as you know. They are within 50 miles of wherever you live. So, they didn't move here, and they don't have residences at Veer or Vdara in order to be closer to casinos. That was not the intent on buying. They live here because they do business here, or they retired here, or they vacation here, or it's a second or third or fourth home."
Naturally, however, as the housing market continues to be a regular topic on cable news channels, Baldwin is not blind to the impact it's having on CityCenter's sales. "Under the circumstances, they're doing fine," he stated. But, he did admit, "Anybody can see the national housing market has been in a steep decline for the last 24 months. We expect that decline has shallowed out somewhat, but the real estate business is going to be a tough business for some time to come for a variety of reasons, of which your readers are well aware."
Still, he is far from discouraged. "The good part about the residential component of CityCenter is that it is not that large, number one; and, number two, it has probably the best location. If you want to live on the Las Vegas Strip, it is actually the only offering available to anyone. And," he added, "all the residences here are underwritten by the entire eight-and-a-half billion-dollar investment associated with CityCenter. And everything is available to all the residents. With a quick, safe walk, they can be at Aria or one of the other enterprises at CityCenter, such as Crystals and other things, without ever getting into their car or getting in a limousine or taxi cab, so it's a very convenient place to live if you are interested in that sort of thing."
And who wouldn't be interested? Housing market aside, the end result of these years of planning and construction has exceeded all expectations. Still, with such luxurious amenities (and until the economy does pick up), one would think there would be a real fear of the new development cannibalizing MGM Mirage's other, proven properties. Baldwin, however, balked at the idea.
"Well, it was designed to complement the other properties, particularly the MGM Mirage properties, and not cannibalize them," he stated plainly. "To the extent that it does have some economic impact, I think that would be short-term. When we opened The Mirage," Baldwin continued, "it was said that it would put all the other places out of business, and that didn't happen. They said there wasn't enough room in the market for The Mirage, and since The Mirage opened, they've built ten other Mirages and Las Vegas has grown three-fold… We did something here differently, intentionally, and I don't think there is going to be any impact, long-term, to any of the MGM Mirage properties—or to anybody else, for that matter. I think Las Vegas has shown us that competition is good. Everybody always complains about it, but without it, we probably would have never gone past Downtown Las Vegas 50 years ago."
Baldwin's poker-playing years have given him yet another invaluable qualification for his current position: perspective. By becoming part of an elite, respected group of gamblers as early as 1977 when he won his first WSOP bracelet, Bobby Baldwin is one of a handful of people who has truly experienced Las Vegas from all sides, giving him a unique view of the many transformations the city has undergone. As both a player and a businessman, he has experienced everything from the days of headliner entertainment to the family-oriented amusement parks, and has watched as the emergence of celebrity chefs and high fashion shopping blossom to its current incarnation.
This begged a question from Casino Player's publisher before their conversation came to an end: "Do you think," asked Fine, "these kinds of transformations were necessary for Las Vegas's growth? Or, do you believe fewer people would have come to this gambling mecca had it not gone through those changes?"
With the quick but thorough thinking any good poker player—and any businessman worth his salt—must possess, Baldwin answered in a beat: "They say, if you're not growing, you're dying, and I think that would be the case as it relates to Las Vegas. Las Vegas was forced to change based on the demand of the public. Had they not responded to what the public wanted, Las Vegas certainly would not have had the kind of visitation it does now.
"I know change is very, very good," he emphasized, "and Las Vegas is going to have to continue to change. The backdrop for CityCenter itself was to be completely different than any other development in Las Vegas, and that's one of the reasons why it was a mixed-use development. Although you've read that we studied on several occasions over the course of a few years how we might build simply another casino resort—or two casino resorts—on this acreage, we decided against that because we decided Las Vegas needed something completely different.
"Change is a very healthy thing," he stressed with confidence, "and I suggest that anyone in life deals with change head-on if they intend to succeed." ´
City of Dreams – Las Vegas.