CHERRIES ARE WILD
There's a new game show centered around a giant slot machine
By Frank Legato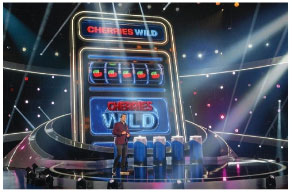 I've heard of slot machines based on game shows, but how about a game show based on a slot machine? There's a new quiz game show on Fox centered around a giant five-reel slot machine. It's called Cherries Wild, and it features a few rounds of quiz questions that can lead, in the perfect universe, to landing five cherries on the reels of the gigantic slot machine.
The slot machine is bigger than even the biggest ones you'll find in a casino. You can earn money by answering ridiculously easy quiz questions that can be parlayed into free spins on the big slot, which can end up landing cherry symbols that "stick" for the remainder of the game, as well as more free spins on the huge slot machine. Along the way, contestants are given a chance to take the cash they already won and quit, or use some of the cash to buy more spins on the big slot. The amounts being parlayed get larger as more cherries land on the big slot. Five cherries land the grand prize of $250,000.
The show has claimed in press releases that the slot machine is three stories tall, but looking at it, they would have to be in a building for Lilliputians. The mice would be walking hunchback.
After the TV show's premiere, the "TV Blog" on mediapost.com made some interesting observations about the program. The blog noted, for instance, that the new show is pretty darned close to The Joker's Wild, the legendary game show that's been on TV pretty much since slot machines were invented.
OK, maybe not that long, but dating back at least to when people like me used typewriters. The first two hosts were Jack Barry and Bill Cullen, for crying out loud. But I digress.
So far, there evidently have been no lawsuits or even squawking from the owners of The Joker's Wild over the new Cherries Wild show. The giant slot machine itself may be another story. There are a couple of "The Joker's Wild" slot machines out there, including the latest one featuring my pal Snoop Dogg as the host. (He's my pal because he's a Steelers fan.) There's no telling what slot company lawyers will do. They're normally like wild jackals with a piece of steak when it comes to slot machine litigation.
Anyway, the first contestants, these kids ("We both just turned 30!" they exclaimed) choked on several easy quiz questions, even though the questions, as noted by the TV Blog, ranged from "Easy" to "Very Easy." The wrong answer that irked me the most was a multiple-choice question about the Grateful Dead, asking what their fans were called. I thought everyone knew they're called Deadheads, of which I am one. What did they pick? "The Skeleton Squad!"
Come on. My mother was a huge Sinatra fan, and even though it was 15 years before I was born when she bought most of his 78 RPM records, I know that she was a "Bobbysoxer." That's what his teenage female fans were called.
The Skeleton Squad? OK, I'll admit that I have no idea what fans of today's popular music are called, or what groups play today's popular music, or even if music is popular with 30-year-olds. They're a nice young couple, so I'll give them a break. Plus, even with their wrong answers they still took home $136,000 in cash. They turned down the chance to risk that money for a shot at the five cherries. (Good move.)
Moving on, the LINQ Promenade in Las Vegas just reopened its attraction called "Virtual Reality (VR) Adventures," an immersive experience that puts you in a 3D virtual world, in which you wear high- tech goggles and hook yourself up to this gizmo that lets you use hand movements, walk, sidestep or jump to explore virtual worlds including the Jungle River Raft, Haunted Elevator, Roller Coaster, Race Car Simulator, Trip Around the World and others.
I know it's safe, but I'd probably kill myself doing this. I'd hightail it off the gizmo and fall on my face, particularly if I see a ghost in that Haunted Elevator. Race cars? Roller coasters? I'd probably break my neck trying to sidestep, jump and do other contortions.
Hey, I once got injured on a lazy river ride in the Bahamas. True story.
By the way, 78 RPM records were records that were sold as singles back in the 1940s, which spun at 78 rotations per minute, which was really fast, which was why they could only fit one song per side. Oops. OK, records were these things that… Oh, never mind.