Change for the Bettor
Players share their tales of love-and-hate slot changes
By John Grochowski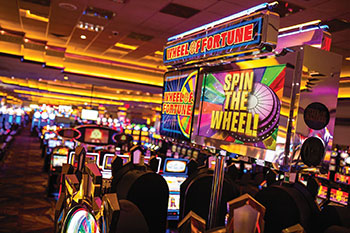 Modern slot machines can be creative, interactive, exciting, entertaining, surprising and any number of adjectives you'd care to add to the list.
That's the product of constant innovation and change with game makers bringing us new bonus events, new play mechanics and new ways to play every year.
Sometimes players flock to an innovation immediately. Sometimes the changes take a while to grow on us.
Readers shared their experiences with slot changes, including both love at first sight and acquired tastes.
JAIME
Hold-and-respin is one I had to learn to love. The first time I played a game that had it, it turned me off.
When the game wasn't being played, it would display coins dropping and holding until the full grid filled with coin symbols. I thought that was going to be a normal thing, that you'd fill the spaces and that how big or small the prize amounts were would be your bonus.
The reality was that filling the whole screen NEVER happened. The first time, I got six coins on the main screen to start the bonus, then I only got about three more. That was disconcerting. Another time, I didn't get ANY after the first six. I felt like I was wasting my time and I moved on.
But a few months later, my girlfriend and I were playing games next to each other, and she chose a bank that was all these games. This time, I got a minor jackpot on one that was several hundred coins. I still didn't fill the whole screen, but my girlfriend did. She won a grand jackpot.
I've turned around completely. I love those games now, and I've won a couple of grand jackpots, too.
LENA
I go back a long way to three-reel slots, and I can honestly say I loved video slots right from the start. The bonuses where you touch icons on the screen just struck me as a fun way to play.
I like the fish one (Reel 'Em In) and I liked the Chinese menu one (Fortune Cookie). I play the new ones to this day.
As long as I'm being honest, I probably loved them on video from the start because we'd seen pick-a-prize bonuses on three-reel games already. There was a three-reel Jackpot Party game before there was video. It had a screen with orange dots above the reels, and you'd use buttons to pick rectangles made of dots to get credits or a pooper. I thought that was fun, something different. It was even better on video.
CARLY
I had the darndest time getting used to ticket printers. Now I can't imagine playing without them.
There are still times I miss the noise and excitement of coins in trays. There would be the steady sound of 10 coins dropping here and five coins there that gave the slots nice background noise. Then every once in a while, someone would win something pretty big and hundreds of coins would drop in those metal trays.
I remember once, my husband and I were practically back to back with a slot for me and a video poker for him. I won a 250-coin pay at the same time he drew four 2s and had 1,000 quarters drop. People were looking over and walking by to see who the big winners were.
Casinos now seem too quiet to me, but I've come to like the tickets. I remember having a hopper jam, waiting 10 minutes for an attendant to come clear it, then having the hopper run out of coins and having to wait another 15 minutes for a fill. That's a long time doing nothing, and it doesn't happen with the tickets.
ROGER
The wheels like in Wheel of Fortune were an instant hit with me. I remember the first one. It wasn't called Wheel of Fortune then, but it was the same principle. There was a wheel with credit segments.
There was a signal when the wheel was about to spin, and everyone stopped and watched. It was new, different and exciting.
I still find it exciting when the wheel spin comes. I make it a point to play some Wheel of Fortune every time I go to casinos.
KRIS
Those progressive jackpots where you don't know when they're coming and there are four jackpot levels—sometimes more. I had to get used to those.
The first time I won a progressive on one of those, it was like $5.43 and I was thinking, "What's this? Why in the world would they give me five bucks and call it a jackpot."
You don't need winning symbols on the screen,either. The machine just tells you you've won. That threw me for a loop. Part of the excitement of progressives was seeing each symbol fall into place. When you got two jackpot symbols, the adrenaline was through the roof while you waited on the third.
But you know what? I got used to it. Those $5 jackpots were just money to help me keep playing while I waited for bigger ones. And who really watches where each symbol lands on a video slot with all those reels and lines, anyway? It's all waiting for the game to tell you what you've won.
CONNIE
You know what I'm still not used to? Touch screens.
I know they've been around a long time, but I'm still more comfy with old-fashioned buttons. I'll touch the screen for bonuses because there's no choice, but for betting and spinning I reach for the buttons every time. And you know what? Those slots where the buttons are just mini video screens? I skip them and go to games with reel buttons. I'm happy I have the option.