Casino Connection
MAXBET TV brings the gaming community together in one place for fun and games, networking and education
By Frank Legato
These days, there are a thousand places you can learn about the world of casinos. Casino Player and our sister publication Strictly Slots certainly have a wealth of expert information about the games, the hotels, the food, the casino lifestyle. If you want to more intensely study the games on the slot floor, there are any number of "slot influencers" streaming their own play, showing you how the games work, showing you how to have fun at the machines.
For the table games, there is a ton of information available through books, videos, websites, expert classes, and even electronic table games so you can learn how to play a game without intimidation before you even hit the live pit.
Over the years, there also have been programs on specialized travel TV networks, and even on your hotel room TV, running special features on slot advice, advantage play at the tables, and the perks to be had through loyal play.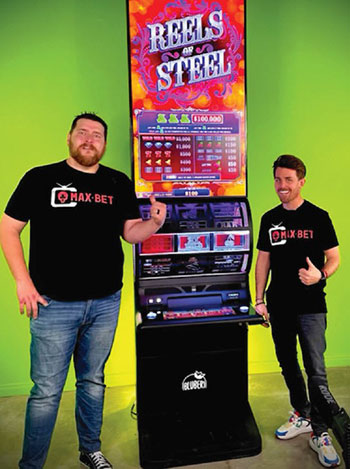 The next, and arguably the best, "casino influencers" will be the ones to put all that information, game features, and personalities together in one place. Mike McKiski and Landon Michael Jones might just have the answer. It's called MaxBet TV.
McKiski is a longtime casino industry insider who worked at Bally Technologies, Scientific Games, Interblock and AGS. Jones is another casino veteran, who has spent the last decade in various areas of the business, from operations to management to supply. He has worked on the cruise ships and sold table games and lots for industry powerhouses like Shuffle Master, Bally Technologies and Scientific Games.
Both backgrounds make for great gaming journalism, so the two formed MaxBet Media, a multimedia network which, as its website says, "was founded by two real casino guys, not just two guys who have been to a casino."
The two have made a name for themselves in the casino trade with the MaxBet Podcast, a highly regarded program sponsored by one of the industry's top consultancy firms, Eilers & Krejcic Gaming. Available on the company's website maxbetmedia.com as well as Apple Podcasts, YouTube and other channels, the two-year-old weekly podcast has offered a peek behind the scenes through interviews with the top executives in gaming, from former Bally Technologies Chairman Richard Haddrill to top casino slot operators like Choctaw's Skyelar Perkins, to creative forces like Scott Olive, the award-winning Aristocrat game designer behind Lightning Link, among hundreds of other successful slots.
Both of the former executives are naturals on the air, so the podcasts have the quality of a relaxed radio broadcast, not a stuffy trade interview. According to McKiski, who is president of MaxBet Media, the two noticed a lot of interest in the podcast not just from inside the industry, but from the gaming consumers among the public.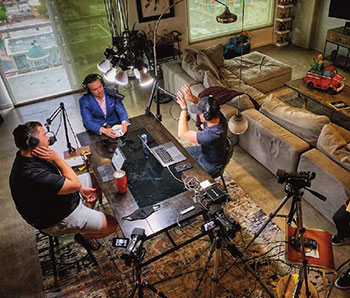 "At first, the project was about the fact there are a lot of fun stories inside the business," McKiski says. "We get to hear these stories all the time, but we felt like it makes for good content—it makes for broader entertainment. So we're starting to see more and more comments from folks saying, 'Oh, that's very cool to see the behind the scenes.' So we're starting to see a broader player audience."
This month, MaxBet TV goes live with the first 24/7 streaming TV network "dedicated to covering online and land-based casino gaming content and content related to gaming brands—with a focus on connecting gamblers and gamers around the world," according to the December press release announcing the launch.
The new network debuts on MaxBetTV.com and IPTV platforms like Apple TV, Amazon Fire, Google Play, LG,Samsung and Roku, and will be a conduit for all kinds of content related to land-based casinos, online casinos, sports betting, esports, gaming personalities, gaming brands and the gaming lifestyle.
Behind-the-scenes information from industry insiders will be part of it. So will the "slot influencers." So will experts on slot machines, video poker and all manner of table games. There will be livestreaming video showing you the ropes not only on the slots, but special arrangements with casinos to livestream invited guests on table games.
In addition, and what really sets MaxBet TV apart, is that fans can even stream their own game-play experiences, thus building a community and enabling gambling enthusiasts to share their own experiences and build their own following.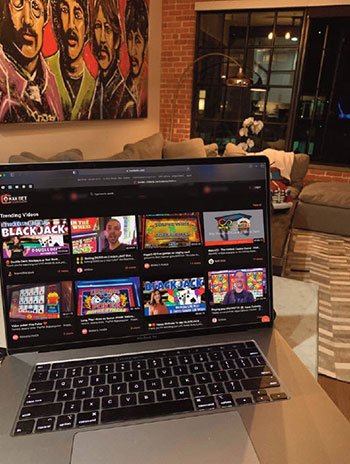 McKiski likens it to the platform Twitch, which, when initially launched, enabled video game enthusiasts to develop their own channels and share their game-play experiences in livestreams with fans, providing two-way communication between the gamers and fans. Twitch has since evolved to include esports competitions and livestreams about many other topics beyond video games, but its popularity centered around the ability for anyone to stream content.
On MaxBet TV, there will be special events featuring the top slot influencers, for sure. In fact, there will be a lot of content on MaxBet TV from influencers like Brian Christopher, NG Slot, Lady Luck HQ and others. These influencers will, in fact, be a crucial factor in getting the message out about MaxBet TV.
"We have an event coming up at Graton Casino in Northern California," notes Jones, who is the company's chief content officer, "where we're going to bring in a handful of influencers. We'll show two, three days in the life of a content creator and show what they go through when they take a private jet up to the property and gamble on the floor, and behind the scenes on how they make their videos and how they make their living.
"It will be fun, because it allows the players to come in and meet the influencers they've been following online, and get a firsthand, personal touch with their favorite gamblers."
INFLUENCER FACTOR
The millions who tune in to watch those influencers play games are players of all stripes, notes McKiski. "You have influencers that are gambling very high limits, like NG Slot, for example, who had his birthday at the Cosmo and lost $100,000 in 20 minutes. But there's the low-limit content as well. Folks like Brian Christopher, who a lot of people have heard of, doesn't always play really high amounts. He plays what I would consider normal, giving his fans an experience most people can relate to. And it allows people to maybe watch a game before they risk their own money, and get a sense of, 'Do I like that game or not?'"
Casinos are already using the influencers to promote games, with Christopher even getting his own branded slot area at the Plaza in Downtown Las Vegas.
But the slot influencers are only the beginning. The content on MaxBet TV will include a wealth of instruction not only on slots, but on table games and video poker as well. McKiski says educational videos include contributors such as Casino Quest Vegas, which runs a dealer school in Las Vegas and publishes a wealth of video instruction on how to play table games.
McKiski and Jones have big ideas on ways to expand that educational material. For instance, plans are to take a page from the slot influencers and livestream table games. It's not as hard to get approved as one might think, at least for the many table-game operators in the business that know McKiski and Jones from their years in the industry.
"We've made some good relationships with casino operators with many of the VPs and general managers at casinos," Jones says. "And we're able to have some one-on-one conversations—'Here's how we can do it.'"
It may be by livestreaming an individual table set off from the main gaming floor. Viewers get a close-up view of a table game—how it works, how the dealers and players interact.
"We have some partnerships here in [Las Vegas]," says McKiski, "Some of the Station properties and some of the Downtown properties have said, 'Just schedule it with me and you can come and do it.' They'll set aside a table."
Could this work for a livestreamed craps game?
"We've got to figure out who we can partner with on that," McKiski says. "The poker officials basically built a glass case where the table is set aside, so it's a live stream of eight or nine players, and they film that. For craps, we could do something similar where you set aside a craps table and invite some players in, maybe curate some personalities and let the dice fly. Craps certainly has the most energy and would probably make the best TV content."
And don't forget the video poker influencers. Jones says video poker will be a big part of the MaxBet TV programming. "Our cofounder and my business partner, Landon Jones, is the biggest video poker player I know, so we won't be ignoring that content!" laughs McKiski.
He says MaxBet already has content licensing agreements in place with channels and content creators focusing specifically on video poker. Experts like "Slot Massacre" and "Big Katz Poker" will demonstrate the games, offer tips on strategy, teach you the best pay tables, and livestream their own play. They'll talk the viewer through deals, discards and why a particular strategy works, as it's happening.
Meanwhile, all this livestreamed play will be accompanied by content that shows the perks and lifestyle possible through loyal, repeat play. Players will get peeks of high-roller suites, free champagne buffets and spa treatments for top-tier players—what it all looks like for a premium player.
"We have content creators already that are [highlighting] those types of experiences," McKiski says, "Hey, not only did I go and play 88 Fortunes on the floor, but then I was upgraded to the Junior President Suite."
McKiski says apps are available upon launch to access MaxBet TV on mobile devices, on all the major app stores—Apple and Google—and on TV app stores as well. Downloads will be available to stream on Apple TV, Amazon Fire TV Stick, Samsung Vizio, Roku and other streaming services.
MaxBet TV will be available free to viewers and fans around the world on all major streaming devices, smart TVs, tables, game consoles, computers and smartphones.
You also may find the MaxBet TV channel on your in-room TV soon. "We're starting to have those conversations now," Jones says, noting that at least one regional casino company is planning to bring MaxBet gambling content to both in-room TVs and above the bar in lounge venues.
"We're psyched to launch the MaxBet TV network, where we'll offer curated, compelling programming to gamblers, gamers, and anyone interested in the gaming lifestyle through a single and exclusive platform that carries the content they love," McKiski says. "Gambling is a massive business, with no dedicated network for casino content; MaxBet TV will be the first and only channel to cater to this vibrant industry and lifestyle."
As the ramp-up of the channel nears, McKiski stresses that MaxBet TV is designed to serve a dual purpose. "If I'm a consumer of any sort of content, digital or otherwise, the content should seek to do one of two things," he says. "It should seek to either entertain or to educate. On our platform, it will do both."