Inside the Wheel of Fortune Slots as Brand Celebrates 25 Years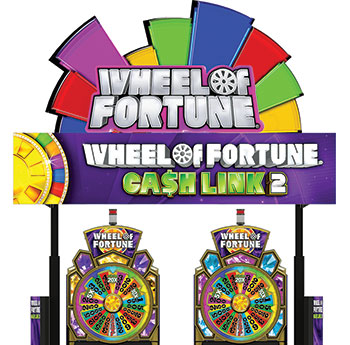 In celebration of its 25th anniversary of Wheel of Fortune slots, the game's manufacturer IGT presented National Indian Gaming Association Chairman Ernie Stevens with a special token of appreciation at the group's tradeshow and convention on July 21.
Vice President of Global Business Development Knute Knudson presented Stevens with a custom Wheel of Fortune kimono exclusively designed by Bob Mackie and signed by Wheel of Fortune hostess Vanna White. As part of the anniversary, "Spinning Reels" recently spoke with IGT director of premium content Boris Hallerbach.
How did the idea for the slot come about?
Anchor Gaming first had a wheel game that was fairly popular and around the same time. IGT was working with Sony to create a Wheel of Fortune slot machine. [Former IGT executive vice president] Bob Bittman saw the benefit of Anchor's wheel and the Wheel of Fortune brand as a potentially great combination.
At the time, the math behind the games was very unique because we took top-performing IGT slot games and implemented Wheel of Fortune's branding and iconic sounds. IGT's Wheel of Fortune Slots quickly became a fan favorite, and paved the way for hundreds of additional licensed slots games to appear in land-based and digital casinos worldwide.
What do you think has kept Wheel of Fortune so popular?
IGT's Wheel of Fortune slots are based on a legendary brand with a huge following, creating instant brand recognition with players. Over the last 25 years, IGT has created more than 250 compelling versions of Wheel of Fortune and each game has its own unique take on the iconic entertainment brand. Wheel of Fortune has firmly established itself as the "go-to" slot theme for awarding life-changing jackpots and has become the most successful slot theme of all time.
What are some of the most popular versions and why?
The three-reel stepper Wheel of Fortune game, with all of the unique IGT base game themes, is still the most popular version, partially because of its simplicity but also because of the innovations we've added. The game went from having a single payline, to five paylines, to nine paylines and extra bonuses. These innovations keep the gaming experience relevant to all slot players.
In 2005, IGT launched the Super Spin, which featured a massive wheel in the middle of a casino floor with nine slot stations around it. Players triggered bonuses and were able to spin the wheel together. This created one of the first community slot experiences and the biggest slot installations at the time. More recently, the Wheel of Fortune Megatower has gained popularity because of its huge size and massive reels.
What's next for the brand?
Wheel of Fortune is a huge part of IGT's research and development strategy, so the company will continue to innovate, creating new, engaging themes and launching the products on new hardware.
*** sidebar ***
Wheel of Fortune Facts and Figures
Of the many milestones achieved by IGT and the award-winning Wheel of Fortune slots portfolio over the last 25 years, some of the most noteworthy include:
1,100 jackpots of more than $1 million
Awarded more than $3.3 billion in jackpot prizes
IGT has developed more than 250 versions of the game