Play Like the Pros – Spin & Go Tips from PokerStars Ambassador Nick Walsh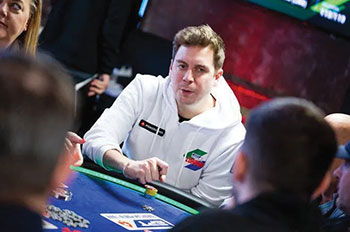 As online poker continues to grow in the U.S. and beyond, small-field Jackpot Sit & Go tournaments (known as Spin & Go on PokerStars) have become more and more popular. These quick-play tournaments are usually three-handed events and feature a winner-take-all format. Before play begins a random prize is announced, with players often playing for twice the buy-in but sometimes many times that amount.
Casino Player spoke to Nick Walsh at the PokerStars Players Championship in the Bahamas about how to play these events, which can also help fine-tune your skills overall. Originally from Wisconsin and now living in the United Kingdom, Walsh cut his teeth on these events during his poker career.
"It's not a high return on investment, but they're really fast," he says. "So you can play a ton of them in a day. And that's kind of how I made my way into becoming more professional."
Finding those mega jackpots isn't always in the cards, but sharp players can score some nice earnings like Walsh. He regularly streams his Spin & Go action on his Twitch stream and offers some strategy advice in playing these Jackpot Sit & Go tournaments as well other small-field events.
1 – Get Your Preflop Game Together
Because Spin & Go's are such a fast format, preflop skills are highly important, Walsh says. Pay attention to what other players are doing.
"Having really solid preflop information is already going to make you much better than other players," he says.
A general idea of how your opponents are acting and some confidence in your own skills and strategy can pay off in the long run.
2 – Watch Flop Betting
Once play has reached the flop, Walsh advises that players pay attention to their own betting. Your betting strategies from larger tournaments with a slower pace may not provide the best approach in these events.
"You can't assume that what you learned with multi-table tournaments is going to be the same for Spins because first of all, there are no antes," he says. "So that already immediately changes the size of the pot. There's also a lot smaller betting. One-third pot is probably a very common flop bet size. One-quarter pot is actually probably used a lot more frequently in most situations in Spin & Go's."
Walsh says to keep ramping the aggressiveness up despite betting in smaller amounts.
"What I'm saying is that your flop sizings are going to size down, but you're going to continue to barrel very aggressively on the turn as well," he says. "So you're kind of setting yourself up to win pots on the turn in the same way that you do in regular multi-table tournaments as well. But the sizings are different because you can do a lot more with a smaller bet because it represents such a larger amount like a larger amount of chips than if you were playing at maybe 90 blinds deep, where you need to bet bigger in order to build the pot to get there."
3 – Variance and Bankroll
Because these events feature small fields and quick action, Spin & Go's can see some major variance. Be prepared for all of this when attempting to win regularly in these events. Look at results over a longer amount of time.
"You need to make sure you have the bankroll to play because people are like, 'I'll load up 20 buy-ins and see how it goes,'" Walsh says. "A really good player can swing 20 buy-ins in a day. So you need to have 100 to 200 buy-ins, depending on what stakes you're playing and depending on how good you are, in order to weather the swings. And then overall long term, you can make it out and make some money."