Tightening Up: Lower returns and higher minimums mark the post-COVID casino
By Frank Legato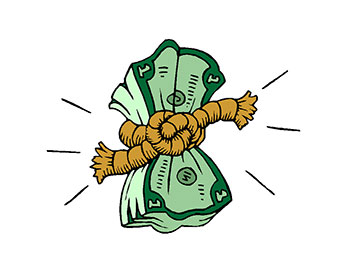 We all know that casinos across the world were heavily impacted by the COVID-19 pandemic and the resulting forced shutdowns that lasted months in 2020. Since all the casinos reopened, revenues have soared, with 2021 logging record gaming revenues across the board as pent-up demand ruled the day.
But big business doesn't mean the casinos aren't still trying to recoup losses caused by the COVID crisis. And in many cases, those efforts to catch up are taking place on the backs of gamblers.
On the slot floor, there are fewer choices, but in reality, casinos dropped a lot of games that weren't making money—translated, that means players didn't like them. The remaining games are the ones that players love, and that's why the revenues are up.
But did they tighten up the payback percentages when they reopened? The payback percentages reported last month in our annual "Loosest Slots" survey don't betray any wholesale lowering of slot returns last year. And looking at regular slots in a casino doesn't reveal the payback percentages.
Looking does reveal those returns, though, in video poker, where you can tell the payback percentage by looking at the pay table. As I noted in this space last month, way too many casinos have lowered their video poker returns recently. As I also noted, it's bad business, since those casinos are just losing that video poker customer.
One area of the slot universe that definitely has tightened up is in the slot clubs. There are reports from analysts and experts that post-COVID, casinos have become decidedly more stingy with the point-earning in slot clubs, so there haven't been as many comps and other freebies.
Heck, in many casinos, the age of the point-earned free buffet is officially gone, because the buffets themselves were never reopened when the industry came back from the pandemic. Many of the buffets that remain have been reworked to include offerings that are much more expensive than the pre-pandemic buffets—and thus, harder to earn a comp for, particularly when points are not being awarded at the same rate as in the old days.
One other effect of the pandemic has actually brought new players to the slot floor—but not in a good way. Since the casinos reopened, minimum bets on table games like craps have soared. Where before 2020 it was easy to find $5 craps tables at the Las Vegas locals casinos, and even a couple of spots on the Strip midweek, today, even the most generous locals casinos start their craps at $10, and outside of those casinos, good luck finding a table minimum lower than $25.
The effect of this is that a lot of good, loyal, mid-level craps players have appeared on the slot floor to play one of the automated craps games. There are two types of these games—those with slot-like terminals surrounding a giant air-blown dice bubble; and the newest version, which places slot-style wagering terminals around an actual table, where you still get to roll dice. But as far as the prop bets, the hardways, the payouts and everything else, it's all done  electronically. Instead of chips, you get a cash-out ticket.
Don't get me wrong. These are great machines, particularly the ones from Aruze. They re-create the craps experience as well as any computer-based device can, and they're offered at minimum bets that are actually sane.
But the experience still doesn't stack up to the live game.
I know this is a slot column, and if you frequent this space, you know I like to play traditional reel-spinners and video poker, that I particularly love video poker, and that, at least as much, I love to play live craps. There's nothing in the casino like a live craps game, packed with players high-fiving each other and cheering on a hot roll.
As good as the simulated craps experience is, it's just not the same. You can't high-five a socially distanced fellow player. Plugging your wagers into a computer interface can't match the experience of players hollering out "Eeo eleven!" or "Horn!" or "Hard 8!" while crowding around a live table.
Blocking mid-level players out of that experience, the same as tight video poker and sluggish point-earning, is not only bad business—there could be a lot of cash flying across those idle tables in the pit—it's bad customer service. While players can still get part of the craps experience on the slot floor, when I played one of those games in Atlantic City, the dealer (there's only one on the automated tables) told me not to even bother getting out my players club card.
There was no slot into which to put a card, because the club did not award points for automated craps, since it has the same low house advantage as the live game.
To reiterate: This is despite record revenues since the casinos reopened post-COVID.
I understand the need of casino operators to turn a profit on a given game. But there also has to be some semblance of properly serving good customers. Customers who may be seeking out an affordable game with a low house advantage, but who also book rooms midweek, eat at the restaurants, see the shows, go to the lounges, and, more often than not, bring spouses and other family members to the casino who do stick to the lowest-returning slot games.
That's business which, by keeping things tight on the gaming floor, the casinos will simply lose.
And they might not get it back.