CASH GRAB
A Look at 10 Real Casino Criminals, Cheats, and Counterfeiters
By Sean Chaffin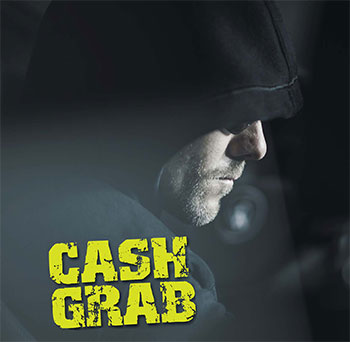 Robberies, cheats, counterfeiting, and even murder. Poker hasn't always been the safe casino-based game players know today.
In the old days there could be a criminal element lurking near the game. As poker players like Doyle Brunson know firsthand, making it home with your winnings wasn't always easy.
"Exchange Avenue was my introduction to a sinister, almost evil, and always dangerous element," Brunson notes in his autobiography The Godfather of Poker, about playing regularly in Fort Worth, Texas. "And with the kind of crowd that frequented those games in the 1950s – thieves, thugs, pimps, drug dealers, killers, con men and some working guys who were the 'producers' bringing money to the table –it was never boring.
"I saw things I'd never seen before, things I never even dreamed could happen. It was a new world and exciting, to say the least."
Even today, poker rooms, players, and casinos remain occasional targets for criminals looking for an easy score. These aren't fictional tales like Hollywood's Ocean's Eleven, these are real crimes by crooks looking for some big-value poker or casino chips, lots of cash, and even the upper hand in a poker tournament. Here's a look at some of those crimes that really stand out.
COUNTERFEITER PART ONE:
TOURNAMENT TO TOILET
This tournament tale certainly stinks. In January 2013, some guests at Harrah's Casino and Resort in Atlantic City awoke to some plumbing issues in their rooms. Plumbers found some- thing unexpected flushed down a hotel room toilet – more than
$2.7 million in counterfeit Borgata poker room tournament chips. Leaky plumbing and fake chips would lead to one of the crazier endings in modern tournament poker history.
The Borgata poker room is popular for its numerous tournaments throughout the year, and had begun its popular Borgata Winter Poker Open, which features several tournaments. After the discovery of the fake chips, New Jersey State Police, the Division of Gaming Enforcement, and casino officials, began investigating and 42-year-old Christian Lusardi, of Fayetteville, North Carolina, and was quickly arrested. The charges included rigging a publicly exhibited contest and bail was set at $300,000. Investigators began unraveling Lusardi's movements in the days prior to the discovery of the fake chips and piecing his alleged crime together.
Law enforcement believe Lusardi was involved in cheating – working at least 160 of the counterfeit chips into play into one of the first events – a value of 800,000 in chips. The tournament featured a $560 buy-in with 4,814 entries for a total prize pool of $4 million.
After initially suspending the tournament, play was then cancelled altogether with three tables of 27 players remaining. Investigators believe 2,143 players who didn't cash in the top 450 may have been affected by the counterfeit chips and were refunded their $560 buy-in. Those in the final 27 received the remaining cash – $19,323 each.
Lusardi had been an early leader in the tournament, and ultimately cashed out for $6,814. However, his flush certainly wasn't a winner. He was ultimately convicted and served eight months in federal prison – a sentence many believe was light considering this rounder's racket. Casinos tightened tournament security after this crazy caper.
BELLAGIO BIKER BANDIT
The Bellagio seems to be a regular target for crooks seeking easy money. On Dec. 15, 2010, just before 4 a.m., a man on a motorcycle parked his bike outside the casino and went inside with his helmet still on. Holding a gun and wearing a black jumpsuit, he headed to a craps table and made off with $1.5 million in chips.
It was a bold criminal act that took less than three minutes, and seemed so effortless in a highly-secure casino. At the time, the casino had some of the highest-valued chips in Las Vegas.
"The chips taken from the Bellagio robbery ranged in value from $100 to $25,000," the Daily Mail noted at the time. "Authorities plan to watch for anyone trying to cash high-value Bellagio chips."
A week earlier, police believe the same man hit the Suncoast Casino cashier's cage next to a poker tournament being played. That time he only made off with $20,000, but seemed to have fine-tuned his methods.
The biker bandit was eventually arrested after he returned to the Bellagio a few months later to gamble his stolen chips in an attempt to exchange them for cash – even being comped rooms and meals. But casino security and police were aware of his efforts, and he was arrested right on the property after trying to sell his stolen $25,000 chips for less than face value.
In 2011, Anthony Carleo, 30, was sentenced to at least nine years in prison for the heists. At the time of his sentencing,
$793,000 in Bellagio chips were still missing, including many of the cranberry-colored $25,000 chips. The Bellagio began tracking the chips immediately after the robbery.
"That was one of the major problems that Mr. Carleo had," his attorney noted according to the Las Vegas Sun, "which was, it's one thing to take something, it's another thing to get rid [of them]."
COUNTERFEITER PART TWO:
ADMIRAL SINKS HIS SHIP
While Christian Lusardi was a small-time crook, another counterfeiting case involved someone of a stature most might not expect. In 2013, Rear Admiral Timothy Giardina was removed from his position as No. 2 commander of U.S. Navy nuclear forces after being accused of counterfeiting chips. Giardina, a 1979 graduate of the U.S. Naval Academy, had been a three-star admiral and deputy head of the U.S. Strategic Command. But a major gambling scam resulted in the ex-Navy man losing his job.
"At Strategic Command, Giardina was privy to highly sensitive national security secrets," Navy spokeswoman Pamela Kunze told the Navy Times. "Legal gambling by Strategic Command officers with security clearances is not prohibited or limited by policy, although if they incur excessive debt, they are required to report it."
After an investigation, Navy commanders believe Giardina was banned from numerous casinos after using stickers and paint to alter lower-denomination chips. A regular at the poker tables at the Horseshoe Casino in Council Bluffs, Iowa, he was caught using three fake chips in June 2013.
"Investigators said they found his DNA on the underside of an adhesive sticker used to alter genuine $1 poker chips to make them look like $500 [chips]," the Navy Times noted.
Giardina was eventually banned from all Caesars properties and found guilty of conduct unbecoming an officer before being fired, but was able to avoid jail time and a court martial. The admiral's full boat was no longer seaworthy.
SHOOTOUT AT THE BELLAGIO
In March 2019, another attempted robbery went down at the Bellagio poker room cage. A man in a sock hat went to the cashier cage in the poker room with a gun and demanded money. After getting his loot, he exited the property and attempted to steal an approaching car from the valet area. Unable to steal the car, he was then surrounded by police officers and shot one. Officers returned fire and killed the man. Fortunately, the officer was protected by a bulletproof vest and only suffered minor injuries.
Police identified the bandit as Michael Charles Cohen, 49, who had also robbed the poker room cage two years earlier. The Bellagio robberies weren't his first crimes.
"According to police, Cohen has a criminal history that includes convictions for bank robbery in 1999 and 2008 as well as charges for kidnapping and numerous traffic violations," LasVegasNow.com noted.
Several well-known pros were in the room at the time of the robberies and the room was locked down after the robbery. Many couldn't wait to get back to the action.
JOSE VIGOA:
MURDER AND MAYHEM
In 1998, Cuban-born and Soviet-trained Army commando Jose Vigoa began a 16-month long crime spree that would shock Las Vegas. He and his henchmen brandished guns as they robbed armored cars at various casinos, and then the casinos themselves all across Sin City.
The violent criminal was once called "one of the most dangerous criminals in the history of Clark County" by Chief Deputy District Attorney David Roger, and masterminded a crew that robbed the MGM Grand, the Desert Inn, Mandalay Bay, Bellagio, and New York-New York casinos. The crew was eventually caught after they were captured on security cameras at the Bellagio.
"The men are accused of jumping over a counter into a cash 'cage' at the Las Vegas Strip resort and taking about $160,000 in money and casino chips," the Los Angeles Times noted. "The robbers, filmed by security cameras, fired shots at guards as they fled."
Vigoa pleaded guilty to numerous felonies including the murder of two armored car security guards. He was sentenced to four life terms, and the heists were chronicled in the best-selling book Storming Las Vegas by author John Huddy – now being adapted into a film. This was yet another case where real life was crazier than fiction.
ROBBERY OF $2.95 MILLION FROM CIRCUS CIRCUS CASINO
In 1993, Heather Tallchief drove away from the Circus Circus Casino in an armored truck with over $2.95 million inside. Tallchief and her accomplice, Roberto Solis, disappeared with the millions and were not heard from for over a decade. In 2005, Tallchief turned herself in to Las Vegas authorities. In 2006, a federal judge sentenced Tallchief to five years and three months in prison for her role in the heist.
Roberto Solis has never been found and none of the stolen money has ever been recovered.
THEFT OF $500,000 IN CASH AND CHIPS BY WILLIAM JOHN BRENNAN
In September 1992, then 34-year-old William John Brennan walked out of the Stardust with $500,000 in cash and chips. Brennan was a sports book cashier at the casino. After the theft, Brennan disappeared and has not been heard from since. An arrest warrant charging him with 12 counts of felony theft has been issued for Brennan, however he remains at large to this day.
THE $1.5 MILLION SOBOBA GRAB & DASH
Eric A. Aguilera and his accomplice Luda Ramos robbed The Soboba Casino in Las Vegas in 2005. The Soboba Grab and Dash was a casino heist straight out of the Hollywood movies. The two stormed into the casino, held everyone at gunpoint and tied up several of the casino staff.
Eric and Luda's robbery game plan was the type of theft most banks and casinos train for on a yearly basis. In this instance, the training worked, as none of the staff were injured, and the authorities were notified before Eric and Luda left the casino. This warning from the casino staff gave the police a head start, and they were able to apprehend the criminals after a short high-speed chase into the desert.
THIRD TIME'S THE CHARM
Reginald Johnson is known for his attempted heists at Treasure Island Casino and Hotel, but he certainly isn't the only person to try, as the casino has had many robbery attempts in the past.
What makes Mr. Johnson unique, however, is that he had attempted robbing Treasure Island twice before his third "successful" robbery.
There's not much glamor here as Reginald is considered a bit of a career criminal.
Reginald's robbery wasn't that lucky, however, as it only earned him a scant $30K; a smaller score than comparable casino robberies. This guy is a bit of a monster; robbing various other establishments aside from Treasure Island. In some of his other crimes, he hurt people. Despite having a smaller theft total, Reginald is currently serving a 130-year sentence for the Treasure Island robbery and other offenses.
BERLIN POKER HEIST
Of course, the U.S. isn't the only place where casino crimes happen. In March 2010, some of the biggest names in the world of professional poker descend upon Berlin to play for a 1 million prize.
As the tournament kicked off, armed men in balaclava's stormed the venue to get their hands on the money, with the arena erupting in panic. Hundreds of spectators and tournament participants were trampled while attempting to flee the scene, and the robbers got away with almost 200,000.Though nobody was injured by the robbers, several people were injured during the panicked stampede. And to make matters worse, the entire robbery was streamed live online as part of the media coverage of the event.
Sean Chaffin is a freelance writer in Crandall, Texas, and senior writer for Casino Player and Strictly Slots magazines. His work appears in numerous websites and publications. Follow him on Twitter @PokerTraditions or email him at seanchaffin@sbcglobal.net for story assignments.