CARD CRUSHER
New Jersey's Scott Blumstein Wins World Series of Poker Main Event Final Table Showdown
By Sean Chaffin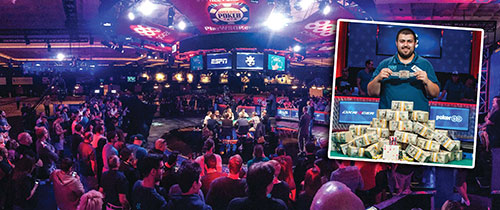 "I'm either going to look like a genius or an idiot," Blumstein said after mucking his cards.
After 10 days of play and thousands of entries, Scott Blumstein emerged as the World Series of Poker Main Event champion in the early morning hours of Sunday, July 23. The 25-year old poker professional from Brigantine, New Jersey, took home the coveted gold bracelet and the $8.15 million top prize.
While it was not an easy win, Blumstein played a big chip stack well after leading the final table when play resumed on Thursday, July 20. As play continued down to three, Blumstein made use of timely raises and aggression to keep players with smaller stacks off balance and folding as they looked to moved up the payout ladder.
"I'm still in shock," Blumstein said to gathered media after the tournament. "I thought I would get even more emotional than what I got in real time but it's just the best feeling, I can't even put it into words."
Coming into the WSOP, Blumstein was the youngest at the final table and had never cashed in the series. His total live tournament winnings were $312,142, including a first-place finish in a $560 buy-in tournament in 2016 at the Borgata Summer Poker Open in Atlantic City for $199,854. A graduate of Temple University with a degree in accounting, this was Blumstein's first attempt at the WSOP Main Event and the only event he entered this summer. A big sports fan, Blumstein cheers on the Portland Trail Blazers and the Oakland Athletics, and should have plenty of cash for a few tickets to his beloved New York Jets when the NFL season kicks off in September.
Along with applying pressure on opponents with much shorter stacks, Blumstein made some nice and folds and reads – keeping his opponents from building sizable stacks. One hand in particular showed his skill at making big timely folds. On the final day of action with only three players remaining, Blumstein and Pollak were on the blinds and saw a flop of 3-K-8. Both players checked, and the 5 came on the turn. The ESPN cameras showed that Blumstein held the Q, but Pollak had him beat with the A for a bigger flush. Blumstein bet 5 million chips and Pollak called. The river brought the 10 and Blumstein bet 9.7 million. Pollak thought a bit, and then raised to 21.5 million. Blumstein sat for several minutes discussing and analyzing the hand while his opponent sat quietly. After some thought, Blumstein eventually folded and Pollak raked a nice pot.
The Main Event runner-up was 25-year-old Dan Ott from Altoona, Pennsylvania, who took home $4.7 million. Ott entered the final table fifth in chips, and previously only had live tournament winnings of $3,656, all in two WSOP cashes this summer. Ott is a graduate of Penn State University with a marketing degree, and this was his first-ever WSOP Main Event cash.
Saturday's action featured three players: Blumstein, Ott, and France's Benjamin Pollak. An interesting hand came up late on Saturday. Blumstein had a shot at the first double knockout to end a Main Event final table when Pollak moved all in with his last 35.2 million chips on the dealer button. On the small blind, Ott moved all in with his last 45.8 million. Blumstein looked down at A-Q and made the call. Pollak showed Q-10 and Ott tabled K-9, and Blumstein had a lead going to the flop with the two short stacks in jeopardy.
The op brought K-J-2 followed by the 4 on the turn and 6 on the river. Pollak was eliminated and Ott raked a nice pot to stay alive in the tournament. Pollak took home $3.5 million for third place. However, when heads-up play began Ott faced an uphill battle against Blumstein, who held a 2-to-1 chip disadvantage but battled throughout the night. As the blinds escalated, however, he was ultimately all in with A-8 versus Blumstein's A-2. Ott seemed in good shape when neither player paired on the flop or turn. However, the river card was the 2 and Blumstein had won.
"At the end, the chips didn't go my way," Ott told PokerNews.com. "The cards didn't go my way. But I got second place in the third largest Main Event ever. I can't complain about that."
In the final days of the event, one of the biggest story lines turned out to be John Hesp. The 64-year-old amateur and grandfather of seven of Bridlington England, was living a lifelong dream of playing the Main Event. His story emerged on Day 4 and throughout the tournament he was jovial, talkative, showed his winning cards, and was generally friendly with those at his table. As he advanced in the tournament, Hesp began to see socializing as a way to add some fun and entertainment to the game – a common theme from many throughout the summer.
Social media became enamored with Hesp, whose daily wardrobe featured multicolored and multi-patterned shirts with a similar sports coat. He added to that with a Panama-style hat. Hesp's total lifetime winnings were less than $3,000 and he only plays once a month at his local casino, Napoleon's in Hull, England. Many poker players and fans were attracted to his fresh attitude and uniqueness throughout the tournament, and Hesp continually made nice raises and good folds to build his stack. Hesp, who is semi-retired and owns a caravan vacation rental company, said he played simply with instinct and feel, and when the dust settled he was second in chips when play reached the final nine.
At the final table and after a nice run to take the chip lead, Hesp faced a tough cooler when his A-10 made two pair on the flop. However, Blumstein held A-A and had made three of a kind. When Hesp moved all in, Blumstein made an easy call. Hesp was crippled, but came back and ultimately finished fourth.
"Words can't explain the incredible excitement and wonderful, fantastic, amazing, and delightful time I've had," he told ESPN after being eliminated. "I'd have paid another $10,000 to get this far. I've loved it, I've lived a dream."
BIG SUMMER
A total of 120,995 players from 111 countries entered the 74 events on the WSOP schedule, creating a total prize pool of more than $231 million. The Main Event was the third-largest in history, drawing 7,221 players from 83 nations, trailing only the 2006 and 2010 events.
Another story line was the second final table appearance of Ben Lamb. The 32-year-old grew up in Tulsa, Oklahoma, but now plays high-stakes cash games in Las Vegas. While he came into the final table with the shortest stack, and finished ninth, it was another impressive showing. Running deep in this tournament is nothing new for Lamb, and the 2011 WSOP Player of the Year notched his fourth cash in the event. In 2007, he finished 156th in a field of 6,358 for $58,570. In 2009, he finished 14th for $633,022. In 2011, he won third for $4.02 million.
Poker continues to grow both in the U.S. and internationally and that includes the WSOP. This summer's series featured 74 events in numerous variations of poker. The Main Event capped the largest-ever WSOP in terms of entrants in the event's 48-year history.
Along with strong numbers, the 2017 event marked the first Main Event that was broadcast live from start to finish thanks to ESPN and the PokerGO web streaming app. The new live coverage allowed for the elimination of the November Nine, which had delayed final table play until November to build momentum during the weekly taped broadcasts. The live final table then allowed for a crescendo to the network's coverage. This year's live coverage, however, allowed for every day of the Main Event to be aired live by the two outlets and after a two-day break, ESPN aired the final table over three nights until there was a champion.
"We've just evolved in how we digest media," poker pro and ESPN WSOP analyst Daniel Negreanu said during the final table broadcast.
The live coverage was a hit with fans. And while PokerGO was not perfect, the service is working to improve for 2017 and show more of the events fans have been clamoring to watch. The service is also airing more than 100 hours of live poker throughout the year. ESPN analyst and 14-time bracelet winner Phil Hellmuth added: "They've done an amazing job at making sure we see every hour of the Main Event."