BRINGING THE THUNDER
Gaming Arts kicks off the summer season with Thor's Thunder on the Vert-X Grand cabinet
By Frank Legato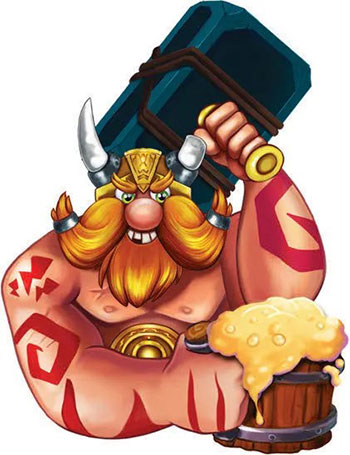 When visiting the slot floor, players certainly can expect to see games from famous slot suppliers like IGT and Aristocrat. Lately, though, we've seen major hits from a company that's only been in the slot business a scant five years.
It was 2018 when Gaming Arts, then a successful bingo and keno supplier, dove into the slot business. The company's move to slots was far different than your normal startup, though. Company founder and CEO David Colvin turned to seasoned veterans of the slot business to create a team that could hit the ground running in the slot market.
Jean Venneman, the company's chief commercial officer, has had a distinguished career in the slot sector, in executive and slot-development roles at IGT, Bally and Scientific Games. She led the team that produced IGT's Wheel of Fortune in 1996. Jason Pawloski, who is vice president of studios, was lead game designer for Ainsworth and a game producer for IGT and Cadillac Jack.
The new team was filled out with veterans who would be capable of landing hit games quickly. And they did. Games like Kung Fu Empress, with its anime-like central character and superinteractive graphics, continue to gain popularity. Casino Wizard, a multi-game machine featuring several video table games, was launched at the perfect time, when the Covid-19 pandemic had players squeamish about crowding into live table games. Last year, Gaming Arts boosted that offering's popularity with Casino Wizard VIP, adding several table games that are rare in video form.
Also last year, Gaming Arts scored a hit with Brian Christopher's Pop'n Pays More, a collaboration with the popular slot influencer that incorporates all of the catchphrases he uses in hosting a variety of new slot games for millions of followers.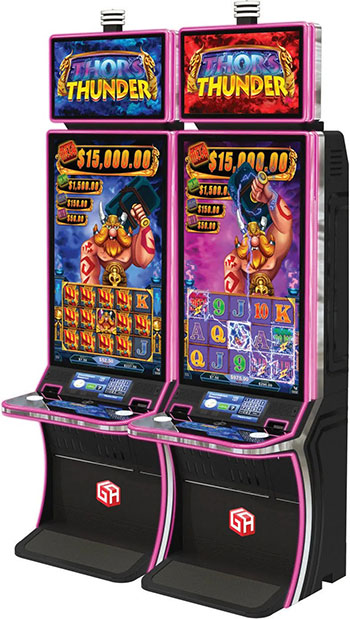 While Gaming Arts has developed several cabinet styles, all three of these latest hits have been featured on the Vert-X Grand cabinet, an oversized cabinet featuring an ultra-bright, 4K 49-inch portrait monitor, theater-quality sound, an ultra-bright LCD button deck, programmable LED play buttons, and attention-grabbing LED side lights.
For the next hit on the Vert-X Grand, Gaming Arts is banking on a new game centered on Thor, the hammer-wielding Norse god associated with lightning, thunder and storms—not to mention a hero of Marvel Comics. The new game, Thor's Thunder, doesn't involve the Marvel Comics character, but the Thor legend itself provides ample material for what could be Gaming Arts' next hit.
CASH ON REELS AND MORE
At the heart of Thor's Thunder are cash-on-reels symbols that land both during the 15-reel, 50- line base game and a potentially lucrative freespin round. They are "what you see is what you get" symbols, each displaying a specific credit amount. The symbols also can display jackpots, free games, or the special "Storm Fever Mode."
What's different about Thor's Thunder than other games that use cash-on-reels symbols is that there is no waiting through a hold-and-spin feature to collect. Any time cash-on-reels symbols appear along with the Thor character on the middle reel, all of the symbols pay off. And there are a lot of them.
"It's an instant-win cash-on-reels feature," says Pawloski. "All you need is any prize with Thor in the middle reel and you win whatever's on the screen. And the nice thing about this is we have a lot of variety in the types of prizes."
That includes a wealth of credit prizes, ranging anywhere from 50 credits to 2,500 credits times the line bet, a free-spin round, and any of four static jackpots. The jackpots rise or fall according to the wager and denomination. If the player changes denomination or raises the per-line bet, the jackpot meters adjust accordingly. The awards include 500 credits times the bet multiplier (Mini), 1,500 credits (Minor), 15,000 credits (Major), and 150,000 for the Mega, which translates to $1,500 on the penny version of the game.
Each of the jackpot symbols can land more than once on the reels along with the cash-on-reels symbols, which means you can win multiple jackpots on a single spin.
"You can definitely win more than one jackpot on any given spin," says Pawloski. "It's fairly easy to get multiple Minis. I've won three Minors on a single spin. Obviously, as you get to the higher-value ones, it gets a little more difficult, but an extremely lucky person could have that outcome."
Also with the cash-on-reels symbols on the reels are freespin symbols awarding anywhere from five to 25 free games. The good news about the free-spin round is that the Thor symbol stays planted on the middle reel, meaning the player collects on all the cash-on-reels symbols whenever they land on a free spin.
"We're working on a number of things that are innovative.
A special cash-on-reel symbol during the primary game will trigger "Storm Fever Mode," where numerous cash-on-reels symbols are added to each spin. "Internally, we call them 'Super Spins,'" Pawloski says. "Basically, a bunch of these cash-on-reels symbols are added to the reels. "You can easily get nine, 10, 11 or more of these cash-on-reels symbols on the screen."
The game play is presented with intense animation and crashing sounds. "The whole presentation is very, very exciting," Pawloski says. "We have a very dynamic screen with lots of lightning. Thor is a very engaging character. He does things for the player—he adds the Thor symbol onto the reels. Sometimes when you miss it, he gives you more cash-on-reels symbols. Sometimes these symbols are very, very significant in value."
Thor can also pop up to give you a surprise award of seven or 10 free games when nothing is otherwise happening on the reels, he adds. "It's a very sustainable, survivable game as well," says Pawloski. "It's not going to kill you. You're not going to put in $100 and lose it right away. There's a lot going on in this game. It's a lot of fun."
MORE TO COME
Venneman says the first Thor's Thunder games should arrive on casino floors in early July, with the game launching in casinos everywhere this summer.
It stands to be a summer of hits for Gaming Arts. The next big launch will be the Spin It Up Series, a family of traditional reel-spinning games on the Phocus Dual Screen with Halo Top cabinet, which includes a top video bonus wheel. These are classic three-reel slots, available to casinos with a single pay line, three lines, five lines or nine lines.
Each game has all the classic reel symbols—the multiple bars in base game Giant Gold Bar and multiple "7" combinations in Triple Double Stack 7s. Both include a "Super Wheel" symbol, which triggers the bonus wheel when three land scattered.
What's cool about the wheel bonus is that it's a continuing event. Slices on the wheel range from 20 credits to 150 credits, plus a "Jackpot" wedge that triggers a static prize of 1,000 credits times the player's total bet, or the top progressive jackpot. When the wheel is triggered, the slice on which it stops racks up for the bonus, and the slice turns into a "Collect" slice. The wheel then spins again, racking up cumulative awards until a "Collect" wedge lands.
"You can, theoretically, get every prize on the wheel," says Venneman. "It's a nice little feature, and we're interested in seeing that not only on the general floor, but also in the high-limit areas. This could be a nice high-denom set of games.
"They have a traditional look and feel as well. We've heard from numerous customers that they're interested in seeing this type of content, so we're hoping that this hits a market niche that might not be broadly served right now."
Those niches are gaining more variety for Gaming Arts.
"We're working on a number of things that are innovative," Venneman says. "We want to have that blend of new ideas as well as the elements that are a little bit more tried-and-true… We're striking that balance to come up with the right mix, the more familiar versus the more innovative. And the more innovative is what we strive for."
SLOT TYPE
Fifteen-reel, 50-line video slot; cash-on-reels symbols including jackpots; free-spin bonus event; .01,
.02, .05, .10, .25, .50, 1.00, 2.00, 5.00, 10.00, 25.00 and 50.00 denominations
PAYBACK % RANGE
86%–92%
AVERAGE HIT FREQUENCY
Approximately 40%
TOP JACKPOT
150,000 credits times bet multiplier