BRIGHT LIGHTS, SURGING DRAGONS
AGS uses its new Orion cabinet to bring out the best in the new PowerXStream game River Dragons
By Frank Legato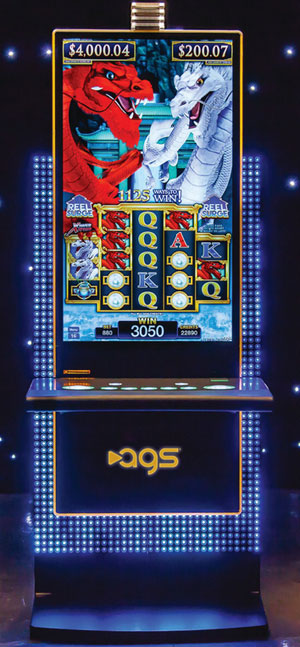 When you encounter the new River Dragons slot game from AGS, some features may be familiar if you're a fan of the slot-maker's games. There's the PowerXStream setup, in which the reels are configured with three symbols on the outer reels and four on each of the three inner reels. Then, there's the typically intricate artwork, in this case a masterful and dramatic depiction of raging red and white dragons.
This particular AGS game, though, is different than past games that may have had similar features. The main reason is Orion, the groundbreaking new cabinet style that uses lights and color like few other slot machines you'll find on the floor.
You're likely to find River Dragons as part of a carefully choreographed bank. In the center of each game is an imposing 42-inch vertical monitor, framed by 498 game-controlled, full-color, emotive LED lights reflecting against a clean, chrome base material. In a bank, the cinematic presentation looks like one large display.
When you put four of the Orion games together in a row, the lighting becomes a show in itself, changing according to what's happening in each game.
With people going into bonuses frequently, that feature lends a feel of real-time action—a sense that you're sitting at a bank of hot games.
AGS has used Orion to bring out the best in familiar features like PowerXStream, and better yet, to create entirely new features made for the 42-inch portrait screen. The most dramatic is what's called the "Reel Surge," where those four middle reels can grow as high as eight symbols for a random number of spins.
One of the first games in the Orion platform, River Dragons uses all these special features of the cabinet to great effect. Andrew Burke, vice president of slot products for AGS, calls it a "gambler's game," but wrapped around lots of entertainment— with an ergonomic setup that makes play easy and comfortable. For instance, players don't have to strain their necks to see the two dragons or the progressive meters at the top of the tall screen, because the screen is positioned at easy eye level.
"This game is the ultimate player's box," Burke says of Orion. "It's a 42-inch vertical monitor, but it has a much lower profile than some of the other (vertical-screen) products you see in the field. It's the same height as a slant-top cabinet. So, even though it's not a slant-top, the button deck and everything else is at that level we feel is ergonomically comfortable for players. You'll notice your eye level as you're looking at that screen is perfect, where you can see the whole experience." (The lower height is also good for the operators, who can place Orion banks anywhere on the floor instead of restricting them to walls.)
The AGS engineers who created Orion did their homework not only on ergonomics, but on the dynamics of lighting in creating an exciting display. Burke says the fact that one of the company's main research and production facilities is in Atlanta helped.
"Our team in Atlanta actually has gone over to the Coca- Cola innovation lab in that city, and met with some of those folks to talk about lighting," he explains. "At Coca-Cola, they think about it for vending machines and some of the displays they do. They've done extensive studies on how people interact with lighting, and we've incorporated some of those features into the game. So, the whole lighting experience in our cabinet is made to appeal to players, and to make the experience more comfortable."
Burke says the video monitors in the Orion cabinet are actually brighter before cash is inserted, to attract your attention from across the floor. "Once you insert cash into the game, it dims down to a level for the players that is much more comfortable on their eyes and doesn't fatigue them," he says.
Burke adds that the next generation of Orion will feature lighting that syncs across a bank of games. "If you're playing and you're in a bonus round, everybody at that bank is going to know you're in a bonus round, because the whole bank is going to go to the bonus color— a red or a bright, rich celebration theme," he says. "We're really excited about what all the lights can do for the future of this product."
'XSTREAM' POWER
One of the basics making River Dragons a "gambler's game" is the PowerXStream format. There are no paylines; wins are registered through adjacent symbols on the 3-4-4-4-3 reel setup. That results in 576 possible ways to win on each spin. Add to that stacked rows of wild, logo and dragon symbols, and it creates a volatility that can yield big wins and keep you in the game.
Using PowerXStream as its base, AGS created the theme for River Dragons by crafting a mythical story surrounding those two dragons moving back and forth at the top of the tall monitor. According to Burke, the idea is that fish swimming to the top of the headwaters are magically transformed into dragons. "The two giant River Dragons at the top of the screen interact, and if you touch their mouths, fish jump out," he says. "They interact throughout the game, and really take advantage of our 42-inch portrait monitor."
The game woven around these mythical dragons includes a two-level mystery progressive jackpot—"mystery" meaning you can win one of the progressives at random, regardless of the results on the reels. Both progressives are "Must Hit By" jackpots, a great feature that builds excitement on the bank by showing players a level at which each jackpot is guaranteed to hit. The lower jackpot resets at $500, and is guaranteed to hit before or when it reaches $800. The top jackpot resets at $1,000, and must hit by $2,000.
While it is a random event, when those jackpot meters approach the must-hit levels, there is natural case of jackpot fever that overtakes these banks of games.
A central feature of River Dragons, though, is the Reel Surge, which occurs in both the base game and in the free-spin bonus. In the primary game, if at least one bonus symbol lands on each of reels 2 and 3, it triggers the Reel Surge feature, causing the three middle reels to grow randomly between one and four rows—resulting in anything from a 3-5-5-5- 3 layout all the way up to a 3-8-8-8-3 reel set, utilizing that tall 42-inch screen to its full potential and re-evaluating the reel result with the extra spaces—which can include wild symbols, and more bonus symbols, possibly triggering the free-spin round.
If the Reel Surge does not result in triggering the free-spin round, the Surge mode continues for a random number of spins, with the height of the middle reels resetting from spin to spin.
Whether triggered in the Reel Surge or during a base-game spin, at least one bonus symbol on reels 2, 3 and 4 award anywhere from eight to a maximum of 128 free spins, depending on the number of bonus symbols in the initiating spin. Additional free spins can be won within the free games, adding up to a huge potential bonus take. "You can have a really long event, and as you can imagine, a very big-winning event too, within that bonus round," says Burke.
Even better news is that the Reel Surge feature is always active during the free-spin round. If free spins are the result of a Reel Surge, the height of the middle reels begins where it is on the initiating spin. Otherwise, the free spins start at the standard 3-4-4-4-3 layout, and grow by one row each time two bonus symbols land on the reels.
In all, it's a fitting package of scatters, stacks, progressives and eight-high reels to fill up the continuing light show that is Orion.
Orion is just getting started. The game Fu Nan Fu Nu, another strong Asian-themed entry, is already being field-tested, and within the next few months, River Dragons and Fire Wolf II—identical game features to River Dragons, in a theme that's already a hit—will be introduced around the country.
Fu Nan Fu Nu includes a novel path to the bonus round, in the form of a string of fireworks on the face of the game that light up individually with certain symbols on the reels. When all are lit, a random trigger causes them to explode to enact a pick-em bonus. Burke says the banks of this game have been full to overflowing wherever it's placed.
Burke says that by March, the entire first batch of games on the Orion cabinet will be in casinos everywhere, on the way to 12 themes on the cabinet to be launched this year.
As for River Dragons, "I think players are going to like the entire experience," says Burke. "It has that rich high-volatility experience players like, but with a great entertainment package on top of it. There are a lot of things it this game that you'll notice more and more as you come back."
And as Burke says, on Orion, players are already coming back.