BONUS HUNTER
New games and new bonus rounds coming in 2017
By John Grochowski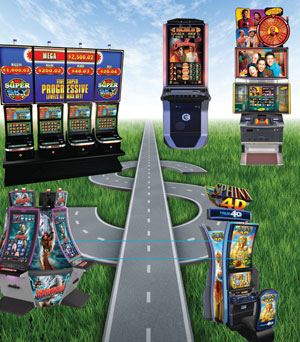 In a slot world where games are designed to be entertaining, interactive experiences that keep you coming back for more, bonus events are the centerpieces. Win or lose, you can have a good time if you get to play the bonus games a few times.
That makes the annual Global Gaming Expo in Las Vegas a bonushunter's dream come true. The casino execs, suppliers and others who attend can journey from one gamemaker's booth to another, where new games are set up so the manufacturers can show off unique game features. A turn of the key or punch of a code by a demonstrator can launch a bonus event for a trial run.
There's no money involved – no winnings, but no risk, either. Just a lot of fun sampling the best of what the game has to offer. Here are a few that caught my eye this fall that you'll be seeing in the coming months:
MONEY RAIN SUPER SKY WHEEL
Incredible Technologies
If you're walking through a slot floor that has Incredible Technologies' new Infinity Super Skybox cabinet, you can't miss it. The recommended configuration is four machines side-by-side.
"The vertical 55-inch monitor [atop each machine] is now linked across four cabinets," marketing manager Caitlin Harte said. "That linked screen is equal to a 123-inch monitor. It's an economical way for casinos to get a pretty impactful look on the floor."
Naturally enough, IT wanted to use high-impact games to introduce its high-impact cabinet with the linked video screens and new media manager. That means Money Rain Super Sky Wheel and Crazy Money Super Sky Wheel. Crazy Money and Money Rain have been two if IT's biggest hits, so players attracted by the giant video display will have plenty to hold their interest.
"When you get a bonus on either, it goes into the money catch bonus," Harte said. "So it's something familiar that they've seen before. It's super easy to understand. Dollar bills of different denominations fly across the screen and you touch them to collect bonuses."
It's a bonus IT has used before, and it's as interactive as it gets. You'll keep your fingers busy trying to touch as many bills as you can to build the bonus.
On the new cabinet, that bonus gets even better. Instead of credits, some of that flying currency awards spins on a Super Sky Wheel that stretches across the four overhead monitors. No passer-by will be able to miss it when there's a spin of the enormous wheel.
"On the Super Sky Wheel you can win progressives and credit amounts," Harte said. "There's an external ring and an internal ring on the wheel. The internal ring has respins on it. So it's possible you could get 20 free spins on the Sky Wheel."
SHARKNADO
Aristocrat Technologies
What do you do when a shark comes flying out of tornado right at you? Grab a chainsaw and defend yourself, of course. And if the bonus credits mount while the sharks meet their maker, so much the better.
That's the way it goes in the Sharknado slot machines, based on the series of campy TV movies that have brought thrill-seekers to the Syfy Channel since 2013.
I tried this one out before speaking with Matt Wilson, senior vice president for global operations at Aristocrat. I didn't even have to wait for someone to unlock the bonus for me. Within a few spins, I got to a free-spins bonus with a tornado whirling across the screen, casting out sharks as it goes. If you're lucky, the chainsaws will do their thing and turn the sharks into credit fodder.
Add animated fun to big free-spin wins, with just a touch of mockhorror gore, and you have a winner of a bonus round.
"Sharknado is a very fun slot game," Wilson said. "This has a cult following, and it's obviously a bizarre concept that the movie's based around. Sharks are thrown out of the tornado at you. You swat the sharks for bonuses. All the time, the music from the show is playing."
SPHINX 4D
International Game Technology
Slot players everywhere know the original Sphinx, an Egyptian-themed video slot with a free-spin bonus, has been a durable favorite that spawned several successor games. One is Sphinx 3D, one of the most popular games going today with amazing three-dimensional effects with no need for special glasses.
Spielo International brought the Sphinx family into the IGT family when the companies merged a couple of years ago. And now IGT has extended the brand into another dimension with Sphinx 4D.
Sphinx 4D adds a dimension of touch, which I experienced when Michelle Schenk, IGT manager of corporate communications, launched a free spins bonus for me.
"Reach out to the screen," she told me. "As you move your hand close, you should have some tactile feedback."
I did just that, and it was as if I was launching an electrical discharge. Lightning-like lines appeared all around my hand and I felt a small tingling sensation.
"Pull your hand in, draw it out," I was told.
The energy discharge followed my hand, seeming to pull out toward me with the 3D effect as I drew my hand away from the screen, then contracting inward as I moved back.
A quick flick, and the electrical effect disappeared, and my bonus launched.
Sphinx 4D has a 32-inch curve display on its main screen, and a giant 50-inch top box display. There are both free spin and pick'em bonuses.
And aside from the new touch sensations, the three-dimensional effects are as realistic as ever. After a big win on the bonus round, I still wanted to reach out and grab the coins that seemed to fly off the screen. That's what prompted IGT to add the fourth dimension.
"In Sphinx 3D, what would players do when they were playing the game?" Schenk asked. "They'd reach out and grab for the coins or the rainbows. Sphinx 4D introduces the fourth dimension. The game can track your hand movement and it will give some tactile feedback as well."
SEINFELD
Scientific Games
On a display floor filled with hot new themes, Seinfeld would have burned bright on any heat map. Casino industry execs, buyers, vendors and practically everyone else at the expo crowded the Scientific Games booth to get an up-close look. Adding to the hoopla was an appearance by Larry Thomas, who plays the Soup Nazi in two Seinfeld TV episodes.
The Soup Nazi figures prominently in one of Seinfeld's multiple bonus events. Thomas went to Scientific Games' Chicago production facilities to record new material especially for the slot machine.
In the Soup Nazi bonus, cartons of soup roll by on a conveyor. Some reveal bonus credits, others contain a character's face. The Soup Nazi announces flavors as they roll by: "Split pea." "Chicken and matzo," and so on.
If you get a character, it's worth a trip to a bonus wheel that's superimposed on the Soup Nazi. Some wheel segments are open so you can see Thomas beneath. Other spaces award credits, but if the wheel lands on an open space and the Soup Nazi's face shows, it's "No soup for you!" and the round ends.
Seinfeld the slot machine is loaded with character bonuses. A fun way to get into a free-spin event is the Festivus bonus. You wave your hand over a motion sensor to grab the Festivus pole while Jerry Stiller as Frank Costanza announces in a video clip in the top box, "A new holiday is born: Festivus for the rest of us." When you have the pole, it launches the Festivus free spins.
The full display is gorgeous, on Scientific Games' Gamescape cabinet with five video screens. At eye level, there's a triptych, with a main screen straight ahead and smaller panels angling out on either side. And there's big bonus and video fun in the top box screens.
CASABLANCA
Everi
A few gamemakers use a self-serve approach, and I was glad Everi was among them when I ran across its Casablanca slot. All I had to do was touch the demo icon and a menu of bonus events and features appeared. I could take my choice.
Casablanca is a five-reel video slot with a five-level progressive jackpot that at the expo was set up with a top level building from $250,000.
On the base game, reel symbols include characters from the classic Humphrey Bogart-Ingrid Bergman World War II-era drama of love and redemption. Other reel symbols include film icons such as Sam's piano, chips on a roulette layout and the sign for Rick's Café Americain, where proprietor Rick (Bogart) was drawn back into the good fight by lost love Ilsa (Bergman) and her husband, resistance leader Victor Lazlo (Paul Henreid).
When I touched the bonus menu to select a wheel spin, the sounds were of a roulette wheel – presumably the gaffed wheel where Rick enabled a stranded Bulgarian couple to win enough money to leave for America.
A big win with five Rick symbols brought a scene from the film as Rick tells Ilsa, "I'm no good at being noble, but it doesn't take much to see that the problems of three little people don't amount to a hill of beans in this crazy world."
And I just had to see what would happen after a progressive payout. This time, Ilsa urged Sam, "Play it, Sam. Play 'As Time Goes By.'"
It's a fun game with multiple bonuses, features and jackpots, made all the more fun by the imagery and classic scenes from one of the greatest movies ever made.