BIG SPINS & BIG WINS
AGS Machines Offer Much More Than Your Average Slot Machine Experience
By Sean Chaffin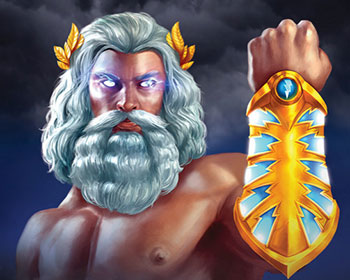 Take a stroll through any casino and there's a good chance some of the most popular slot machines in the entire resort will be from AGS – with players crowded around their favorite games like Buffalo Jackpots, Wolf Queen, Sapphire Wins, Forest Dragons, and numerous others.
Jackpots, bonus games, and creative design elements make these games unique machines on the casino floor, and company officials go out of their way to keep it that way. Players jump in on the action with the chance at an experience many other machines may not offer – with mystical creatures, interesting characters and themes, experiences to share, and some great chances at considerable cash.
DESIGN AND STYLE IN MIND
AGS's wide variety of offerings are one of the reasons why its machines are successful. The company's slots appeal to a wide range of player – and that's not a coincidence. AGS tries to plan and design games that set it apart from others in the industry.
"There is an art and science to creating great slot games, and first and foremost, a game's success depends on good math and a game theme that appeals to a broad range of players," says Andrew Burke, senior vice president of slot products. "When we design games, our overriding thought is to create an experience for the player who is playing the game for the 20th time – not necessarily the first time."
That goal requires the design team to focus on aspects like the richness and depth of the on-screen
symbols as well as the pace of the game. AGS designs games to offer a rich set of features to appeal to players looking for a longer play.
"We know that players love progressives, free games, multipliers, wilds, engaging animations and sequences, and more choice in how they play," Burke says. "Free-game bonuses, pick features, and multi-level progressives are especially popular, so we build those features into most of our games."
These kinds of features are mainstays in most modern slot machine games. Players have a chance to score mini or larger jackpots in sequences with additional spins and other bonus options. These features offer more excitement to players than traditional "spin and win" games.
However, after much study AGS recognizes what works and what players have come to expect and tries to cater to those expectations. For example, Burke says when players see more than five bonus features in one game, the perception is that their payout is spread more thinly.
"So most of our games feature one to three bonus features that are easy for players to understand, give lots of entertainment, hit more frequently and finish up faster, which ensures a good pace of gameplay, meaningful winning opportunities, and just the right amount of anticipation," he says.
The company is always trying to be on the cutting edge of the industry, creating and designing games that have the biggest entertainment factor for players.
FAN FAVORITES
If you're a fan of slot machines, there is a pretty good chance you've put a few bucks and that players' card in an AGS machine. Perhaps you even knocked down a nice jackpot – there are plenty of opportunities. Here's a look at some of the company's favorite machines and what players can expect after giving them a spin.
XTREME JACKPOTS
Looking for a really nice score? The magic behind Xtreme Jackpots, a multi-level linked progressive system, is to give players more frequent awards and jackpots across many game styles, bet sizes, and volatility. The progressive is available on several AGS games.
When playing, strategically cycled messages and celebrations occasionally burst across the screen showcasing jackpots, game play, and bonus features. When you hit a jackpot, a special celebration message explodes – creating a community-style experience. There's always something interesting going on to keep players engaged.
"Xtreme Jackpots offers players a great value and a sense of achievability that really adds to the game-play experience," Burke said. "When you have lots of games on one link in a casino, you can really drive the hit frequency of that jackpot."
Top jackpots start at $10,000, but increase with play and typically show up in the $30,000-$40,000 range – not a bad day at the casino. That total can get higher with top jackpots climbing as high as $100,000 for a chance at real life-changing money.
FIREBULL: XTREME JACKPOTS
If you've ever dreamed of taking part in the Running of the Bulls in Spain or getting in the ring as a matador, then this machine is for you. The 3×5-reel, 40-line bullfighting-themed game features a linked four-level progressive, wilds, up to seven free spins, and more. It's the next best thing to being at a bullfight in Pamplona – without having to worry about being gored.
As those reels spin, players can cheer on their favorite bull or matador symbol, which give out the highest payouts. If a stack of "wild" symbols show-up, a spark flies up and the progressive meters become active. One or more wilds can trigger the "jackpot pick" experience, where the player gets a shot at picking their own jackpot
If you like bonus games, FireBull gives gamblers a chance at two. The first is a free spin bonus triggered by three or more bonus symbols and awarding up to seven free spins. Additional free spins can be won during the bonus – adding to the fun. The second bonus randomly awards a "jackpot pick" feature when a stack of wild symbols appears, awarding one of the four progressive jackpots. Players pick icons until they match three-of-a-kind, awarding one of the four jackpots. Hopefully, the player rakes in a plenty of bucks!
GOLD DRAGON RED DRAGON: XTREME JACKPOTS
This Asian-themed and fire-based fantasy game features a Gold Dragon and Red Dragon promising a shot at luck and fortune.
In this game, a bonus symbol in any position on each of reels 2-4 triggers a free spin bonus with additional bonus symbols triggering multiple combinations on a single spin. A wild on reels 2-4 animates the progressive meters, and can also trigger one of two jackpot bonus features. There are two bonus features – free spins and the jackpot feature.
During the free spins bonus, at least one bonus symbol on each of reels 2-4 triggers the free-spin feature, which can award up to 128 spins from a single game. During the jackpot feature, players can win one of four progressives randomly on any spin in which a full stack of wild symbols land in any of reels 2-4. The player is guaranteed one of the four jackpots when the pick sequence is triggered, and then picks icons until matching three of a kind. These dragons offer plenty of ways to win!
OLYMPUS STRIKES: XTREME JACKPOTS
This five-reel Greek-themed game features Zeus, the god of sky and thunder. When lightning strikes the excitement begins. During basic play, three or more bonus (or wild) symbols in any position on reels 1-3 triggers the free spin bonus. If additional symbols land on reels 4 or 5, the scatter pay comes into play.
During the free-spin feature, players choose their volatility determining the number of spins awarded. If a lucky player chooses 243 ways, he or she can win 15 free spins with 1,024 ways awarding 10 free spins and 3,125 ways awards five free spins. It's up to you which way to go! A wild landing on the reels awards the progressive pick bonus, and pays based on the three matching symbols picked by the player – hopefully an Olympic-sized jackpot.
FU NAN FU NU
Another favorite Asian-themed game, Fu Nan Fu Nu stars "Fu Nan" (Lucky Boy) and "Fu Nu" (Lucky Girl). Featuring a multi-level progressive, wilds, and up to 15 free spins, Fu Nan Fu Nu will keep players spinning and spinning for that jackpot. The machine offers chances at plenty of free spins, a progressive pick bonus, and much more – giving players a chance to be the lucky boy or girl themselves.
FOREST DRAGONS AND RIVER DRAGONS
The two exciting, Asian-themed games highlight dragons and offer players the potential for luck and fortune. In both games, at least one bonus symbol on reels 2-4 awards eight free spins. Players can then earn even more free spins on those spins for up to 128 free spins.
AGS's trademark Reel Surge adds to the fun. During this feature, if at least one bonus symbol lands on reels 2 and 3 the reels change shape from spin to spin and may deliver big payouts. Players can win up to eight free games and see the reels grow to 4,608 ways to win with Reel Surge. Cha-ching!
WHAT'S NEXT?
AGS is always looking to up-the-ante and add even more fun and excitement to the casino floor and has plenty of great new games on the horizon. "Looking ahead, AGS' game-development team continues to deliver the most entertaining games to players," Burke says.
With that in mind, here's a look at a couple of new offerings hitting some of your favorite casinos in the near future.
RAKIN' BACON: XTREME JACKPOTS
Another offering in the popular "Xtreme" series, this clever game theme features what else? A cherubic pig. This angelic swine resides in a gold coin-filled room and players hope to rake in some of that loot for themselves.
This five-reel multi-level progressive is full of fun features from free spins to multipliers to scatter pays. A free-game bonus begins when the golden pig explodes – revealing a pick screen for players to choose three different reel layouts for up to 3,125 ways to win.
During the randomly awarded jackpot pick feature, players select icons until they match three of a kind, and earn a guaranteed jackpot. Oink, oink!
PHARAOH SUN
Go back in time to ancient Egypt in this fun game. In Pharaoh Sun players head to the banks of the Nile River, hoping to spin their way to Egyptian symbols of wealth, power, and mystery. With the fun comes free games, retriggers, scatter pays, and a must-win four-level jackpot.
One of Egypt's most famous characters, King Tut, completes the experience – looming above the rising sun with a promise fun and fortune. You just need a little luck to win a fortune as large that of the famous king.
ORION SLANT
Orion Slant offers a peek at something AGS developers definitely take pride in – unique cabinets housing their machines. It's a feature many players might take for granted, but plenty of time and effort go into designing a cabinet that can be the whole package and make for a great entertainment experience.
'We are always focused on creating game cabinets that create an exceptional player experience and complement the game theme," Burke says. "We have built great features into this cabinet that help ensure a fun play experience."
The Orion Slant cabinet is a perfect example of that. It features the company's unique "starwall" design with 420 game-synchronized full-color LED lights capable of changing colors and patterns on each machine or across entire banks. The cabinet makes for an ultra-sensory experience for players. This engaging experience corresponds to each feature within the game and makes for a fun player experience – whether playing for bigger dollars or small stakes.
The Orion Slant includes amenities that may be a better experience than heading to a movie theater -built-in high-definition audio, high-quality bright monitors, a USB charging port for a player's mobile device, a large button deck with even more room for drinks and personal items, and numerous other features that make spinning those reels more comfortable and enjoyable.
Machines utilizing these cutting-edge cabinets make for a perfect night out with friends and are worth a trip down to the local casino. If your state doesn't have casinos, definitely check them out on that next trip to Vegas.
No matter what your interest, play level, or bankroll, AGS has a machine for you, with fun features, high-tech design, and amenities making for some great gambling. So get some friends together, grab a few cocktails, slide in your players card, and cross those fingers. A jackpot just might be in your future – or at least a few free spins!
Sean Chaffin is a freelance writer in Crandall, Texas, and host of the True Gambling Stories podcast. Follow him on Twitter at @PokerTraditions.