BIG DISPLAY, BIG PLANS
Gaming Arts highlights its new VertX Grand cabinet with a trio of strong new games
By Frank Legato
For slot-makers lately, great new games and great new cabinets have gone hand in hand. Many of those new cabinet presentations these days are in large formats—and game developers have used those giant canvases to create some of the best new game experiences on the slot floor.
That's the way it's been with the VertX Grand cabinet  from Las Vegas–based Gaming Arts. The VertX Grand, unveiled  last summer, features an ultra-bright, 4K 49-inch portrait monitor, theater-quality sound, an ultra-bright  LCD button  deck, programmable LED play buttons, and attention-grabbing LED side lights.
Developed during the pandemic shutdowns of 2020, the format is hitting its stride this summer with three great games that take full advantage of that larger-than- life presentation.
"We've been really pleased with the performance of our game titles on our VertX Grand cabinet," says Jean Venneman, chief operating officer of Gaming Arts. "The cabinet has shown to perform well on the floor, and it is visually stunning. And now we've got three additional new games that we think players are going to really, really enjoy."
KUNG FU EMPRESS
The first of those three has just been released and is already extremely popular. Kung Fu Empress, based on the popular video game of the same name, uses the big VertX Grand display for an expanding reels feature to great effect, but that's only one of a generous package of bonus and primary-game features.
"We're really excited about just how feature-rich the game is,"Venneman says. "It offers a ton of entertainment, a ton of graphics, a ton of animations and a ton of intros and outros that are really entertaining. The bonuses are very graphically intense—it packs a real punch as far as the visuals.  And then it's a great game on top of that."
Kung Fu Empress delivers that punch from the first press of the "Play" button, when the main character, Chipao, does her Kung Fu move that throws one or more wild symbols to the reel array. When the Chipao wild symbol stops on the fifth reel, all picture symbols on that reel become Chipao symbols, greatly increasing the payouts for players.
There are random "battles" that occur throughout game play. When a "PicA" symbol lands on the reels, it triggers the "Punch Bonus," in which the Kung Fu Empress attacks the cute "Log Man" to award bonus prizes. The bonus prizes keep coming until the enemy collapses.
A wild symbol in the base game also can randomly trigger the "Tile Break Feature," in which the player wins the prize or jackpot displayed when the Kung Fu Empress breaks the pile of tile.
In the free-game feature, the reels expand from four rows to eight rows, bumping the ways to win from 50 to 100, for an exciting hold-and-re-spin feature. During free games, a battle appears every three spins. If you win the battle, the enemy symbol is converted to the Chipao wild symbol, and the free spins return to three. Filling the screen with Chipao symbols returns the Grand progressive jackpot, resetting at $5,000.The array of enemies may start small but progress to ever-increasing battle intensity along with more intense payouts to the player.
"We find this to be very different from what we've seen in the market,"Venneman says. "Kung Fu Empress has got great game play and is visually stunning, with endless unique game features. It's just an incredibly fun game to play."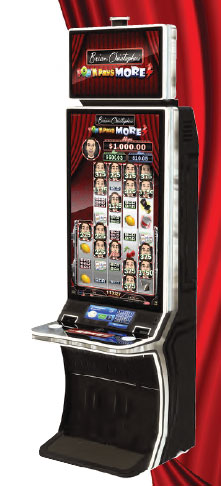 BRIAN CHRISTOPHER'S POP'N PAYS MORE
Gaming Arts, like a lot of slot manufacturers these days, has been aided in building popularity for new games by the new crop of "slot influencers"—YouTube stars who live stream slot play on new games, hosting their own play with enthusiastic narration of wins,  losses, bonuses and game features, with some having far-reaching groups of fans and followers.
The top YouTube slot influencer is Brian Christopher, whose YouTube channel BCSlots has some 479,000 subscribers and has logged a remarkable 318 million views since its 2016 launch. Christopher himself, who has some 41,500 Instagram followers, has become a slot guru of sorts across America. Millions of fans have watched his videos—the average view time is an incredible 18 minutes— and have become familiar with his favorite slots any number of catch phrases he uses to get players excited about features of a given slot game.
The Plaza, located in Downtown Las Vegas, even has a special zone devoted solely to Christopher's favorite games—a space he often uses to gather crowds of his fans to live-stream new games.
On July 7, he is doing that with his very own signature game—Brian Christopher's Pop'N Pays More—which Gaming Arts designed with substantial input from Christopher himself.
"We are really appreciative of Brian and what he does,"Venneman says. "We were a very young slot supplier when we launched the original Pop'N Pays series in 2019.Brian found the game, loved the game and really helped promote the game on his channel. We feel that he really did aid and assist in getting that game out into the market and added to its success, by showing his enthusiasm for the game."
When it came time to move the Pop'N Pays  series—a family  of games distinguished by fun themes and entertaining features—to the new VertX Grand cabinet, it was a no-brainer to create a Brian Christopher  signature slot. "We've collaborated very closely with him to create a game that he loves," says Venneman, "and to use his brand in a wonderful way that I think his player base will truly enjoy. It has endless voice-overs using many of his well-known sayings, and a lot of the imagery that's related to him and his brand."
Christopher says he was involved in designing the game from start to finish. "Pop'N Pays was already a hit among my fans, so when they asked me about partnering on a new version, I jumped  on it," he says. "They had already worked out what they wanted for their other iterations of Pop'N Pays More—Piñatas Ole and Big Top—and although you will notice many differences between them and my game, all three games in the series are remarkable.
"I offered up ways to add more features, and a ton more interaction. I was able to offer input on the music, the wording, symbols, sounds and performance. Nothing was off limits, so long as it kept to the Pop'N Pays brand."
The Brian Christopher slot, with 1,047 ways to win in the base game, has a feature that expands reels 2–5 up to eight symbols high. At full expansion, there are 16,384 ways to win on every spin. There is a free game feature offering up to 15 free games with frequent re-triggers.
Throughout game play, Brian Christopher's avatar pops up as cash-on-reels symbols. And he essentially hosts his own game, using his most popular catchphrases. "Oh Nelly!"  after a big win. "Line it UP!" in anticipation of a winning spin. "Do it to it!" "It's all about timing!" And one of the most clever and frequent: after a near-miss where a symbol lands just short of a combination—"Rude!"
"Aside from a few hidden Easter eggs that I'll allow my fans to find, the Brian character can be super generous," Christopher says. "If you're missing one bonus symbol, Brian can say his catchphrase 'Rude!' and provide the third bonus symbol! If you have a full row of popping Brians but are missing an important one, Brian can place another one. In the bonus, the popping Brians can put up two or even three fingers to signify two or three prizes instead of the usual one in regular spins."
"We're really excited about working with Brian," says Venneman."  He's been an amazing partner to work with, so we're hopeful that his fans and players alike really enjoy this exciting new game."
"We're a perfect match," adds Christopher.  "We are both super innovative and forward thinking.  As my fans already loved Pop'N Pays due to its constant action, fun bonuses and catchy music, this was the obvious choice."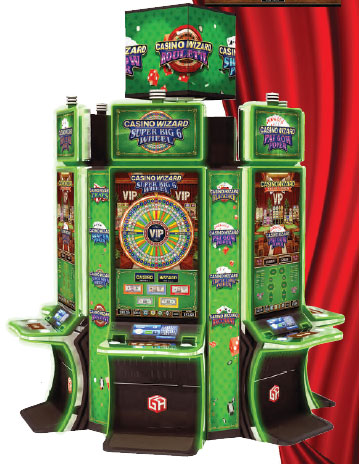 CASINO WIZARD VIP
As  the world recovered from Covid-19,  Gaming Arts launched its unique Casino Wizard electronic table game, which is the world's most advanced electronic table game featuring table game favorites blackjack, roulette, craps and baccarat along with new side bets. It gained immediate popularity from coast to coast.
This August, a super-charged version of Casino Wizard will launch on the VertX Grand cabinet. The huge monitor and intense graphics make the four original games pop like never before. What's more, Gaming Arts has doubled the number of games on the multi-game unit. The new Casino Wizard VIP adds Pai Gow Poker, Super Big 6 Wheel, Swap'Em Poker and Triple Card Poker to the original four selections.
According to Venneman, there also are a great many enhancements to the original four games including more side bets and many innovative progressive jackpots.
"There's just a lot of a great variety of entertainment and fun within this one machine," she says. "Whether players are playing our game because the tables are full, the minimums are too high, or players find traditional table games too intimidating, we're hoping table players and slot players will expand their horizons and enjoy more variety and the beautiful video presentation on the big screen.
"These three new titles, along with many more, thrive on the VertX Grand format."
And it could be the start of something… well, big, to say the least.