BEATING THE BOOKS – Super Bowl
There's Gold in Super Bowl Prop Bets
by Buzz Daly
The Super Bowl is truly a larger-than-life event, with the hype each year seeming even greater than the last. Nowhere else is this unofficial holiday celebrated with more gusto than in Sin City. Whether you're a high roller or just want to watch the game and spice things up with a modest wager, there are endless Super Bowl casino parties awaiting you.
Savvy bettors are looking for more than a good party with mega-sized plasma screens and halftime raffles; they seek out wagering options with a reduced house edge. Many want to do more than simply play a side or total. To feed the appetite of both recreational punters and shrewd professionals interested in making a variety of bets on the big game, casino sports books now offer a vast array of proposition wagers. These wagers usually involve specific events and occurrences that happen during the course of a game.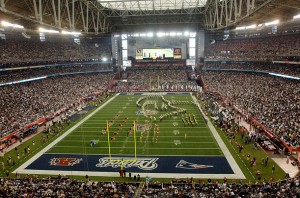 Prop bets tickle the public's fancy and encourage more action. The vast majority have odds skewed well in favor of the sports book. But buried among the smorgasbord of bets are some in which sharp players can steal the advantage from the books.
Many props are, out of necessity, put together hastily. By visiting several books, you'll find variations—which reflect the bias of the oddsmakers at different shops—that offer a juicy middle.
There are three key criteria in identifying such props:
—Avoid betting into anything other than a 20-cent line, in which you lay -110 on either side of a pick-'em play. If the line moves, you would lay even money on the underdog, or -120 for the favorite. During this time of year, many books get greedy and post action which uses 30- and even 40-cent lines. This is akin to usurious interest charged by loan sharks.
—Look for handicapable plays which either match two players vs. each other in categories such as passing or rushing yardage, or over/under props which are also keyed to yardage or points. Then compare the numbers at different books. You will find attractive middles.
—Shop around and bet early, before the books make adjustments to the original lines.
In SB XXXIX between the Eagles and Patriots, the Aladdin posted an over/under on Tom Brady's passing yards of 237.5, while Harrah's posted a total of 233.5. Savvy bettors cashed in on that four-point middle when Brady threw for 236 yards.
Another betting coup was the matchup between Corey Dillon and Brian Westbrook, for rushing yardage. The Aladdin had Dillon at -30; at the Stardust, the number was -33.5. When Dillon rushed for 75 yards vs. 44 for Westbrook, those who bet Dillon at both books reaped the benefits of the 3.5-yard middle and cashed both tickets.
Opportunities such as these are usually available when the books first post their humongous list of prop bets. These plums do not last long. Wiseguys scrutinize prop menus all over town, and are quick to pounce. It takes only one or two limit bets for the bookmakers to adjust their numbers.
But for bettors who swoop in, collect prop menus, scan them for opportunities and quickly pull the trigger, Super Bowl profits await.
Race and Sports Expansion is Completed at Santa Fe
Las Vegas casinos hold nothing back when they announce their latest attraction, whether it's the opening of a new deli or an expansion of the keno lounge. Despite the muted excitement that greets many of these new arrivals, some additions actually deliver a big payoff to customers.
One such example is the multi-phase expansion projects that have been underway at four of Station Casinos' most attractive properties: Red Rock, Green Valley Ranch, Fiesta Henderson, and Santa Fe Station. At each location, the addition of brand-new facilities and the expansion of existing amenities was highlighted by the enhancement of their race and sportsbooks.
Just in time for the climax of football season, Santa Fe Station's $130 million multi-phase expansion completed work on its redesigned, state-of-the-art 259-seat race and sportsbook. This state-of-the-art facility features a five-screen, 114-foot video wall that spans the entire width of the book, with betting information displayed on an easy-to-read LED panel. A compact VIP section services high rollers and regulars, who can bet without visiting the ticket windows.
Just as important as the high-tech wizardry is making sure that customers fully enjoy the benefits. That's the responsibility of race and sportsbook manager Bill Walkowski, who approaches his job with enthusiasm and a keen understanding of his bettors' wants and needs.
"We listen to our customers and heed their comments," says Walkowski. "The design of this book is similar to the expansion at Green Valley and the creation of the one at Red Rock. After studying what worked at the other books, we used that input to tweak and improve our facility at Santa Fe.
"For instance, in the race book, we installed individual lamps which cover the player's work area. It's a fact that racebook patrons are an older market, with an average age in the middle 50s, and the light makes it easier for them to read their handicapping material."
Another convenience for bettors is the proximity of the new parking garage. Unlike many other properties, especially those on the Strip, players can park their cars just a few steps away from the book. "It's not a 15-minute trek like at some casinos," he notes.
Walkowski compared the market served by Santa Fe as similar to Green Valley Ranch, in that its customer base has higher per-capita income than in many other areas of Las Vegas. "While the action of customers at some books averages $10 to $15 per bettor, our average player bets around $50," he says.
"The money earned in the book isn't taken out of the company. It is reinvested in the property, in order for us to stay a step ahead of the competition."
Walkowski has made strides since joining Station Casinos five years ago. When Green Valley Ranch launched, he worked in the race and sportsbook under manager Kelly Downey and subsequently spent three years at Texas Station, before getting promoted to run the shop at Santa Fe.
Located in the northwest part of the city, Santa Fe's closest competitors are the Cannery and Suncoast. He believes his book's amenities and high betting limits will be strong incentives for bettors in 2007. The other great benefit is that Stations properties are located throughout the Vegas Valley, and for the convenience of players, tickets bought at any of its books, except Texas Station, can be cashed at all other Station books.