BACK IN ACTION
The latest games are waiting for you at your favorite casino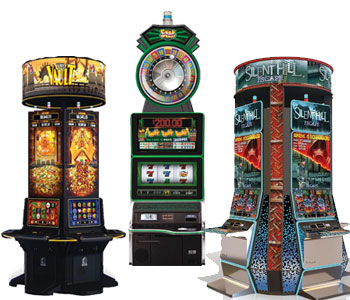 While casinos across the country are still struggling with the issues surrounding the COVID- 19 pandemic, several hundred have opened, or are about to open, affording some players the long-awaited freedom to begin playing their favorite games again. Check out these hot new games once you're able to visit your favorite casino.
Scientific Games
Cash Wheel – 9 Line
Spin the wheel for fun and fortune playing the classic Bally Ca$h Wheel stepper game showcased on the engagingTwin- Star 3RM Spinner!
An enthralling Ca$h Wheel Bonus Feature offers lots of wheel spin thrills for players. If a Wheel Double Spin symbol is included in a triggering combination, a wheel spin with a 2x multiplier is awarded. If 1, 2, or 3 Spin Bonus Wheel symbols are included, players win 1, 2, or 3 additional spins for cash prizes!
The Cash Wheel Bonus feature is triggered by one or more of the following combinations centered on an active payline: Wheel symbol, Wheel symbol, Wheel Double Pay symbol; Wheel symbol, Wheel symbol, Wheel 2 Spin Bonus symbol; or Wheel symbol, Wheel symbol,3 Wheel Spin symbol. In a Double Pay wheel spin combination, players are awarded one wheel spin with a 2x multiplier. In a Spin Bonus wheel combination, two Spin Bonus wheel combination or three Wheel Spin combination, players are awarded one wheel spin, two wheel spins, or three wheel spins respectively. A Wheel Spin can award anywhere from 30 to 2,000 credits making this one exciting and potentially profitable bonus round.
Everi
The Vault
The Vault is the new and thrilling series now available from Everi on the high performing, fully featured banked product Empire Arena that includes heart-pounding bank-wide bonus features and unique community style play. The Vault is launching with three unique base games; China Blessings, Egypt Gems, and Vegas Luck.
These  games,  already player favorites in the field, features three exciting base games and the Diamond Rush bonus feature that will immediately grab the attention of all players at the bank, prompting them for a new adrenaline pumping rate play. During the bonus round, players can steal diamonds from other players on the bank with a chance to win big in the Diamond Heist. The Diamond Heist event builds urgency to deplete the vault sending players into a frenzy!
Each base game features the dynamic Vault lock and respin bonus. During the bonus, whenever three scatters are locked on the same column, treasure will fall from the top screen vault onto the locked reels and increase the credit amount on EVERY following spin! The heart pounding excitement plays out with the catchy tune "I'm So Ex- cited" by the Pointer Sisters.
The Vegas Luck base game features Free Spins with falling Wilds to the toe tapping song "Money,That's What I Want" by Barret Strong. Egypt Gems and China Blessings feature a Pick Bonus where players pick prizes to find credits, +3 picks, or special symbols. Special symbols suck in all other picked prizes and award the total.
Konami Gaming
Silent Hill: Escape
One of the most popular video game thrillers since the turn of the millennia is taking on a new form with the launch of Silent Hill: Escape, by Konami Gaming, Inc. Players can experience a rich 3D world with characters, scenes, and encounters from Konami's hit video game, which takes place in a fictional ghost town called Silent Hill, abandoned due to a terrifying catastrophe.
Silent Hill: Escape follows prisoner- turned-protagonist Murphy Pendleton as he seeks to navigate the haunted streets of Silent Hill. Over the course of his journey, players encounter zombies and battle towering monsters for the chance at instant credit awards. During the Stay & Spin Bonus Game, players can fill the screen with credit prize symbols to win one of five jackpot awards. This premium linked progressive series is featured on Konami 's latest video slot cabinet DIMENSION 49J, with 49-inch "J" curve display.