ATTRACTING THE NEXT GENERATION OF GAMBLERS
G2E offers a glimpse at millennial-focused skill-based gaming for the casino floor
By Benjamin Marx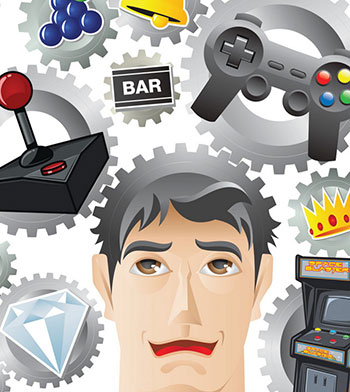 WALKING THROUGH THE SPRAWLING AND crowded floor of the Global Gaming Expo, the yearly Las Vegas convention showcasing the very latest in casino innovations, one can't help but be overwhelmed by the thousands of new slot machines and table games that will be debuting in casinos over the next year.
But it wasn't the typical industry giants like IGT or Aristocrat, with their tremendous, lavish booths, that stole the show this year. At least, not for me. Rather, it was the smaller and ostensibly more unfamiliar companies that caught my eye as I walked the crowded convention floor. Why was I so apathetic towards the offerings from these industry titans? I am 21 years old, meaning I am firmly and inexorably bound to the generation of individuals known today as "millennials." Being a part of this generation, I was fortunate enough to have grown up in a world surrounded by rapid advances in technology and was heavily exposed to technology from an early age, like many others in my age group.
That said, being a millennial, I also began playing video games at a young age, considering the nearly ubiquitous adoption of affordable and readily-available video game consoles like the Nintendo 64 and the Sony PlayStation that took place during my youth. As a result, many fellow millennials to this day still play video games in some capacity, whether they be on their video game console, computer, or on their smartphones.
Traditional slot machine usage has been on a steady decline over the past decade, and many casinos have been searching for a way to appeal to millennials, who, for the most part, do not prefer to gamble on slot machines. To address this, a handful of companies have designed and manufactured a number of machines focused on skill-based gaming, which factors in a player's ability to successfully complete objectives and accomplish tasks in order to receive a payout.
Take GameCo, an up-and-coming manufacturer of these skill-based machines who demoed their Video Game Gambling Machine, or VGM, on the G2E floor. The VGM is a dual-screen machine, with a touchscreen to make your bets and play and a passive screen to show your pay table and winnings. It features a custom controller designed specifically for the casino gaming environment, and will contain games from all genres including action, adventure, fighting, racing, and sports.
According to GameCo CEO Blaine Graboyes, who has an extensive background producing and developing video games, "We'll be featuring games from top game developers, movie studios, TV, brands, you name it." He also adds that the game experience itself will be very straightforward, adding that "The skill-based gaming experience is so new for everybody, I think that simplifying the proposition is really critical so that it is easy for people to get in and play the games."
In the company's first game for the VGM, Danger Arena, the player fights "Danger Bots" – if the player takes out six or more bots, they are in the money, and if they take out 10, they win the highest payout. When asked how the game would be fair for someone who may not have the same experience playing video games as a millennial, Graboyes noted that there are two aspects of the payout of the game. There is a base game, where you're taking out Danger Bots, and what he calls a "Power-up play," where players could be rewarded with a "shield," and an "instant cash bonus."
"Between 1 and 10 or 20 games will have a Power-up depending on the return, hold, and math model, so even a non-optimal player will still have an opportunity to win," he said.
He added that GameCo built the game with what he calls "achievability" in mind, meaning that it is intended to be "the most achievable for the widest variety of gamers to get the highest possible payout in each play session."
Graboyes believes that gamers are one of the largest underserved demographics in the country with respect to gambling, adding that they are frequently "stereotyped and ostracized," and that in order to address this, his company is trying to create the same "VIP, sexy-cool" experience found in contemporary casinos – but with gamers in mind. In the near future, GameCo predicts that virtually every major casino will have what they call a "Video Game Casino," with entire dedicated sections of casinos containing VGM's. As of this writing GameCo plans to launch the VGM at all three Caesars properties in Atlantic City in November.
Another promising manufacturer of skill-based games at G2E was Gamblit Gaming, and their slate of new machines coming to casinos in the near future. Most notably, their Model G is a table-top, touch-screen system that has a variety of games built-in, including a poker game where two to four players compete to grab the best hand, and Cannonbeard's Treasure, where players "…engage in a fast paced game of cards, skill and naval warfare," where they build a hand of cards, and compete to reach an objective first to win a "chest of gold."
Gamblit's other major offering, the TriStation, takes on the appearance of a more traditional slot machine, with three terminals arranged in circular format. The TriStation offers players a wide variety of games such as Lucky Words, where players "chain letters, form words, and win cash," and have 30 seconds to use their "mad wordsmith skills and unlock up to five payouts." Further, the TriStation also features the popular mobile game Into The Dead, where the objective is for the player to eliminate as many zombies as possible, and subsequently win cash.
Although this game is intended for millennials, attendees from a wide variety of age groups played the game and enjoyed it. To that end, the TriStation contains a wide variety of other built-in games to appeal to a broad demographic of audiences, so players can rest assured that they will be able to find a game they will enjoy.
Gamblit will be launching the Model G and TriStation in Caesars properties in Southern California this month, and plans on installing stations in their Nevada properties and in other markets shortly thereafter.
Synergy Blue is another exciting up-and-coming manufacturer of next-generation gaming machines. However, rather than marketing skill-based gaming solutions as GameCo and Gamblit are, Synergy Blue instead considers their products a component of Hybrid Arcade Wager-based Gaming, or HAWG, for short. Fundamentally, this technology blends traditional, non-skill-based gaming with "the uninterrupted entertainment of arcade style play," meaning that patrons play though the arcade game while simultaneously wagering. Considering that the regulatory minutiae of skill-based gaming is still being hammered out, Synergy Blue's product offerings are considered a part of Class III gambling, meaning they are compliant with pre-existing gaming regulations.
"In simplest terms, we have created a highly entertaining way for patrons to participate in Class III gaming," said Georg Washington, CEO of Synergy Blue. "The gambling aspect is exactly the same as a traditional slot machine on any casino floor yet differs with the seamless entertainment component which draws a younger demographic." When also taking into consideration that the company's HAWG solutions offer adjustable spin rates while offering the same hold and volatility as a traditional slot machine, it becomes clear that Synergy Blue offers a very appealing value proposition to casinos and players alike.
The company's flagship game, Zombie$, enables players to take on the role of a hired mercenary who utters witty one-liners while they clear out the grotesque zombie infestation and investigate their root cause. Synergy Blue expects the first casino floor game installations to take place in early 2017.
For many attendees walking through G2E, it is easy to be distracted by the massive and stunning booths run by industry staples like Scientific Games and Konami. However, hidden away in the middle of the chaotic floor are such gems like Synergy Blue, GameCo, and Gamblit. As millennials become more dominant in the gaming market and casinos begin to adapt to the needs of this latent, albeit burgeoning market, expect to see these up-and-coming gaming companies, and inevitably several others dominate G2E in the years to come.
A massive shake-up is on the gaming market horizon, and these companies are leading the charge. As a millennial, I believe it is not a matter of if these companies will become successful. Rather, it's a matter of when. Exciting times are ahead.