Another Hangover In Vegas
Round three of disaster and hilarity courtesy of the Wolfpack
By Tim Wassberg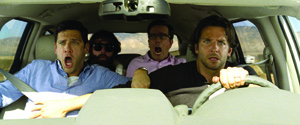 Returning to its origins, "The Hangover Part III", the conclusion to the globally successful franchise of mayhem and debauchery comes full circle back to Caesars Palace, The Strip & Old Las Vegas to tell another cautionary tale of The Wolfpack in transition. Joining them on their final journey are franchise veterans Heather Graham as former stripper/suburban mom Jade and Justin Bartha as the ever suffering Doug. The respective "Boogie Nights" and "National Treasure" stars reflect with Casino Player on their part in "The Hangover" legacy, their love of gambling and finding comedy in darkness.
Casino Player: Heather, can you talk about the "risk vs. reward" angle with your character Jade moving from the first "Hangover" to the conclusion in "Part III"?
Heather Graham: Jade's story is that she is a stripper. I don't think her life is exactly where she wants it to be. She wants love. She had that adventure with Stu in the first one and I think she fell in love with him. Something about that happening to my character makes me want to change. And, in the third one, I have a completely different life. She was inspired by the Wolfpack to turn over a completely new leaf and now she's become a suburban mom.
CP: What about the "risk vs. reward" for your character, Justin, since Doug always seems to get the blunt end of the proceedings?
Justin Bartha: The risk is that Doug will do anything for his friends and that includes being kidnapped, left alone [and maybe] staying at a resort [in Thailand]. He loves his buddies but the risk might be too great at this point because he is the only guy who really takes everything seriously. So when he gets kidnapped and threatened to be killed by John Goodman [in "Part III"] he is taken so they [The Wolfpack] can care about him. The eventual reward is that he is saved by his buddies but his risk might be too much these days.
CP: So it becomes about taking a chance just like in poker. It all depends on the hand you're dealt. You both do like poker…
HG: I do like to play poker. I am not on the level of some actors who are really in there and competing professionally. But I love playing it.
JB: I love gambling. Unfortunately I'm not a very good gambler. I love poker and that is probably what I am the best at but I cannot pass a blackjack table and not throw some down.
CP: How do you get yourselves in the zone?
HG: I guess you have to focus and know what your cards are and how to play them. You have to know when to walk away… and know when to run. You got to count your money when you're sitting at the table. (laughing) Sorry… I was just quoting Kenny Rogers.
CP: Do you remember the first time you hit Vegas or maybe played poker?
HG: I am not sure this was the first time but after I shot "Boogie Nights" with Paul Thomas Anderson, there was a group of us that said, "Let's just fly to Vegas for a few days and go gamble." We all went together and it was really fun. I do love gambling. I usually play at home with friends. We do weekly poker nights. But I try not to get too competitive and alienate my friends. I get overly competitive.
CP: What do you mean by "overly competitive"?
HG: I get vicious. I seem like a nice person but I'll start playing poker and the vicious side will come out of me. I will be like "I don't like myself like this!" (laughing) A monster comes out.
CP: Justin, do you remember the first time you came to Vegas before "The Hangover"?
JB: My dad used to do business here sometimes and I came with him. He would lead me around the casinos and teach me all the secrets of casino life… like what you are supposed to do and not do. My dad introduced me to the great city that is Vegas.
CP: Do you remember any of the rules he taught you?
JB: Never fall in love with a stripper. Always hit on a 16 [in blackjack] if the dealer shows a 7 or higher. And always bet on black. (deadpan.) No… that was Samuel L. Jackson. (pauses) Wait… I mean Wesley Snipes.
CP: What about your first experience with poker?
JB: I've played poker since I was a kid. I still play poker. I have a game every week. I remember my parents playing cards when I was a little boy and I was always fascinated by that and still am.
CP: Is there a specific psychology you take on when you're playing?
JB: Behind playing cards? The best cards are in the mind games. It is the perfect mix between math and psychology. It is also a great way to zone out and focus on those black and reds… and those red and blacks.
CP: Can you talk about being back in Vegas since you're kings and queen of the town now. How does that change the experience?
JB: When we shot the first movie, we flew under the radar and our movie was simply associated with Vegas. Now with the third movie, since they have been so successful, Vegas is now associated with "The Hangover" so it is a very rare situation. It is pretty cool to be respected in the town that only respects the cream of the crop.
HG: When we did the first movie, we were under the radar. People didn't know "The Hangover." People didn't know who Zach [Galifianakis] was. We weren't the kind of movie people were wondering about. This time, we had to get Zach impersonators out of the shot [when we were shooting]. It was a completely different thing. Now they're selling the Wolfpack T-shirts and everybody is checking in to Caesars Palace saying "Does Caesar really live here!?"
CP: How is gambling a different monster than acting in your mind?
HG: You just want to win. Both at acting and at poker. You want to get the good cards just like you want to do a good film.
CP: Why do you think darkness and comedy go so well together as they have in "The Hangover" films?
HG: I think real life and finding dark things and making them funny is one the best things we can do to deal with how hard life can be sometimes. I love comedy because life's hard and I want to laugh.
I personally like watching a comedy before I go to bed at night. It puts me in a good mood.
CP: "The Hangover" films are a great celebration of excess and escapades and yet also a cautionary tale…
JB: One of the reasons I think "The Hangover" films have been so successful is that we get to show the excess without the repercussions. The key is that if it is real life you might want to realize that there is something called "cause and effect" but when you are in a movie, you don't have to worry about it.