American Gaming Systems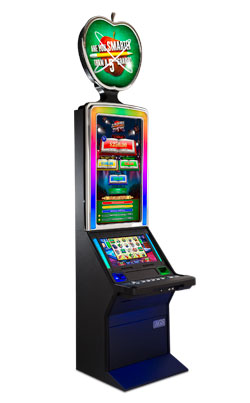 American Gaming Systems is launching a group of slots featuring a player-friendly batch of bonus events—all with fair shakes to the player, such as "fair" bonus wheels with more chances at top prizes than lower ones. Some also feature the specialty of Dr. Olaf Vancura, who heads the AGS game development team—the "knowledge-based" bonus.
Kicking off a new series called "It Pays to Know," AGS this summer released Ripley's Believe It Or Not!, which features a bonus themed to the familiar brand that centers on a
multiple-choice trivia quiz, the questions involving either general knowledge or some of the famous oddities in the Ripley's archives, which, of course, were the subject of a long-running series of comics in newspapers across the U.S. during the first half of the 20th century.
During primary game play, the player can earn up to three "assist features" which are saved for the bonus—the "Eliminator," which automatically eliminates one of the incorrect answers to the bonus question; the "Stats" assist, which presents historical data about how other players have answered the question; and the "Re-Do," which gives the player second chance at the top answer if wrong on the first guess.
A consolation prize is awarded if the player is totally skunked by the question.
In the coming months, two new games in the "It Pays to Know"  series will launch—Are You Smarter Than a 5th Grader?, based on the famous general-knowledge game show; and Family Feud, based on the other famous game show in which family members guess what the most popular responses were from survey groups asked certain questions.
The 5th Grader game breaks the bonus trivia questions into five categories—1st Grade Math, 2nd Grade History, 3rd Grade Astronomy, 4th Grade Geography and 5th Grade Science. The Family Feud game follows the pattern of the famous game show, with the progressive awarded for the most popular answer to each question, according to surveys.
AGS plans to refresh all the quizzes in each game with new material every six months.