All In
WSOP unveils complete 2023 schedule with 95 live events on tap
By Sean Chaffin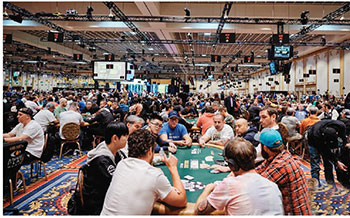 The poker world saw some huge events from PokerStars in January and February as well as a massive cash game hand. Beyond some of that action, theWorld Series of Poker also released a packed schedule with hopes of setting some records this summer. Here's a look at some of what's going on in poker.
The World Series of Poker released the complete schedule for this summer's action in February, offering players 95 live bracelet events from May 30–July 18. The 54th annual series plays out again on the Las Vegas Strip at the Horseshoe and Paris casinos and organizers promise more tables, more variety, and the largest series in history.
Along with live tournaments, players can expect an additional 20 online bracelet events this summer. Additional opportunities to qualify for the $10,000 Main Event are also in the works.
"With the momentum generated from the WSOP's debut on the Las Vegas Strip last year, we expect a record-breaking WSOP and World Championship at Paris and Horseshoe Las Vegas in 2023," WSOP Senior Vice President Ty Stewart said. "If the Main Event is on your bucket list, this is the year to get to Vegas."
Additional Main Event promotions planned
This year's series will feature the largest capacity in series history with 608 tables spread across more than 200,000 square feet of convention space. The series also includes 24/7 cash game action including a new permanent Hall of Fame Poker Room.
The Main Event runs July 3–17 following last year's 8,663-entry field, the second-largest in WSOP history. Organizers are hoping to eclipse the 2006 record of 8,773 players this summer and are launching the new "Main Event Mania" promotion to do that with more live qualifiers with partner casinos around the world. The first Global Qualification Weekend is set for May 20–21 with each property offering a $140 "step" tournament culminating in a $1,175 mega satellite awarding a Main Event seat and travel stipend.
Properties in the U.S. include Harrah's Cherokee, Horseshoe Las Vegas, Horseshoe Tunica, Horseshoe St. Louis, Harrah's Pompano, Turning Stone Casino, Hard Rock Tulsa, Grand Victoria Casino (Illinois), and Horseshoe Council Bluffs.
If a new record is set, the new "Main Event for Life" promotion also kicks in. All players in the field will be entered into a drawing on July 8, awarding a Main Event buy-in for the next 30 years.
Online poker players in Pennsylvania, New Jersey and Michigan can also qualify online at WSOP.com. The platform offers 112 Main Event seats up for grabs from June 25–July 8. A $250,000 guaranteed, 25-seat scramble highlights the action on July 2.
Other highlights from the schedule
Along with the Main Event, players will also find numerous other tournaments on the schedule including popular favorites and some new events as well. The $1,000 Mystery Millions proved popular after debuting last year. Mystery bounties award a player a random prize for eliminating an opponent and last year's event featured a top bounty payout of $1 million. The event returns this year from May 31–June 5.
For 2023, the Tournament of Champions moves to the opening weekend from May 31–June 2. The $1 million freeroll is limited to those winning a bracelet or WSOP Circuit ring, either live or online, from July 20, 2022, to May 22, 2023. All 2023 bracelet winners will be eligible for the 2024 tournament. The WSOP is also including the lowest price point the series has seen to date.
"Weekend warrior" low rollers may want to check out the new $300 Gladiators of Poker event, which features a $3 million guarantee. A few other new events this year include:
$25,000 High Roller Six Handed – May 30
$1,500 Badugi – June 7
$10,000 Secret Bounty (mystery bounties starting on Day 2) – June 14
$1,500 Big (five-card Poker Limit Omaha Hi/Lo) – June 17
$25,000 High Roller HORSE – June 10
$600 Ultra Stack – July 11 & 12
$1,500 Short Deck – July 12
$2,500 Mixed Omaha Hi/Lo and SevenCard Stud Hi/Lo
Horseshoe, live Hall of Fame exhibit unveiled
This year's festivities mark the first time since the Horseshoe's rebranding from Bally's. The series debuted and was held at the original Horseshoe in Downtown Vegas from 1970–2005. The resort recently opened a Hall of Fame Poker Room to recognize the brand's importance to poker and the WSOP. The venue will host select tournaments during the series and soon feature a Poker Hall of Fame exhibit to honor the game's legendary players.
Beyond the bracelet schedule, players looking for tournament action with lower buy-ins but still large prize pools are also in luck. Daily DeepStack tournaments run all summer. The non-bracelet events feature large player and prize pools, running daily from June 1–July 17 with buy-ins ranging from $200 to $400.
CBS Sports returns for a third season as the WSOP broadcast partner. Players can expect daily streaming from PokerGO as well. You can view the full WSOP schedule at www.wsop.com or at www.casinocenter.com.
PokerGO Sees Record-Setting $2 Million Cash Game Hand
Most poker players probably can't imagine playing in a six-figure cash game pot. On Feb. 19, PokerGO's No Gamble, No Future live stream featured a $1 million buy-in and saw two players smash the record for a live stream—with poker legend Patrik Antonius collecting an almost $2 million pot at the PokerGO Studio in Las Vegas.
The hand saw Antonius facing off against high-stakes regular and Maverick Gaming CEO Eric Persson as part of the show's "Cash of the Titans" game. Antonius is one of the most iconic high- stakes cash game players in poker, seen often on televised cash games like High Stakes Poker. Persson also plays for major stakes and has been seen in numerous PokerGO events.
The massive hand came on the third and final day of the show. Persson opened the action with a raise to $7,000 holding Q♥ 9♥. That saw a call from Rob Yong with A♣ 2♣ and then a reraise from Antonius to $30,000, who held A♥ K♥. Persson and Yong both called and the players saw a flop of 3♥ 3♣ 8♥.
Antonius stuck in a $40,000 bet and Persson instantly raised to $140,000. Yong folded and Antonius thought a bit before raising to $250,000. Persson called with the pot ballooning to $594,000, which would soon get even bigger.
"Let's go," Persson noted as he put out his chips.
The A♠ came on the turn, giving Antonius the best unless he folded to a bluff—and his opponent was about to put him to the test. Antonius bet $150,000, but Persson quickly moved all in for $692,000. "What do you have?" Antonius questioned before announcing a call. He then stacked up a record-setting pot of $1,978,000, handing a disastrous blow to Persson's chip stack.
Aliaksandr Shylko Secures PokerStars Bahamas Players Championship for $3.1 Million
After months of handing out $30,000 Platinum Pass tournament packages, the PokerStars No Limit Hold'em Players Championship (PSPC) concluded in early February in the Bahamas. The tournament was the culmination of a massive marketing and tournament effort from PokerStars that saw the company hand out more than 400 passes, which included a complete tournament package and vacation to the Baha Mar resort in Nassau. Players were treated to plenty of beach vibes and tournament action as part of the revived PokerStars Caribbean Adventure (PCA).
"Four years later, finally," PokerStars ambassador Parker Talbot told Casino Player. "It's incredible. I haven't heard any bad things yet. Everybody that I've talked to just had a good time."
The $25,000 PSPC highlighted much of the action and saw a dynamic mix of poker pros and recreational players. The tournament produced a field of 1,014 entries for a $24.8 million prize pool. That included 418 Platinum Pass winners with two of those making the final table. In the end, Belarus's Aliaksandr Shylko took the title for $3.1 million after a three-way deal. The victory came after five days of tournament action that saw Shylko add significantly to his $423,369 in career live tournament winnings.
"It was an amazing experience," Shylko said after the win. "I had a lot of fun, I met a lot of good people, and winning such a big tournament, it's amazing."
Germany's Max Menzel earned his spot in the tournament via a Platinum Pass and made it count, finishing runner-up for $2.9 million. Niclas Thumm also scored a final table appearance and seven- figure payday after entering the tournament via Platinum Pass. Here's a look at the final table payouts.
2023 PokerStars Players Championship
Aliaksandr Shylko (Belarus) – $3,121,838
Max Menzel (Germany) – $2,859,990
Philipe Pizzari (Brazil) – $2,524,871
Nacho Barbero (Argentina) – $1,551,300
Pedro Marques (Portugal) – $1,251,500
Niclas Thumm (Germany) – $1,001,200
In other action, the $10,300 PCA Main Event was also a huge part of the festivities. That tournament attracted 512 entries for an $8.6 million prize pool. Portugal's Michel Dattani scored the title for $1.3 million with fellow Portuguese player Pedro Neves finishing runner-up for $1.2 million after a deal.
American Isaac Haxton also ran well in the Bahamas. The high-stakes pro kicked off the series with a win in the $100,000 Super High Roller for $1.6 million. Near the end of the series, Haxton also took down a $25,000 High Roller for $491,550. In total, Haxton chalked up more than $3.1 million in winnings across the entire series, which also included a third-place finish. He now has more than $33.6 million in live tournament winnings.