All Aboard! Casino
Station Casinos rolls out its new and improved Boarding Pass program
By H. Scot Krause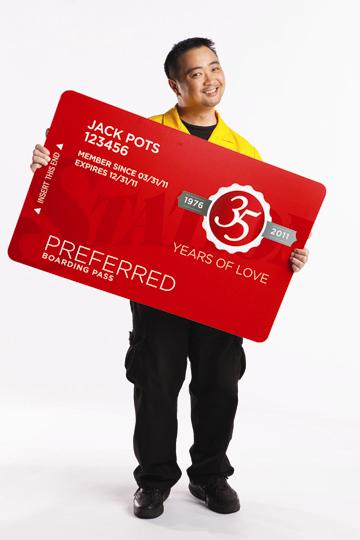 More than 12 years ago, Station Casinos introduced its innovative Boarding Pass loyalty card program, which found creative ways to reward guests for their play.
I'm often skeptical when a casino announces slot club changes that promise to be beneficial for players. In a lot of cases, these "positive changes" are, in fact, downgrades which offer the player less.  This is why I've been so pleasantly surprised with the job Station Casinos has done with their Boarding Pass program.
More than 12 years ago, Station Casinos introduced its innovative Boarding Pass loyalty card program, which found creative ways to reward guests for their play. This program has always received high accolades, winning numerous awards and polls for "Best Slot Club" in Las Vegas.  Last month, Station Casinos introduced the all-new Boarding Pass program to its more than 5 million existing members, with the addition of several significant enhancements. And these are changes that players can really get excited about.
First of all, with the old Boarding Pass program, video poker and slot players earned one point for every $1 of coin-in on all machines (except "Optimum Play"—more on that in a moment). This has pretty much been a standard for most casinos.  With the new Boarding Pass, players now earn points three times faster than before (3 points for every $1) 24 hours a day, seven days a week.  Again, every dollar played now equals three points when playing video poker, slots and video keno. This makes the new and improved Boarding Pass program one of the most competitive in Las Vegas, and across the nation for that matter. For the numbers people, this equates to a .33% return, which makes it among the top, if not the top, for Las Vegas slot clubs.  ("Optimum Play" video poker machines that theoretically can return over 100% with perfect play will be $4 to earn 3 points.)
Second, players can now earn cash back. (I never expected this one!) While many casinos have gone the opposite way, eliminating cash back altogether, Stations has gone "all-in" and will award one dollar in cashback for every 1,000 points earned.  You can still choose to download free slot play in lieu of cash, if you prefer; the ratio remains the same.
The third significant change is the merging of three loyalty card programs into one card.  This has been talked about for years, and now it has finally come to fruition. The Boarding Pass at Station Casinos properties can now be merged with your Amigo Card from the Fiestas brand, as well as your Wild Card from the Wildfire Gaming division. You can combine your play from 18 Station Casinos' locations around Las Vegas, all earning benefits at the same equal rate, wherever you play. In addition to making it easier for the player (since you only need to carry one card),  players' points can now be redeemed at over 50 restaurants, 11 hotels, five bowling centers, seven movie theaters, two spas or for tickets to hundreds of concerts.
The fourth and final change is equally as exciting, especially for local players. Players will earn their tier level, or "status," twice as fast within a six month cycle (January-June; July-December) for both status credits, and maintaining their status level.  Status credits can be earned in other gaming areas including pari-mutuel waging ($1=20 points), poker (1 hour of play =1000 points), sports book ($1=1 point) and bingo ($1 =5 points). Status credits, which assist guests in moving up in their card status as well as provide additional perks and discounts, can be earned throughout the casino including video poker, slots, video keno, table games, poker, race and sports book wagering and during bingo sessions.  And the threshold to get status is lower than ever before.
The five status levels of the Boarding Pass program begin with Preferred as the first level and rising to the Gold, Platinum and President levels. The highest level is Chairman.  President and Chairman-level players are given a personal host to ensure that all of their casino needs are met. Most status levels have been reduced, making it easier for players to achieve their desired levels and goals. Status tier levels are now as follows: Preferred status is now 999 credits, a Gold Card is now 1,000 credits, Platinum will require earning 40,000 points, President's Club is now 100,000 credits and 300,000 points will earn you Chairman level (notably down from the prior 750,000 requirement).
"The  enhancements to the all-new Boarding Pass represent the most monumental change in our loyalty card program since its creation and addresses all the desires we've heard from our guests when we asked them for a 'wish list' of their ideal players' card program," said Kevin Kelley, Chief Operating Officer for Station Casinos.
Guests can pick up their new Boarding Pass at any Rewards Center.  All points earned prior to September 15 remaining on your account will be converted to the players' advantage (i.e. "ramped up" to match the new program) and merged into one card. New Boarding Pass card players who sign up for the card will get a bonus gift of a random amount of free slot play, up to $500.
For additional details about the all-new Boarding Pass program, visit any Rewards Center at any Station Casinos' property or visit www.mystation.com.
Fall Promotions
Red Hawk (Placerville, CA) Casino's poker room is hosting a $35,000 Season-Long Pigskin Poker Party with a chance to win a seat at the 2012 World Series of Poker Main Event. Red Hawk Rewards Club members can participate every Monday night with free football drawings with four ways to win.  Drawing tickets will be given out every 30 minutes from 5 pm to 9 pm.  Players can receive $50 for touchdowns, $25 for field goals and five lucky players will each receive $100 at the last Monday night game each month.  Players can also be drawn to win a seat into the $20,000 No-Limit Texas Hold'em Free Roll Tournament on Jan. 6, 2012.
NFL fans can enjoy free football Sundays at the Stratosphere Las Vegas. At the only theater on the Strip with table seating, guests can hit the live betting stations, enter weekly drawings and tap stadium-style food specials like $5 pitchers of Bud Light, $10 pitchers of Margaritas and Bloody Mary's served by "cheerleaders." The theater is located up the escalators across from Roxy's Diner.
Happy slot clubbing!
H. Scot Krause is a freelance writer, gaming industry analyst and researcher. He  specializes in writing about casino games, events, attractions and promotions. Krause is a former entertainment director and a fifteen-year resident of Las Vegas. His work is regularly featured in gaming publications and in the annual American Casino Guide Book. Questions or comments for Scot may be addressed to: krauseinvegas@cox.net