AGS' ORION CONSTELLATION: BIG-WIN ENTERTAINMENT
AGS uses its Orion family of cabinets to offer players a host of new game features.
By Frank Legato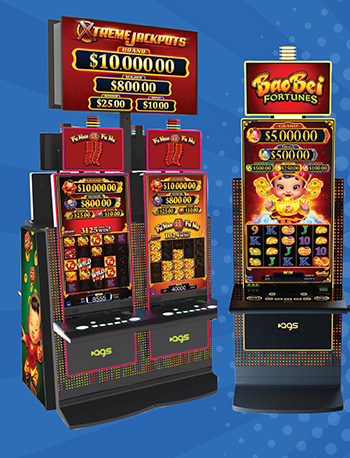 There were a lot of new fans of the games of slot supplier AGS after the company reinvented itself with a new core slot cabinet, called ICON. But there have been a lot more AGS fans since the company unveiled what is now the Orion family of slot machines.
By mid-2020, there will be five different versions of the Orion slot machines out on casino floors, including the dual-screen Orion Upright, the Orion Portrait and the Orion Slant, plus the new, larger versions, the dual-screen tower Orion Rise and the curved Orion 49C.
But it was the first Orion launched—the Orion Portrait—that has arguably put AGS on the map as a major slot manufacturer.
You've seen it. It's hard to miss, with a 43-inch vertical monitor framed by panels of colored LCD lights—according to AGS, 498 game-controlled, full-color LED lights on panels flanking the machines. A bank of these games looks almost like a colorful, animated wall design.
"The Orion Portrait provides our game developers with a larger canvas to paint on," says Mark DeDeaux, senior director of slot products for AGS. "With portrait cabinets, there are no limits for the game designers in terms of what they can do graphically, what they can do with animation. The portrait-style cabinet gives them a large landscape to work with, so players will get to experience a lot more core-game graphics and animations."
At the recent Global Gaming Expo industry trade show, AGS launched an interactive display product called Starwall, designed to enhance this effect even further. Starwall—which won an industry award for slot products at the show—is a giant backdrop for a bank of games on the Orion Portrait cabinet. Measuring 8.5 feet wide by 8.5 feet high, it is a seamless LED video display that frames the Orion Portrait cabinets with a brilliant light show featuring the graphics of the games on the bank. The system can even be customized to display graphics in sync with game events.
The display actually wraps around six games, three on each side of a bank of machines. This is one you won't miss on the slot floor.
But it all goes back to the groundbreaking Orion Portrait, and the games designed to take full advantage of what was the first AGS premium, or "core plus" slot cabinet.
"This was AGS' first portrait-style game, and we've put a lot of R&D resources into this family of games to date," comments DeDeaux. "We have 31 unique titles out in the field, in various casinos throughout the country."
Those titles have been some of the biggest hits yet for AGS:
Rakin' Bacon!, a game in the PowerXStream ways-to-win format, features an "exploding" golden pig that offers players a choice of volatility in free spins, based on expanding reels—from 15 spins at 243 ways to win to five spins with 3,125 ways to win.
Fu Nan Fu Nu has been one of AGS' most popular games, featuring exploding firecrackers that add wilds and a chance at a jackpot sequence.
River Dragons is a beautifully crafted Asian-themed game featuring red and white dragon characters and up to 128 free spins with a "reel surge" that takes the middle reels up to eight rows.
Hearts & Horns is a multi-progressive game with a free spin bonus that can lead to top progressives linked to the main game characters, a Cupid-like angel and a little cartoon devil.
"The players have spoken, in their play on the games," says DeDeaux. "Those games continue to be player favorites.
"All of the games feature multi-level progressives. We know players love the multi-level progressives and the chance to win. A lot of the games have really robust free-game features, and some of those are the pick features where you can choose your volatility. That really empowers the player."
UP AND COMING
Players who love the current hits are in for more and better, says DeDeaux. "The new titles that are coming offer new feature rich, innovative elements," he says. "Also, some of the games are now featuring expanding reels, and, in the example of Trident's Fortune and Roaring Fortune, those expanding reels occur as a mystery feature in the base game. It's a really nice kind of mystery award that happens with expanding reels, and those expanding reels give you bigger opportunities for better pay."
It's all part of the evolution of the Orion family, with new innovations to come on the games being launched with the Star-wall display. "The games we'll be launching on Star-wall have some really great features that players are going to love," says DeDeaux, crediting an expanded group of game studios now creating what goes into the Orion lineup. "This has really evolved from a standard product line into our premium family of games."
Highlights of what's next for Orion include the Golden Wins Deluxe/Jade Wins Deluxe series, another of the games offering a free-spin bonus with a choice of volatility, from 15 games at 243 ways to win to three free games with 7,776 ways to win. "There's a really nice range there for players to be able to pick from," DeDeaux says. "They can really fit their selection to what they want to play as a bonus round. Again, it's empowering for the players."
DeDeaux adds that the game makes full use of the Orion Portrait display. "In Golden Wins/Jade Wins, we made the wheel literally take up the entire space of the portrait display," he says. "It's a big presentation of the wheel, and the animation gives it a better overall feel."
DeDeaux says one of the most well-received games at the G2E trade show was Tiger Lord. "There's a hold-and-spin feature in that game," he says. "We know hold-and-spin features are becoming more and more popular, and we put a really interesting twist on the hold-and-spin feature in Tiger Lord. While you're playing the hold-and-spin feature, you can get an instant win that can wrap all of your credits and award you an instant prize of that credit amount total. Then, it will continue to increase the over- all bonus pay until the ultimate end of the feature."   He adds that the hold-and-spin feature on Tiger Lord includes multipliers. "You can get multipliers throughout the hold-and-spin feature that will multiply all of the awards," he explains, "and those multipliers can multiply on top of each other if they're awarded multiple times in the bonus round."
Other new games coming on the Orion Portrait feature multiple progressive jackpots in which the lower-level jackpots scale with the bet level. "I think that's another empowering feature for the players," DeDeaux says. "Bao Bai Fortunes is an example. This new game allows them to chase bigger awards if they have a winning streak going, or if they want to play with a larger overall budget."
In the end, the Orion family of games is evolving with the preferences of players, but at the center is still that game designer's canvas, the  Orion Portrait.
More to come.