A Very Funny Fellow Indeed
Beloved funnyman Bill Cosby is back for another round
By Michele LaFong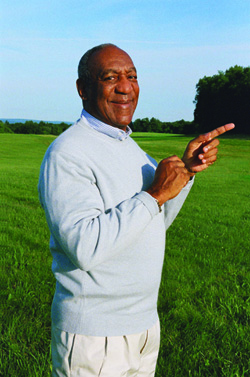 One of America's most beloved comedians of all time, Bill Cosby has captivated generations of fans with his comedy routines, iconic albums and best-selling books such as Fatherhood.  His comedy transcends age, gender and cultural barriers.
Cosby broke television's racial barrier with I Spy, becoming the first African American to costar on a television series while winning three consecutive Emmys. Perhaps Cosby's greatest contribution to American entertainment and culture is The Cosby Show, about a close-knit, upper middle class black family. The Cosby Show dominated the #1 spot for years, earning nearly unanimous critical praise.
Cosby has received the Kennedy Center Honors, the Presidential Medal of Freedom (America's highest civilian honor), and the Mark Twain Prize for American Humor and the Marian Anderson Award.
In his current best seller, I Didn't Ask to Be Born, But I'm Glad I Was, Cosby talks about the Bible, being a grandfather and his first love in his humorous and insightful manner. Radio host and new Casino Player magazine contributor Michele LaFong caught up with him to discuss his success, his comedy, the value of education, and his life before and after the Navy
Michele LaFong: You already had success as a comic yet you still wanted to go after your doctorate, and you did achieve that.  Can you explain why this was so important to you?
Bill Cosby: Because what I was studying and what I was doing were deeply related. I set out to become a school teacher… but the reason for that… is key.  It was because I wanted to stop seventh and eighth grade boys from thinking that the sun goes up and it comes down, and life will take care of them, and to teach them that there is more to life than this, and you have to comply, and become "A Player," as they say in Las Vegas.  So with that, the things that I wrote and did were all were aimed at giving some kind of message about how as human beings we have these tremendous similarities… regardless of our race, culture, color, hair dye… everything!
ML:  Although you were the first entertainer to win an Emmy Award, the Mark Twain Prize, and the Spingarn Medal, you've also received so many other awards throughout your career including: Golden Globes, Emmys, BMI TV Awards, Image Awards, People's Choice Awards, TV Guide Awards,  Hall of Fame, Living Legend Award, I can go on and on…and that's not counting awards and recognition for your contributions, for all you and your wife Camille have done, and continue to do with your work in philanthropy.  When did you realize that it was not enough for you to make people laugh, but it was also necessary for you to get "the message" across in your comedy?
BC: The messages were there before trying to be funny, when I was a freshman at Temple University.
ML: I heard that early on in school, you were bright but unmotivated—sort of a goof-off that liked to tell stories and jokes in class more than liked to do schoolwork.  I'm surprised that you made it to college.
BC: I had scored 500 TOTAL score on the SAT's. They accepted me. I was in remedial everything!  While in remedial English in that first semester I wrote two compositions, which was the assignment, and the Professor read both of them.  (Now I was not aspiring to do anything except to graduate and know everything so that I could teach these boys how to stop thinking that "the sun goes up, and comes down and they'll just be fine as long as they don't participate.)
The Professor read both papers out loud.  The first paper's theme was "the first time that you ever, ever experienced something."
Now remember, I was 23 and just out of the service, and I was gung-ho…but realize that I was a "different player" than I was when I was 16, 17-years-old because I had joined the navy… and found out what I didn't want to be. But it was really the Navy… and the experience of "I'm not your mother!"
That was key. It shook me, it changed me, it made me very angry, this man yelling at all of us, and calling us names… (Without using obscene language or profanity.)
So I wrote my mother and I told her to please get in touch with the base commander, and that this man is in fact a very rude man, and I wrote what he was doing… to us and to me!
ML: So you told on him and wrote your mommy?!
BC: Yes I did. I was nineteen years old. I was hoping that my mother would get in touch with the neighborhood politician, the alderman, so that the alderman—who was also a deacon in the church—would also get in touch with the committeemen, and the committeemen would also get in touch with the councilmen… who would get in touch with the congresswoman…who would then get in touch with the mayor, and then the governor… and get me out of this Navy!  I didn't feel I needed the Supreme Court because I felt I was in Baltimore, and with those powers I'd be taken care of… because they had gotten me out of trouble before… now, I was never a bad kid, arrested, (take away the gun, and all that…) but there were some parking tickets that Roy Hubburd took care of… hehehe… so … I got a call to come to the office of the base commander.  I went up there, and he said "I have a letter here from your mother, and she is telling me what you reported… what your company commander has done to you, and she also said that you had asked her to see the alderman, and see the committeemen, and she also said here that I should continue doing what I've been doing, and that she is very happy about all of this! Now, get out of my office, 'cause I'm not your mother either and I don't think that your mother is any longer the mother that you think she is!"
I walked out of there, and I was a heated warm guy because, don't forget, that this was just the first two weeks of four years SIGNED ON in the Navy!  But the experience that I received, I am privileged because it made major changes. When I got out in Little Creek in May, I had been accepted to Temple University. (I wanted to throw all of my clothes in the dumpster, but somebody said "if they see your clothes in the dumpster, they will pull you back in."  So we were still believing that The Navy still has power and to this day… I'm 75 years old, I think they could still come and get me if they wanted to.)
ML: Is it true that you didn't finish high school, and got your GED through correspondence courses while in the Navy?
BC: Yes, and after this experience, when I went to Temple University, I was ready to become this school teacher.  I knew what I wanted to do. I knew it was a wonderful goal to set, and I also knew that I could earn a living, to afford a home, and a wife, and work towards a Masters and a Doctorate in education.  When the Professor of this remedial English class read my compositions, I can't even describe the emotion I felt.  I was just very pleased that something unexpected and good was happening to me.  Then when he read the second composition, both grades had "A" on them and then there was a red slash, my first one had a C-(syntax, grammar, etc.) and I paid attention to those red markings on the margin.  The second one had an "A," and then it had a B+.  Oh man!!
But, when he read my compositions out loud, and my classmates who didn't yet know about me as a comedian… but they chuckled, and he chuckled… what it gave me is the feeling that I could be a writer, and that's what I wanted.  I could be a school teacher, and I could be a writer. Okay…hmm… So… I write things.  On my first album "Bill Cosby is a Very Funny Fellow… Right!"  There's Noah, and then there are pieces that I wrote at Temple University.
ML: Last time you were at the TI in Las Vegas, you sold out. Were there are a lot of locals in the audience?
BC:  No, I don't think so.  Locals in Vegas are busy working hard and always seem to have relatives and friends coming out to visit them.  Maybe their house-guests will come out and give their relatives and friends a night off!
SIDEBAR: Where's Cosby?
Bill Cosby is performing on June 22 in Welch, MN, at the Treasure Island event Center. Other dates and locations for his show include:
June 7 Turning Stone Resort Casino, New York
July 19 Treasure Island, Las Vegas
August 17 The Meadows Race Track and Casino, PA
Oct 25 Peppermill, Wendover, NV
Nov 29, Treasure Island, Las Vegas
Michele LaFong is the host of syndicated radio show Las Vegas Backstage Talk with Comedian Michele LaFong which airs Thursdays, and Saturdays from 6:00 p.m.-7:00 p.m. PST, on 1230 AM KLAV, in Las Vegas, and streams live on The Web. Las Vegas Backstage Talk Radio Show is the only place to listen-in on "those inside" conversations and backstage stories with the stars that make Las Vegas the Entertainment Capital of the world. This weekly audio/video production features interviews with notable show biz personalities from yesterday, today, and tomorrow.