A Race to the Top – Pinnacle Entertainment
How Pinnacle Entertainment, Inc. evolved from a Hollywood production to one of the most dynamic companies in the gaming industry
Unlike other companies that offer a long, drawn-out mission statement filled with corporate jargon, Pinnacle Entertainment's mandate is simple and clear: "To be the best casino entertainment company in the world."
In June 1938, the company known today as Pinnacle Entertainment, Inc. debuted their first project. 600 shareholders came together to make their mark in the sport of kings, launching a thoroughbred racetrack called The Hollywood Turf Club (which would later be renamed the Hollywood Park Racetrack).
Though the track wasn't actually located in Hollywood, but in Inglewood, California, it was conceived in the heart of the Los Angeles entertainment industry. Its board of directors and stockholders were some of the top movers and shakers in the movie business.  Jack Warner chaired the board, and shareholders included Bing Crosby, Sam Goldwyn, George Jessell, Ralph Bellamy and Mickey's dad, Walt Disney.
Through the years, the Hollywood Park had a long history of prestigious board members. Al Jolson and Raoul Walsh were on the first board of directors. Later the list would include such greats as Cary Grant, John Forsythe, Ronald Reagan, Merv Griffin, Aaron Spelling, and Las Vegas's own Steve Wynn.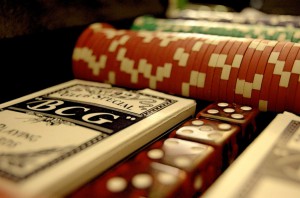 From Long Shot To Legend
True to its Hollywood origins, the track was made famous by a beloved underdog horse named Seabiscuit which would become the subject of a Hollywood film many decades later, in 2003. The undersized thoroughbred lagged behind at the inaugural Hollywood Gold Cup until surging ahead to a stunning win.
Its Tinseltown roots also made the famous track a natural place to start the use of "binocular cameras." These forerunners to instant replay made their debut at the Hollywood Park Racetrack in 1941. Eight cameras recorded the race from different angles, and a crew then spliced the film together. The judges reviewed the film the next day.
When America entered World War II, the track suspended races. The only time it opened between 1942 and 1944 was for a meeting of War Charities. Once reopened, it faced a new disaster; in 1949, a raging inferno destroyed the grandstand and clubhouse.
The track also pioneered the exacta in 1971. (For gamblers who are more familiar with the green table felt than the race turf, a straight exacta is a bet where you have to pick the first and second place winners in exact order.)
Major renovations to the track took place in 1991, when a $20 million project introduced  the Players Club in addition to other upgrades. The second phase of renovations added new infield lakes, the Hollywood Bar, six new barns, and a family area.
In 1992, the company began an ambitious $100 million dollar expansion. The project brought a 14,000-seat music center; a putting course; driving ranges; and saw the conversion of the Cary Grant Pavilion into a Casino/Card Club. The Hollywood Park Casino opened its doors on July 1, 1994.
The Metamorphosis
The true future of Pinnacle Entertainment, Inc. became apparent in 1997 when Hollywood Park acquired Boomtown Casinos in three different locations. The first was Boomtown Casino & Hotel Reno in Verdi, Nevada. (The company still operates this Western-themed complex, located eight miles from downtown Reno, Nevada.) The second property it acquired, Boomtown New Orleans in Harvey, Louisiana, is also part of their present holdings and is located just 15 minutes from downtown New Orleans. The company sold the third casino that it acquired during that period, Boomtown Biloxi.
In 1998, the acquisition of Casino Magic brought even more properties under its umbrella. While Hollywood Park sold the other casinos, they kept Casino Magic Bossier near Shreveport, LA. In 2002, the company rebranded it as Boomtown Hotel & Casino.
In order to focus their time and resources on their casinos, the company sold the Hollywood Park Track in 1999. A new direction called for a new name. In 2000, Hollywood Park, Inc. emerged as Pinnacle Entertainment, Inc.
Their Own Design
Up until 2000, the casinos owned by Pinnacle Entertainment were acquisitions. Then that year, they unveiled Belterra Casino Resort & Spa, the first resort the company designed and developed from the ground up. Located in a lush natural setting in southern Indiana, Pinnacle created a dazzling destination with a championship golf course (designed by the legendary course designer Tom Fazio); inviting and spacious guest rooms; a full-service spa; entertainment; and a host of restaurants that appeal to any appetite.
A Second Masterpiece
In 2003, the Las Vegas-based company broke ground on an even more opulent destination casino. Within two years, they unveiled their creation: the L'Auberge du Lac in Lake Charles, Louisiana. This southwestern Louisiana property boasts a superb location, providing easy access to the population of southwest Louisiana and east Texas. (The state of Texas does not allow gambling, which has allowed the gaming industry along the Louisiana/Texas border to flourish.)
This luxurious resort, which today has nearly 1,000 rooms, offers something for everyone. For golfers, L'Auberge du Lac has another Fazio-designed golf course. For relaxation, a visit to the spa or simply lounging around the pool is a perfect escape. Get your plastic ready if you're a shopper; there are fabulous on-site stores waiting for you. As for the gaming, it's conducted under an enormous glass dome with a grand vaulted ceiling. The single-level riverboat features 30,000 square feet of gaming with more than 60 table games and 1,600 slots.
Rapid Expansion
In December 2007, Pinnacle unveiled a $400 million casino in St. Louis: Lumière Place Casino and Hotels, which includes two hotels in the heart of the downtown St. Louis entertainment district. The stunning modern design of the Four Seasons Hotel St. Louis is as breathtaking as its companion hotel, HoteLumière. You'll find seven restaurants and bars, plus a wide selection of casino games: approximately 2,000 slot machines, 55 tables and a dedicated 13-table poker room.
Meanwhile, the Lumière Theatre brings top performers and events to an intimate 450-seat venue where there isn't a bad seat in the house. Since its debut in the fall of 2008, Lumière Theatre has played host to the Go-Go's, Joan Rivers, Legends in Concert, Thunder from Down Under, Louie Anderson, and the Rat Pack tribute show, plus WBF Championship Boxing and other special events.
An Imploded Dream
In 2006, Pinnacle bought the Sands Casino in Atlantic City, New Jersey. The company planned to build a $1.5 billion dollar resort at the site, and in October 2007 they put on a display that would rival any rock show. 10,000 people turned out to witness a massive fireworks spectacle and the implosion of the old Sands Casino.
At that point, however, the economy was in a downward spiral. In 2010, Pinnacle canceled its plans and announced their intention to sell the property. This was not Atlantic City's only disappointment during that period, as three other gaming companies—Penn National Gaming, Inc, MGM, and a development group headed by Curtis Bashaw—delayed or halted construction on major projects due to economic uncertainty.
Two More Additions
Despite the tough economic conditions, Pinnacle opened another first-class casino in 2010: the $375 million River City casino in the suburbs of St. Louis, Missouri. This property boasts a phenomenal 90,000-square-foot gaming floor, along with a variety of restaurants and entertainment offerings. Pinnacle also went back to its roots with the purchase of the River Downs Racetrack in Cincinnati, Ohio. The track, which is close to Belterra on the Indiana border, adds to their presence in the area.
Future Plans
Showing confidence in the recovery of the economy, Pinnacle is forging ahead with plans to build the $357 million Baton Rouge Casino and Hotel. Due to construction problems, the opening date has changed from December 2011 to the first quarter of 2012. Among the list of amenities: 206 guestrooms; a covered parking garage; rooftop pool; concert/banquet area; three dining outlets; a casino bar; and an outdoor festival area.
Pinnacle continues to takes an active role in the community and supports various organizations such as the minority-owned Business Enterprises (MBE) and women-owned Business Enterprises (WBE). Unlike other companies that offer a long, drawn-out mission statement filled with corporate jargon, Pinnacle Entertainment's mandate is simple and clear: "To be the best casino entertainment company in the world."
SIDEBAR
A Player's Club Like No Other
In a grand unveiling on April 11, Pinnacle announced important changes to their players' club, which is called "mychoice."  Ginny Shanks, chief marketing officer and executive vice president, noted, "[The new club] took nine months to create. It was like having a baby."
Like any new parents, Pinnacle is extremely proud of their new players' reward system. "We wanted something unique and useful all year long for our loyal players," said Shanks. "We wanted to give them choices that were meaningful to them."
In a recent press release, Pinnacle Entertainment president and CEO Anthony Sanfilippo explained the philosophy behind the improvements. "We have partnered with world-class brands to roll out a unique suite of rewards designed to ensure that our guests always think of Pinnacle casinos as 'their place' to play and be entertained. The new mychoice program will offer guests greater control over both how and where they enjoy their rewards, including stays at two Las Vegas luxury properties that hold more Forbes Five Star awards than any other casino resort in the world."
Mycash Rewards Become More User Friendly
The multi-tiered program offers many traditional players club benefits. You accumulate points to rise through the tiers: Choice, Advantage, Preferred, Elite, and the Owner's Club. At the same time, you accumulate mycash in a manner similar to other casino comp programs. Everything you've accumulated in the mycash program is always within easy viewing. Just insert your card in a machine, or look up your balance online.
For every dollar of mycash that you earn, you have three options. You can cash it in for hotel, food or retail and receive two dollars worth of credit for every dollar of mycash. If you prefer to use it as slot play, then you have a dollar-for-dollar amount available. If you want to use it as your very own casino bank account, then select the option of redeeming your mycash dollars at fifty cents on the dollar.
The Rollout Ceremony
Special ceremonies were held at every Pinnacle casino that rolled out the new program. In St. Louis, they held a dinner on the field at Bush Stadium, home of the St. Louis Cardinals. Every attendee received a special invitation that included a Mercedes Benz keychain. An exclusive drawing added to the excitement.
After the meal, it was time to learn about the new program, which saw Pinnacle partner with other corporations to provide players with unique club benefits. One unprecedented partnership was with another casino corporation; top-tier players receive a free stay at Wynn Las Vegas and $500 travel expense each year. These elite players also have a dedicated phone line at Wynn to secure a room on the day of their choice. Additional benefits include a cruise and other amenities.
There were fireworks that night as well, and in Oprah-esque fashion, a parade of Mercedes Benzes rolled out to line the perimeter of the field. For club members that qualified, Pinnacle arranged for a year-long lease on the Mercedes of their choice.
There's a reason the top tier of this program is called the Owner's Club, a term trademarked by Pinnacle. The benefits are many, but one of the most notable is the option of receiving stock in Pinnacle. Those accepted into the Owner's Club receive 100 shares of Pinnacle stock.
At one time or another, you probably felt you played enough to own part of the casino. Now, Pinnacle's players can literally own part of the casino. The company wanted to make its top players feel like the casino was their place, and they did it both figuratively and literally.
 A Race to the Top – Pinnacle Entertainment.