A Poker Life
Daniel Negreanu has become the face of the game and discusses life, competition, and even bringing an NHL team to Las Vegas
By Sean Chaffin
"The fact that $4.6 million was raised for the One Drop Foundation makes it less of a bunch of rich guys with way too much money gambling for stupid amounts of money," said Negreanu after the event. "So it becomes something bigger, it becomes something more important, outward focused, something that's fun for those people, but at the same time they're making a difference.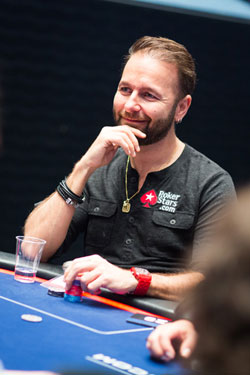 To say Daniel Negreanu has been on a monster tear the last few years is a bit of an understatement. Since 2011, Negreanu has racked up an amazing $16 million in tournament winnings. Time and again "Kid Poker," as he was nicknamed during his early years at the World Series of Poker, has utilized his keen senses, skills, and ability to read his opponents on poker's biggest stages.
With the 2015 WSOP set to begin in late-May, despite having some new interests and ventures on his radar, Negreanu was ready to do battle on the felt. Casino Player sat down with Kid Poker to discuss his life in and outside of poker.
A LONG WAY FROM TORONTO
July 1, 2014, was a huge day at the Rio in Las Vegas. Forty-two players had been battling for days in the Big One for One Drop, a $1 million buy-in tournament at the annual World Series of Poker. While big money was raised for charity as part of the event, a championship bracelet and $15.3 million payout for first was on the line.
After an epic heads-up battle, Daniel Colman would come out on top. Colman has been a bit of a controversial figure in poker for some comments he has made about other players and the game itself. He refused almost every post-tournament interview and barely worked up a smile for a photo with his winnings.
In contrast, Negreanu filled the void and remained at the table speaking with media and posing for photos. An affable personality and media presence has endeared him to fans and is what makes him a great representative for PokerStars, which has sponsored him for years.
"My intention was to win," Negreanu told media members after his huge runner-up finish afterward. "That didn't happen, but I came pretty close."
Despite not winning the Big One, Negreanu noted its importance in the poker world and its charitable aim. One Drop provides fresh water services in third world countries.
"The fact that $4.6 million was raised for the One Drop Foundation makes it less of a bunch of rich guys with way too much money gambling for stupid amounts of money," he said after the event. "So it becomes something bigger, it becomes something more important, outward focused, something that's fun for those people, but at the same time they're making a difference.
Growing up, a Toronto hall was the frequent home to Negreanu as a teenager. A place called Snooker Canada became a regular stop to chalk up a cue and pocket some balls. But soon, the back room became more interesting than the pool table
A regular poker tournament was held in that back room—and the young Toronto native wanted in on the action. He soon found that his skill with cards outmatched his cue stick skills. That night was the first poker tournament the young cardsharp ever played, finishing fifth and launching a career that would earn him prestige, television appearances, and, of course, a ton of cash.
"I had a lot of drive and even more self confidence," he says of those early years. "I was always learning something every time I sat down at a table and would study the best players in the game until I felt like I had figured out what makes them work."
The tournament became a weekly ritual for Negreanu, and he was soon playing cash games at other private clubs for a few years before the Ontario government opened up charity casinos offering poker. Negreanu learned the ropes as a young player in Toronto including the ups and downs that come being a professional gambler. Like many players, even going broke as a teenager and in his early-20s proved to be a learning experience.
"I wasn't looking to settle for mediocrity so I dreamed big, took my shots aggressively, and when you do that, you are going to go broke sometimes," says Negreanu, 40, who now lives in Las Vegas. "I didn't mind it too much. I had loads of confidence that I would succeed and if that meant having to borrow money occasionally, I figured it would only make me stronger."
In 1998, Negreanu broke through at the WSOP, winning his first bracelet and pocketing $169,460. More wins and big scores would follow. In 2004, he added a World Poker Tour title to his resume at the Borgata in Atlantic City for $1.1 million. A WSOP-Circuit championship followed two years later for $755,525 as did appearances on high-stakes cash game poker shows.
In 2013, he earned WSOP Player of the Year, becoming the only player to earn the title twice. That impressive year included two of his five WSOP bracelets, a runner-up finish in Las Vegas and on the European Poker Tour in Barcelona, and a nice fourth-place finish at the EPT Grand Final in Monte Carlo for $420,912.
As if that weren't enough, Negreanu added some huge final table scores at the Aussie Millions in 2014 and the massive runner-up payday of $8.3 million at the Big One for One Drop.
In recent years, Kid Poker has slowed down his travel schedule some, being a bit more selective about the tournaments he plays and focusing more time on working out and improving his golf game. What does he consider his most important win?
"My first ever WSOP event I played in 1998 I won," he says. "At the time I was the youngest player to ever win a WSOP bracelet and that win really put me on the map."
THINKING THE PART
Most Americans don't realize the skill involved in poker. The same players often win or find themselves at the final table. And for good reason—they have a better sense of the game and their opponents. Negreanu has become one of the biggest names in poker and is known for his ability to read players and regularly name what cards they have in their hand—which certainly makes for nice TV. For players like Negreanu, poker requires a ton of skill and preparation.
"It requires work, study, and experience to master it," he says. "Just like any career. It's not just trying to get lucky gambling, it requires immense dedication to get good at the game."
Much of that work involves a mindset for winning. Negreanu lists his goals each year at his blog, FullContactPoker.com, and also reflects on this previous year's. The poker shark tries to set very tough goals, he writes in his blog, not 10 goals that are easily attainable—so he can "dream bigger, reach higher, and stretch myself each year." Some of those goals this year include making five final tables, 12 cashes at the WSOP, and winning three bracelets at the summer poker extravaganza.
"For me it's essential to my happiness. I'm a huge believer in setting lofty goals," he tells Casino Player. "Every January I write out very specific goals and share them on my blog."
Recently, Negreanu has been vocal about adjusting his mindset through classes taken at the Choice Center, located in Las Vegas. According to its website, the facility "specializes in experiential education and leadership training designed for the successful person. No matter where you are in life—whether you're just graduating from college or you're a multi-millionaire—everyone has a 'what's next' goal or dream."
The center says it helps people compete "at the next level" by challenging their thinking, stimulating the senses, and helping them pursue their passions. Negreanu said the courses have helped with his game and life.
"I wouldn't describe what I learned at Choice Center as positive thinking, the more important aspect of the emotional intelligence training I got there was learning the difference between living my life as a victim to circumstance versus standing 100 percent responsible for all the results in my life," he says. "When you live your life as a victim, you are powerless. You can't change circumstance. When you live from a responsible place, you realize that you always have a choice and it's your choices in terms of how you respond to events that dictate where you are in life."
Along with a vegan diet and a strict workout routine, Negreanu seeks to find success at the tables by being in great shape—mind, body, and spirit. It's hard to argue with his results. And with the WSOP approaching, what's his preparation like on average day at the tables?
"I have been doing this long enough where I have a pretty standard routine that I don't spend much time thinking about it," he says. "I wake up at the right time, go to the gym, eat well, and then when I sit down so I'm in good spirits and ready for a long day at the tables."
VEGAS HOCKEY
As a boy growing up in Toronto, Negreanu was a Maple Leafs superfan. As a youngster, he cried after losses and played street hockey until dark almost everyday after school in front of his house. Hockey remains one of his big passions in life outside of poker, and he even chronicles his playoff wagers on Twitter.
In recent months, Negreanu has set his sights on trying to bring an NHL expansion team to Las Vegas.
"I really like the prospective owner Bill Foley and I'm confident that hockey will work in Vegas," Negreanu, 40, says. "There are 2.2 million people in Las Vegas starving for a professional sports team. The base is there. Sure there is no hockey culture in Las Vegas at the moment, but wasn't that true of thriving franchises like the San Jose Sharks?"
Foley is head of Fidelity National Financial, a mortgage and title company based in Jacksonville, Florida, and is heading up the NHL efforts with the Maloof brothers, owners of the Palms Casino and former owners of the Sacramento Kings NBA franchise.
Negreanu's efforts have paid dividends in recent months. He was part of a founding group that helped to sell over 10,000 season ticket commitments to help prove to the NHL that there is a desire for a team in the city. So far, Negreanu has only been part of the ticket sales drive, but may be interested in being part of an ownership group.
"That depends on what it looks like, but I am certainly interested in exploring it," he says. "Going forward, once the franchise is awarded, I may be involved as a minority owner."
While some leagues have been leery about positioning a franchise within Las Vegas, Foley has made a serious effort to bring the NHL to Sin City. The businessman, who recently purchased a home in the Vegas area, plans for the team to begin play in 2016-17 in a new privately-financed $375 million arena to be built on the famed Las Vegas Strip. Foley's company already owns a few restaurants in the city.
In March, Foley told the Las Vegas Review-Journal that NHL officials have not yet invited him to any league meetings to discuss the Las Vegas team bid. Foley's group plans to keep taking deposits for season tickets even after the goal of 10,000 was reached.
"The more we sell, the stronger the argument," Foley told the Review-Journal.
As a hockey fan and potential minority owner, Negreanu believes Vegas has some strengths over other possible expansion cities. As the face of poker, "Kid Poker" might bring an infectious personality to the NHL, which could certainly help with marketing efforts in the Silver State should a franchise be awarded.
"People here will learn to love hockey, and this city has the added bonus of tourism," he says. "People don't go to Columbus to watch the Blue Jackets and make a vacation out of it. That will happen with the Vegas team. If Calgary is playing in Vegas, you can bet that people will use that as a great excuse to make a quick Vegas trip—good for the city, and good for filling the seats."
POKER LIFE
As more and more states across the country consider legalizing online poker, it's clear Americans are still in love with the game. The WSOP continues to increase the number of events and even added the $565 Colossus event that was expected to set new records for the number of entries.
As the game continues to grow, Negreanu certainly is one of the few mainstream names in the game along with poker legends like Doyle Brunson and Phil Hellmuth. Along with being an ambassador for the game, Negreanu is not shy about voicing his opinions about some of the game's controversies either via Twitter or his blog.
One area of concern for Negreanu is the increasingly slow decisions by many players to make even the most basic calls or folds—known as "tanking" in the poker world. Negreanu believes the slow play seen in tournaments and at the WSOP final tables in recent years is not good for the game and makes for dull TV at a time when poker is working to create a kind of "comeback" online and in media. Amateurs, he argues, become turned off by the slow play on TV and in live tournaments.
"When I play with players who consistently act within a reasonable amount of time, I don't call the clock on them when they occasionally take a few minutes to make a decision," he writes on his blog. "If there is an habitual tanker… then you have lost that privilege and courtesy."
Last year, Negreanu earn one of the biggest honors in poker when he was inducted into the Poker Hall of Fame. He was also recently named a partner for the new Poker Central television network, which plans to launch by 2016.
"We are excited to add Daniel to the Poker Central team," said Clint Stinchcomb, chief executive officer of Poker Central. "Daniel is a great ambassador of the game and will help take televised poker to new heights." In the works for more than a year, Poker Central is expected to air before the end of 2015. Other partners, in addition to Negreanu, will also be announced in the coming weeks.
The new network plans to offer round-the-clock poker-related content and has already made a splash in the poker industry by planning The Super High Roller Bowl, a $50,000 buy-in tournament set for July 2-4 at the Aria Casino in Las Vegas with many of the biggest names in poker including Negreanu. Poker Central estimates a prize pool of $25 million.
"I am thrilled to join the Poker Central team," Negreanu said after the announcement. "I can't wait to help make 24/7 Poker a reality."
And with his recent at the tables, Negreanu just might find himself at another final table at the network's first event—betting, raising, and raking plenty of pots.
INSIDE STRAIGHT with Daniel Negreanu
TV Show – Survivor
Book – Blink by Malcom Gladwell
Movie – American History X
Vacation spot – Barcelona, Spain
Sport – Hockey
Team – Las Vegas Rat Pack
What do you wish you were better at? Golf
What person in history would you like to have dinner with and why?
Bob Marley for sure. I don't take part in the marijuana, but I find him and his music fascinating.
Sean Chaffin is a freelance writer in Crandall, Texas. Email him at seanchaffin@sbcglobal.net or follow him @PokerTraditions. His new poker book is RAISING THE STAKES: True Tales of Gambling, Wagering & Poker Faces and available on Amazon.com.