25 Wheel… Of… Fortune!
The original game-show slot, and pioneer of the wheel bonus, the television theme and so much more, turns 25
By Frank Legato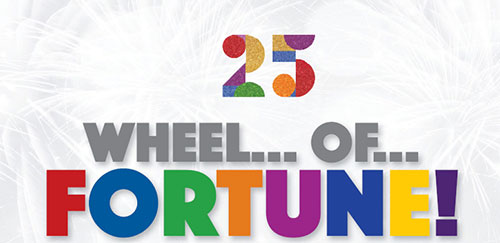 THE COMBINATION WAS BRILLIANT.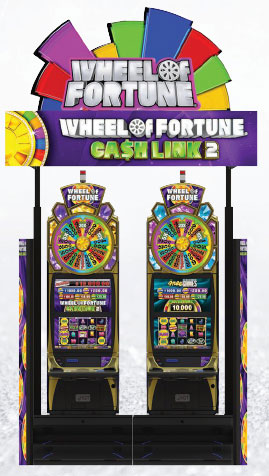 The melding of ideas that went into slot-maker IGT's creation of arguably the most important slot machine of the modern casino era was simple, opportunistic and ingenious.
In the mid-1990s, inventor Randy Adams of Anchor Gaming patented a design that placed a roulette-like wheel on top of a slot machine. Anchor used the design to create the game Wheel of Gold, which placed the bonus wheel on top of a slot game in a slant-top Bally cabinet. The game was a hit for Anchor, but executives of IGT had a much better idea for the concept.
The wheel concept would be combined with a game dressed in the theme of the most popular game show in America. Created by Merv Griffin in 1975, Wheel of Fortune is ingrained in popular culture, as successful as ever in its 38th season, featuring longtime hosts Pat Sajak and Vanna White.
The team at IGT fashioned Adams' bonus wheel to resemble the giant wheel that is the central feature of the game show, spun by contestants to pick letters in a giant Hangman game. Slices on the wheel included credit awards rising into the thousands. Worked into the game program was a reel outcome of wheel symbols that would trigger a bonus in which the player would hit a button to spin the bonus wheel.
But the brilliant part was the hook: When the bonus was triggered, audio would blare out familiar sounds of the show, starting with the audience chant that begins each broadcast—Wheel… of… FORTUNE! The wheel would spin to a backdrop of audio simulating the sound of the wheel spinning on the game show.
Anthony Baerlocher, IGT's vice president of innovation and mechanical reels, was on the team that designed the original Wheel of Fortune slot machine.
"I led the game design and math," Baerlocher recalls, "while Jean [Brossard] Venneman was the project manager, and we worked together to find a way to 'build a better wheel.'"
The making of Wheel of Fortune was a long climb. "IGT acquired the rights to use the Wheel of Fortune brand on slot machines after long negotiations," Baerlocher recalls. "It was the first licensed title to go on a slot, and no one knew for sure if players would accept it, or if there would be any negative impact on the brand and the television show, as this was back in the mid-1990s when casino gambling was less socially acceptable than it is today."
IGT's first Wheel of Fortune game was actually a nickel video slot, still the new rage at the time. "Around the same time frame, Anchor Gaming introduced the Wheel of Gold slot machine as a premium leased product, and that game was setting records for performance," Baerlocher says.
"Bob Bittman, IGT VP of marketing at the time, saw the potential of the Wheel of Fortune brand in a similar configuration."
But that wasn't all. The Wheel of Fortune slot would incorporate some of the most popular IGT game features of the era. The big-money, multi-site progressive pioneered with Megabucks would link Wheel of Fortune games to a life-changing jackpot. And the base game itself would make for a new kind of progressive game. Instead of sitting through a parade of spins while shooting for the big jackpot, players would enjoy what was one of IGT's biggest hits as the inaugural base game, Double Diamond.
The inclusion of Double Diamond, with its 2X and 4X multiplying wild symbols, meant Wheel of Fortune would have three dimensions of entertainment—the base game, wheel bonus and possible big jackpot.
"The Wheel of Fortune project on the S+ hardware had a very short delivery time frame for such a large project that included new games, mechanics, and hardware," Baerlocher says. "To help expedite the process, I looked for a way to build a game with a high probability of success by leveraging elements already proven in the market. At IGT we had great-performing stepper [reel- spinning] games like Double Diamond, Red, White, & Blue, and Wild Cherry. I felt confident that the best path forward was to leverage our IP and player-favorite titles, and pair them up with proven mechanics and bet structures."
Wheel of Fortune as a slot brand turns 25 this year. The manufacturer is joining with casinos across the U.S. to stage 25th anniversary events, while running contests for players on social media.
The events will coincide with a rollout of eight different new Wheel of Fortune themes at casinos partnering in the launch, the latest games in a franchise that IGT counts at well over 250 titles.
"Wheel of Fortune slots completely changed the industry and redefined what a slot machine could be," says Baerlocher. [Sounds other than] bells and buzzes really didn't exist in the 1990s, and we used simple MIDI sound files through minimal speaker capabilities.
The S+ didn't have the capability to house large sound files. Jean was the one who pushed engineering to find a solution, and demanded that the game needed the sound elements of the show.
"We ended up designing a new higher-end speaker that sat above the wheel in a gold-covered angular shaped housing we affectionately called 'the Pope's hat,' as it was shaped similar to a mitre. IGT even went out and hired its first sound designer, Jeff Laakso, to re-create the sounds of the show and find the place to put them in the game. Now, a casino just doesn't sound right if you can walk through it and not hear a crowd shout 'Wheel of Fortune!'"
"When people saw a Wheel of Fortune game on the floor, with the chant and the sounds from the show, there was an authenticity about it," adds Boris Hallerbach, director of premium content at IGT, "and there was an instant attraction from players to that game. Even if they're not slot players, they recognize Wheel of Fortune and gravitate to the game. And for many players, that's the first game that they've played on a slot floor. So we were able to capture an early audience there.
"This really was the first licensed brand in slots, and it definitely kicked off an era."
SILVER ANNIVERSARY
All the 25th anniversary events, online contests and player promotions at casinos this year will provide a proper backdrop for the introduction of new games in the franchise like Wheel of Fortune Wild Spin on IGT's new Peak49 cabinet. "That's a new game that combines some of the game mechanics that we had in Scarab, along with a great hold-and-spin jackpot playoff," says Hallerbach. "It's really an interesting take on Wheel of Fortune."
Wild Spin follows up last year's launch of Wheel of Fortune Mystery Link on the PeakSlant49 cabinet, with its curved 49-inch video monitor. "We've put out four themes under that [Mystery Link] umbrella, and that is out in the market and doing well for us. We've got follow-up themes for that cabinet, but we're also continuing with themes on our CrystalWheel stepper cabinet, which is our flagship three-reel cabinet.
"And there's our Gold Spin Deluxe family, with Five Times Pay and the Double Gold launching this year. Those are taking some really strong IGT baseline themes and bringing them to the new cabinet." Another new release this year will be Wheel of Fortune Triple Double Emeralds, on the giant MegaTower cabinet.
Hallerbach says each new release will be premiered with special events by casinos that are featuring casino floor promotions such as merchandise giveaways, and IGT is working with show owner Sony Pictures Television to involve the TV show's talent in some of the events.
The new games complete a portfolio built over the past 25 years that includes many milestones. "By the year 2000, Wheel of Fortune had established itself as a fixture in the casino, so we started exploring how to extend the game beyond the basic three-reel mechanical reel offering," recalls Baerlocher. "The emergence of successful video slots from other suppliers gave us the opportunity to take Wheel of Fortune to our iGame+ video platform. With the capabilities of a video platform, I was able to get more creative with the bonuses and brand; but of course, it still needed that iconic mechanical wheel added to the cabinet.
"With a few years of success, we were able to reach agreements with Pat and Vanna to do video and audio recording sessions to put into the game. Players loved seeing these familiar faces on their slot game, and Wheel of Fortune yet again changed some of the expectations of a slot machine."
In the mid-2000s, IGT made a splash with community versions of Wheel of Fortune that simulated the game-show setup. Wheel of Fortune Special Edition Super Spin placed nine players at machines surrounding a giant centerpiece wheel. The game show was further featured in Wheel of Fortune Experience in 2010, which included the puzzle-solving element of the TV game show.
Other landmark versions of Wheel of Fortune include the Gold Spin Deluxe version recently introduced, in which the player spins a special Gold Spin wheel that can yield multiple pointers—the arrows marking wheel slices that award the prizes—and added multipliers. "When you get that Gold Spin Bonus, you can get up to three pointers with up to a five times multiplier on each of those pointers," says Hallerbach. "It can be a really huge bonus."
Twenty-five years on, Wheel of Fortune remains one of the most popular games on any slot floor.
Some casinos, like the Plaza in Downtown Las Vegas, have special sections dedicated to the game.
"Wheel of Fortune has always been one of the most popular games at the Plaza, and that's why we partnered with IGT to create our Wheel of Fortune Slots Zone as a dedicated epicenter for the game in Las Vegas," says Casey P. Adras, director of slot operations at the Plaza. "Since it opened earlier this year, the nearly 3,000-square-foot space is always busy, and feedback from our guests is overwhelmingly positive."
The Plaza "zone" includes more than 40 Wheel of Fortune games, including both classic mechanical reel and video reel choices.
As for the next 25 years, expect there to be a constant flow of new Wheel of Fortune versions. "Wheel of Fortune has been such a great brand for us that we are totally committed to supporting the brand, and we're going to continue to put out new hardware both in the stepper three-reel space and in the video space and beyond," says Hallerbach.
"We've taken Wheel of Fortune into the online space as well. This is a brand that we're committed to, and we're going to keep this a very healthy brand for the foreseeable future."
WHEEL FORTUNE SLOTS
1986
Wide-area progressive launched with Megabucks; to be essential element of Wheel of Fortune 10 years later
1996
Launch of Wheel of Fortune when former themed video slot was replaced by a reel-spinner with a physical wheel
1999
First video version of Wheel 0f Fortune released, setting precedent of adapting the theme to the most popular slot genres
2016
Vanna White, cohost of TV's Wheel of Fortune, given the Key to the City of Las Vegas by Mayor Carolyn Goodman
2016
Wheel of Fortune 3D launched, bringing IGT's remarkably authentic "True 3D" technology to the legendary game
2004
First online version of Wheel of Fortune launched for free-to-play online casinos
2006
Wheel of Fortune Super Spin launched, bringing the TV show's concept of players surrounding a huge wheel to the casino floor
2009
Largest Wheel of Fortune jackpot in history awarded, when Tommy McMillan of Woolmarket, Mississippi won $14.4 million on a dollar game at the Hard Rock Casino Biloxi
2017
Wheel of Fortune Megatower launched at Hollywood Casino, bringing a towering new dimension to the game
2018
Wheel of Fortune 4D launched, adding gesture recognition and midair haptic technologies to the game for an unprecedented experience
2021
Wheel of Fortune Zone opened at Plaza Casino in Downtown Las Vegas, featuring more than 40 different versions of the game in a dedicated 3,000-square-foot area