Staying Power
KC & The Sunshine Band, Meat Loaf and more!
By Michele LaFong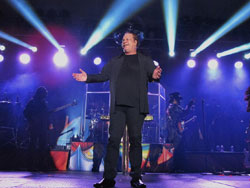 Longevity, and the ability to stay relevant in the ever-changing music business has always proved challenging for even the most talented of artists. Â Some however, have been able to transcend, and maintain their popularity throughout their careers despite taking a long hiatus. One such example is three-time Grammy Award winner Harry Wayne Casey, KC for short, of KC & The Sunshine Band. Their recent sold out performance at The M Resort & Casino had the audience on their feet and dancing in the aisles.
KC also proved to be quite "the showman" and comic. KC, now 61, and in-spite of his new-found weight-gain, was still able to shake his booty, moving and grooving in-step with his very talented ensemble of singers and back-up dancers while simultaneously nailing and holding those high notes!  It was quite a workout! I was getting winded just watching him!  KC was very much at ease on stage and demonstrated his sense of humor—often poking fun at himself.  "We play a lot of casinos. In fact, I may have had 1 or 1,000 too many free buffets!"  His smile truly lit up the stage. It was great to see KC shine, and come alive during his performance on stage, as that does not always translate in an interview.
The costuming, wardrobe, choreography, lighting and production were also extremely well-executed. There was never a dull moment in this artsy, entertaining and electrifying extravaganza. The show was very well paced, contained many costume changes and experienced no lulls. It was like a big dance party, a celebration of familiar hits which included: "Boogie Shoes," "Shake Your Booty," ":Get Down Tonight," "Give it up," "That's the Way (I Like It)" to name a few, as well as some cover tunes from the release of their new album. Celebrating over 40 years of performing together, KC & The Sunshine Band continue to tour all over the world, performing over 100 dates a year.
Another example of staying-power is the group Wilson Phillips. Singer, talk show host, reality star Carnie Wilson, daughter of Icon Brian Wilson, one of the original founding members of The Beach Boys, recently guested on Las Vegas Backstage Talk radio show to promote her up-coming shows with Wilson Phillips at The Eastside Cannery.  Carnie, and childhood friend Chynna Phillips, daughter of Michelle and John Phillips of The Mamas and Papas, co-founded Wilson Phillips with her younger sister Wendy when they were in their teens.
I happened to be sitting directly behind proud mom, Michelle Phillips when Chynna introduced her out of the audience. I loved watching her react to Chynna's many dramatic vocal runs on-stage.  I got a few really good photographs of the enthusiastic crowd on its feet—and the back of Michelle Phillips head!
Towards the end of the show, when Carnie introduced the band members, she also introduced her husband, musician Rob Bonfiglio, and credited him for many of their arrangements.
Wilson Phillips did not disappoint.  They delivered a high energy, "feel good" show.  Their hits and harmonies are still in my head!  Backstage, I felt like I was at a picnic at my neighbor's house. Everyone was "down to earth," and fun to hang out with.  Carnie was looking forward to subbing once again as one of the guest- hosts of CBS's "The Talk" that following week.
Grammy Award winner, Meat Loaf guested on LVBST recently to plug his new starring role in "RockTellz" and Cocktails" at The Planet Hollywood Showroom, at Planet Hollywood Resort & Casino. This is an inter-active show with Q&A sessions about his 47-year music, stage and film career.  Performances incorporate his biggest music hits like "I Would Do Anything for Love (But I Won't Do That)," as well as "Two Out of Three Ain't Bad" and "Paradise by the Dashboard Light" from his 1977 classic Bat Out Of Hell – the 3rd best-selling album of all time.
The shows run every Thursday, Saturday and Tuesday, Sept. 26 to Nov. 5. All shows begin at 7:30 p.m.
During my videotaped interview with Meat Loaf, I also asked about his recent stint on Donald Trump's reality show, The Apprentice on NBC when he lost his temper with Gary Busey.  His answer was quite interesting.  Excerpts of this video are posted on casinocenter.com
Meat Loaf is another fine example of a star that continues to stand the test of time and always manages to stay relevant.
Speaking of relevant… Bill Maher returns to The Pearl Theatre at The Palms Hotel & Casino on November 2 & 3. He delivers an entirely new show with every performance.  Amazingly, he never seems to lose his place, stammer, nor ask "what should we talk about next…?  He generously invited me backstage to show me his "tried and true" way of cueing himself with notes without skipping a beat.  I'm really looking forward to that but remain painfully aware that this method may not prove to be as "user-friendly" with me!
Michele LaFong is the host of syndicated radio show Las Vegas Backstage Talk with Comedian Michele LaFong which airs Thursdays, and Saturdays from 6:00 p.m.-7:00 p.m. PST, on 1230 AM KLAV, in Las Vegas, and streams live on The Web. Visit  http://lasvegasbackstagetalk.com or http://michelelafong.com
Do you have a comment or question about this article?

Look for your question to be answered in either Casino Player or Strictly Slots Magazines.