Gridiron Mania
It's football time in Las Vegas!
By H. Scot Krause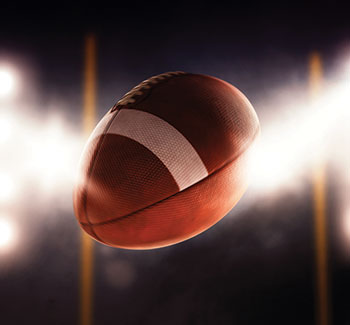 Las Vegas and football are synonymous for great times and great promotions. All season long you can join in the many contests, parties and promotions taking place all over town.
The best contests for tourists who can't participate every week for season long competitions are the contests that run a new contest with weekly prizes. Boyd Gaming's $500,000 Pick the Pros Football Contest is one such contest.
Pick the Pros is Las Vegas' longest running football contest. B Connected members can register for the free weekly contest and begin making picks each week every Tuesday after 5 p.m. and before Sunday at 10 a.m. Ruby card holders receive three free entries; Sapphire members receive four free entries; and Emerald level members receive five free entries weekly. Each week, $30,000 will be awarded with a minimum of $10,000 guaranteed for each first-place winner. It is a weekly contest. (You do not have to participate every week to earn season long standings.) Learn more at PickthePros.com. Play at any Boyd Gaming property: Gold Coast, Orleans, Suncoast, Sam's Town, California, Main Street Station or California (excludes Eldorado Casino and Joker's Wild Casino.)
Station Casinos 2017-18 $750,000 Free Gridiron Glory Football Contest is a free, interactive pro-football contest that utilizes the Boarding Pass Rewards Kiosk to track play. It also gives guests the opportunity to include picks from Thursday games and continues into the playoffs and championship game. Contestants can register for one free entry by visiting a Rewards Kiosk with your Boarding Pass at any Station Casino, the Fiestas, Wildfire Gaming properties as well as the Station Casinos-managed El Cortez sports book (with a Club Cortez card). Guests make selections (up to 4 weeks at a time) and track progress throughout the life of the contest with a personalized "team helmet" that gains yardage across the football field with each correct pick. Once achieving a touchdown, players receive instant prizes including Boarding Pass points, free slot play and more each time a touchdown is scored by their "team helmet." Players advance by making correct weekly team picks; picks can be made on Thursday, Sunday and Monday Pro Football games.
In total, $750,000 will be awarded in total cash and prizes throughout the pro football season and through the championship game, with up to $15,000 in cash prizes awarded each week. First place wins $10,000; and an additional $5,000 will be split among tiebreakers, in the event of a tie.
Guests can advance to the playoffs by playing all 17 weeks or scoring three touchdowns during the regular season. Playoffs picks include prop bets, over/under and game outcomes for an additional $50,000 in cash prizes. All post-season contestants will be entered to play in the Big Game, which awards another $50,000 in cash prizes, and the first place winner receives $25,000.
Gridiron Glory is available for play throughout 20 sports book and sports lounge locations including all Station Casinos, the Fiestas, Palms, Wildfire Gaming properties and the Station Casinos-managed El Cortez sports book. Season standings will be available via both the Rewards Kiosk and online at www.sclv.com/gridironglory.
Rampart Casino has an all-new increased prize pool, $80,000 Red Zone to Riches Football Contest. Participants receive one free entry each week.  Participants may earn one additional entry if the earn 100 base points on slots or bingo or $10 average bet for one hour of table games play or equivalent. Swipe on a kiosk and pick pro football games of the week. The first place weekly prize is $500 cash and pays cash and free slot play prizes through 17 places each week. This year they have added a Ford F-150 Truck as the grand prize for the end of season drawing and second place will take home $5000 cash. Third through 15th place all win cash or free slot play prizes.
The South Point Showroom will host weekly Monday Night Pigskin Viewing Parties throughout the season. During all viewing parties guests can win exciting cash prizes while enjoying drink specials, including bottomless Budweiser and Bud Light drafts for $15, five-beer buckets of Budweiser and Bud Light for $12 and drafts of Budweiser and Bud Light for $2. In addition, food specials will include $1 popcorn and hot dogs and $4 Italian subs. Doors for the viewing parties beginning Monday, Sept. 18 will open at 4:30 p.m.
Umami Burger, Beer Garden & Sports Book at SLS Las Vegas is set to score this football season with parties, weekly radio remotes and industry specials every Monday. Monday nights will transform into an industry football party for nightlife and service staff, with a 25 percent discount on all food and non-promotional drinks for anyone with a valid industry ID throughout the season. In addition, KOMP 92.3 FM will host weekly radio remotes from 5-8 p.m. complete with onsite and listener giveaways.
Available all day on game days, Umami Burger will offer a wide selection of drink specials including $12 pitchers of Bud Light and Rolling Rock; two 14-ounce Bud Light drafts for $5; and a 100-ounce Rolling Rock beer tower for $25. A shot of Jameson Irish Whiskey, Casamigos Blanco Tequila, Fireball Cinnamon Whiskey or Jägermeister may be added to any beer purchase for $5. Signature cocktails include the Bloody Mary Umami-fied, a traditional bloody mary made with Tito's vodka and boldly seasoned in true Umami fashion for $10: and the Red Zone Lemonade, made with red berry Ciroc vodka, fresh lemon juice and raspberry puree for $9.
Bettors won't have to leave the party to place bets with the onsite William Hill Sports Book at Umami, which will bring back its popular Pro Pick 'em betting contest for fans. For a $25 entry fee, fans are eligible to win their share of $300,000 in cash prizes including a $10,000 weekly cash prize. Win the season grand prize and reach 200 season wins to claim a $100,000 cash bonus. Registration for week one picks must be completed prior to kick off on Sunday, Sept. 10. More details are available at www.williamhill.us. More information is available at www.slslasvegas.com.
Beer Park at Paris Las Vegas will celebrate college football season with viewing parties and a "Pigskin Pig Roast" every Saturday through the end of the season. Every Saturday during college football season, Beer Park will host a "Pigskin Pig Roast" – featuring a whole pig slow-roasted to perfection, served as barbecue selections with traditional sides. Football fans can watch their favorite college teams compete on dozens of high-definition TVs throughout the rooftop bar, and place live bets at Beer Park's in-house sportsbook.
Guests can always indulge in a selection of 100 beers, including 36 on draft, and the bar's signature menu items. After the games, fans can relax with a game of pool or enjoy Beer Park's adult-sized yard games including Jenga and Connect Four, while admiring the panoramic views of the Last Vegas Strip. Reservations are available by calling 702-444-4500 or by visiting www.beerpark.com.
The Hard Rock Casino Hotel will host a weekly Gridiron Maiden pro football contest. Free weekly picks are available based on tier level and players can earn additional entries for 250 slot base points. $1000 in weekly prizes is up for grabs for weekly most wins, weekly most lost and end of season overall winners.
Wildfire Gaming is offering College Clash II for the 2017 season. The free college football contest will offer $500 in weekly cash prizes. The grand prize winner will receive a trip for two to the 2018 Rose Bowl Game. All contestants must have a Station Casino's Boarding Pass card (free to join) to play. Registration is underway and players may enter the contest at any time. It is a weekly contest and there's no registration deadline. The contest is based on choosing 10 college team selections weekly against the line. The contest will conclude with the end of the regular college football season. The weekly contest selection sheets will be available in the sports books every Wednesday during the contest.
One point will be awarded for each winning selection, and the weekly prize money will be awarded to the contestant who has the most points that week. If contestants are tied, the money will be split among them. Contestants are allowed one entry per person. Weekly prizes are awarded as follows: First place, $250 cash; Second place, $150 cash and Third place, $100 cash.
The grand prize trip will be awarded to the contestant who earned the most contest points during the 2017 College Clash II. The grand prize includes two tickets for the 2018 Rose Bowl Game in Pasadena, Calif., scheduled for Jan. 1, 2018; hotel accommodations and round trip airfare for two. The grand prize winner may choose a cash equivalent prize of $1,500 in lieu of the trip.
College Clash II is available for play at Wildfire Gaming properties with a sports book including Wild Wild West, Barley's, Wildfire Sunset, Wildfire Rancho, Wildfire Casino & Lanes and Wildfire Boulder.
Make your picks, good luck and happy slot clubbing!
Scot Krause is a gaming industry analyst, researcher and journalist. He is a former entertainment director and a 22-year resident of Las Vegas. Â His work is regularly featured in Casino Player, Strictly Slots and Gaming Today as well as other gaming publications, including the annual American Casino Guide Book. Questions or comments for Scot may be addressed to: krauseinvegas@cox.net

Do you have a comment or question about this article?

Look for your question to be answered in either Casino Player or Strictly Slots Magazines.