CALLING ALL CASINO LOVERS:
VOTE FOR THE BEST DINING & NIGHTLIFE IN CASINOS COAST-TO-COAST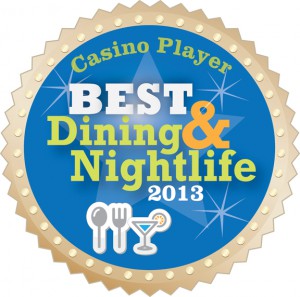 Casino Player magazine launches 1st annual Best of Dining & Nightlife reader's choice awards
March 7, 2013'ÄĒLas Vegas, NV.¬† Casino Player magazine has announced a new¬† reader'Äôs choice 'ÄúBest Of'ÄĚ issue focusing on the top dining, entertainment and nightlife options for casino resorts across the US.
'ÄúIn honor of our 25th anniversary, Casino Player magazine has created the first annual 'ÄėBest of Dining & Nightlife'Äô awards to let our readers pick their favorite restaurants, hangouts, comedy clubs, places to see a concert, and much more,'ÄĚ said Lisa Robertson-Dziedzic, Editorial Director for Casino Player Publishing.¬† 'ÄúWe'Äôve selected over 30 categories of the best dining & nightlife options in the industry. These awards let people know about the hotspots not only in Las Vegas and Atlantic City, but across the country.¬† Best of all, the winners are based exclusively on votes from our readership'ÄĒpeople intimately familiar with the casinos in their region and who frequent them on a regular basis.¬† We'Äôre anticipating quite a lively response.'ÄĚ
The survey names the best of the best in a variety of critical categories and regions including: New Restaurant, Service, Outdoor Dining, Romantic Restaurant, Late-Night Dining, Place For A Cocktail, Sportsbar, Place To Celebrate, View, Overall Entertainment, Lounge Act, Buffet, Steakhouse, Happy Hour, Place to See A Concert, Comedy Club and more.
'ÄúWe want to afford casino patrons everywhere the chance to have their say and share it with the rest of gaming public,'ÄĚ said Glenn Fine, CEO of Casino Player Publishing.¬† 'ÄúThese results serve as an unbiased guide for readers, information they can use when selecting a casino, a restaurant, or a show.'ÄĚ
The voting will be offered in the April and May issues of Casino Player magazine, with the results released in the special Global Gaming Expo (G2E) issue in September.  The results will also be available online through Casino Player Digital magazine and their website CasinoCenter.com.
Casino Player magazine is the flagship monthly magazine from Casino Player Publishing LLC.  Casino Player has been the voice of the gaming industry for 25 years and is the premiere gaming lifestyle magazine of North America.  Along with its sister publication, Strictly Slots magazine, Casino Player provides in-depth coverage of the casino lifestyle geared for the avid casino patron.
For More Information Contact
J. Phillip Vogel
Managing Editor
Casino Player magazine
Do you have a comment or question about this article?

Look for your question to be answered in either Casino Player or Strictly Slots Magazines.