Cirque Dreams Jungle Fantasy Live At Mohegan Sun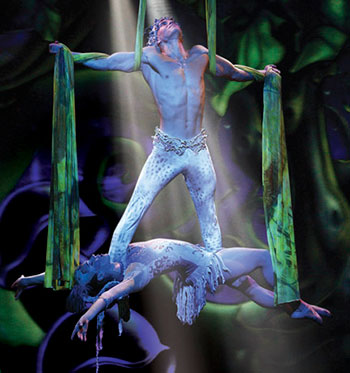 Cirque Dreams Jungle Fantasy, the critically-acclaimed Broadway hit, is set to heat up Mohegan Sun this summer! Created and directed by renown theatrical and circus impresario Neil Goldberg, Cirque Dreams Jungle Fantasy is an exotic encounter inspired by nature's unpredictable creations. The astounding feats performed in this action packed Cirque Dream are enhanced with spectacular costumes nominated for an American Theatre Wing "Best Costume Design" Award. The journey comes to life in a fantastical jungle setting filled with flowers, magical trees and a variety of special effects. This world-class explosion of imagination, athleticism and Broadway theatrics will exhilarate and entertain audiences of all ages. Cirque Dreams Jungle Fantasy will be live in Mohegan Sun Arena for two shows on Friday, August 24th and Saturday, August 25th starting at 8:00pm.
Tickets are $25  and available at Ticketmaster.com or call  800.745.3000. Tickets are also be available at the Mohegan Sun Box .
Cirque Dreams Jungle Fantasy has been hailed by the Chicago Tribune as "Brilliantly conceived entertainment for multiple generations, fused with fresh, clever, Goldberg Touches." The New York Post proclaims Cirque Dreams Jungle Fantasy "Dazzling…a highly theatrical presentation replete with elaborate scenery and wall-to-wall music," and for children whose passion is gymnastics or jungle fauna.  The New York Daily News hails it "Colorful, imaginative and expertly performed…a fantasy worth indulging" and the L.A. Times calls it "Jaw dropping! A whiz-bang family friendly spectacle."
For more information, visit www.cirqueproductions.com.

Do you have a comment or question about this article?

Look for your question to be answered in either Casino Player or Strictly Slots Magazines.