Celebrity chefs Michael Symon and Marc Vetri open restaurants at the Palms Casino Resort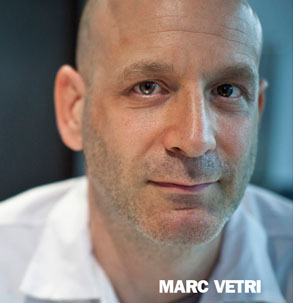 James Beard Award- winning Chef Marc Vetri opened Vetri Cucina, on the 56th floor of Palms Casino Resort in Las Vegas on Nov. 19. Representing the first expansion in Vetri Cucina's acclaimed 20-year history in Philadelphia,  PA, Vetri's eponymous restaurant brings outstanding rustic Italian cuisine, handcrafted pastas and a truly intimate dining experience to the Las Vegas community.
"Vetri Cucina is the culmination of 20 years' worth of my own self-discovery as a chef and educator," said Marc Vetri. "We are staying true to our roots and we look forward to introducing ourselves to the people of Las Vegas and embracing the vibrancy of  this exciting city."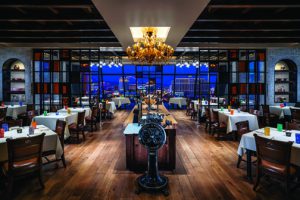 An a la carte menu features Vetri classics such as sweet onion crepes with white truffle fonduta and Foie Gras pastrami with brioche and mostarda, followed by hand crafted pasta dishes like swiss chard gnocchi with brown butter and shaved ricotta salata and squash rotolo with blue cheese fondue and ginger confit, and Italian inspired desserts including pistachio flan with milk chocolate gelato. The restaurant's wine program will mirror the award-winning original, showcasing a wide variety of wines from Italy, as well as the world's classic wine regions.
From 56 floors up, Vetri Cucina offers unobstructed views of the Las Vegas strip, exposed through the dining room's floor to ceiling windows. The 80-seat restaurant brings small town charm to Las Vegas with custom-made design features. Art pieces from world-renowned artists Damien Hirst (Veil of Imagination), Andy Warhol (Flowers), and Philadelphia-born   Timothy Curtis (20 Faces, Philadelphia Greatness) are on display in the restaurant for guests to enjoy.
Not to be outdone, Food Network Iron Chef and James Beard award winner Michael Symon debuted his beloved Cleveland barbeque restaurant, Mabel's BBQ at the resort on Dec. 20. Mabel's BBQ showcases classic barbeque staples, blended with Symon's interpretation of the diverse flavors and cuisines from around the world.
"Through Mabel's BBQ, I've had the opportunity to create a barbeque style that Clevelanders can call their own, and I'm excited to do the same for the Vegas community," says Michael Symon. "I think we're doing something Vegas has never seen before and that's authentic barbeque, cooked and hand-carved on-site for a real smokehouse experience."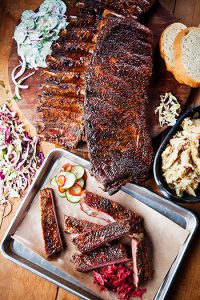 Serving familiar and comforting barbeque dishes, Mabel's BBQ features favorites like smoked brisket and pork belly seasoned with Symon's signature blend of Eastern European spices and served by the half pound. Other classics include pulled chicken, brisket or pork tacos with onions, cilantro, radish, lime and cotija. Pig parts, a Mabel's BBQ signature, includes selections of crispy tails, ears and cracklings, paired with classic sides like baked beans, mac & cheese and poppy seed coleslaw.
The bourbon and tap craft beer bar program is heavily localized, incorporating a significant portion of Nevada-based producers, in addition to limited release bourbons. The rotating draft beer selection is poured directly from the cooler line, adjusting temperatures based on the brew.
Located on the main floor of the Palms, Mabel's BBQ captures the high energy of Las Vegas, offering a communal dining experience outfitted with large TVs. Modeled after West Side Market, Cleveland's oldest food hall, Mabel's BBQ boasts arched ceilings, exposed brick walls and industrial lighting, reminiscent of a traditional smokehouse. Mabel's BBQ  also features a back patio, complete with games, local draft beers and frozen cocktails with a focus on tequila and agave-based spirits, a custom food truck, and space for live entertainment. Unique to the Las Vegas outpost will be Sara's, a first-of-its-kind Meateasy, tucked away behind the walls of the restaurant.
Next up? Bobby Flay's Shark opening in March.

Do you have a comment or question about this article?

Look for your question to be answered in either Casino Player or Strictly Slots Magazines.