Jennifer Lopez Announces Final Shows Of Lv Residency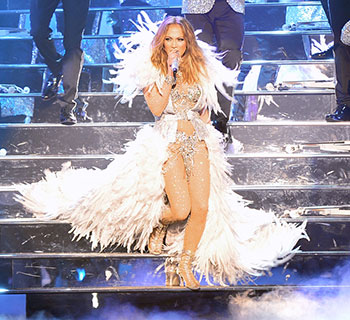 After dazzling the Las Vegas Strip night after night since Jan. 2016, Jennifer Lopez has announced final shows of her critically-acclaimed headlining residency, Jennifer Lopez: All I Have. The global superstar will return to The AXIS at Planet Hollywood Resort & Casino for her final performances June 13 through Sept. 29.
As one of the hottest residencies on the Strip, Jennifer Lopez: All I Have has all the glitz and glamour of a Las Vegas production with none other than real-life showgirl Jennifer Lopez at the forefront. With seven total costume changes, the production includes Jennifer descending a Swarovski crystal staircase, catching the 6 Train and paying homage to her Latin roots all while singing and dancing for over 90 minutes. Every performance has audiences on their feet dancing as Jennifer performs her impressive catalog of hits. The record-setting residency is sold out on a regular basis with over $60 million in ticket revenue and has been seen by over 300,000 guests.
"Performing All I Have in Vegas over the last few years has been an incredible and rewarding experience that I won't soon forget. Some of the best memories on stage from my career will forever be equated with this city. Thank you to all my fans who traveled far and wide to experience the show with me," said Jennifer Lopez.
Upcoming performances:
February: 21, 23, 24, 28
March: 2, 3, 24, 28, 30, 31
April: 4, 6, 7, 11, 13, 14, 18, 20, 21
May: 16, 18, 19, 22, 25, 26, 27, 30
June: 1, 2, 6, 8, 9, 13, 15, 16
September: 1, 2, 5, 7, 8, 12, 14, 15, 19, 21, 22, 26, 28, 29

Do you have a comment or question about this article?

Look for your question to be answered in either Casino Player or Strictly Slots Magazines.