LADY GAGA Las Vegas Residency Kicks Off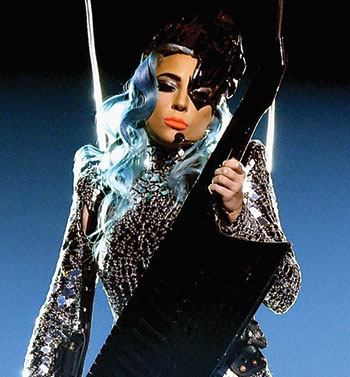 Park MGM, Las Vegas' newest resort, celebrated its official grand opening on Dec. 29 with the debut of Lady Gaga's residency, the introduction of Las Vegas' first Eataly and the launch of On The Record, a new speakeasy and club.
Lady Gaga performed before a sold-out crowd for the first night of her residency, Lady Gaga Enigma, which will run through 2019. Developed exclusively for Park MGM's intimate Park Theater, the six-time GRAMMY Award-winner, Golden Globe Award-winner and Academy Award-nominated superstar's engagement consists of two separate shows, each offering an immersive only-in-Vegas experience anchored by the pop star's raw talent and sprinkled with her signature experimental performance art: Lady Gaga Enigma, a never-before-seen journey through the star's pop hits and Lady Gaga Jazz & Piano, debuting January 20, featuring stripped-down versions of her hits alongside music from the Great American Songbook.
Delivering new takes on the statement-making performances for which she is renowned and thrilling the crowd with hits ranging from "Bad Romance," "Telephone" and "Just Dance" to "Million Reasons" and "Shallow," the inaugural performance of Lady Gaga Enigma wowed the crowd of more than 5,200 fans who came ready to party. Opening night guests included pop superstar Katy Perry and actor Orlando Bloom; Avengers actor Jeremy Renner; Foo Fighter's lead singer Dave Grohl; current Queen frontman Adam Lambert; award-winning actress Marisa Tomei; Dancing with the Stars judge Carrie Ann Inaba; acapella group Pentatonix; and actress and director Regina King.
Show dates for Lady Gaga Enigma are January 17, 19, 24, 26 & 31; February 2; May 30; June 1, 6, 8, 12 & 14; October 17, 19, 23, 25 & 31 and November 2, 6, & 8.
Show dates for Lady Gaga Jazz & Piano are January 20; February 3; June 2, 9 & 15; October 20 & 26; and November 3 & 9.
Tickets can be purchased at the Park Theater box office or www.ticketmaster.com

Do you have a comment or question about this article?

Look for your question to be answered in either Casino Player or Strictly Slots Magazines.