Defining an Era
Casino Player sits down with music icon Olivia Newton-John
By Tim Wassberg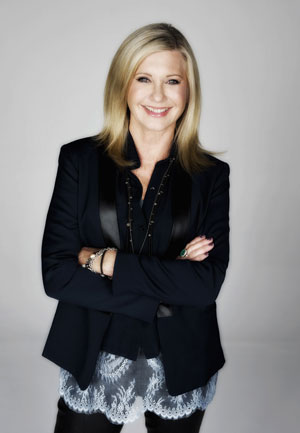 Olivia Newton-John is an icon in the music industry having traversed many styles in her illustrious career. From her earliest hits in "I Honestly Love You" and "Have You Ever Been Mellow" to the uber-successful "Grease", the multi-platinum "Xanadu" and beyond with songs like "Physical" & "Twist Of Fate", Olivia Newton-John defined an era. Newton-John spoke to Casino Player on the texture of emotions in songs, living life through music and her new residency at The Flamingo.
Casino Player: You've played Vegas since the old days…
Olivia Newton-John: I saw Sammy Davis, Frank Sinatra…all those people. Everybody has their own style. In that day, the Rat Pack day, shows were very casual and the men were dressed up and singing a bunch of standards. It was fabulous. That was what it was like then. Now Vegas it is attracting everyone across all areas of music. It is different. Now there is amazing shopping, amazing restaurants; and it attracts all these amazing shows like Cirque and wonderful performers like Celine and Elton. My husband and I were laughing because I tour the country and I call my friends saying, "I'm on tour and I'm stopping near you! Why don't you come see my show?" Sometimes they're like "It's a bit too far!" But when I told them I was coming to Vegas, they're all ready to hop on a plane (laughing) and come from anywhere!
CP: Can you talk about how you shifted your approach to singing throughout your career? You started with songs like "Let Me Be There" and "Have You Ever Been Mellow" and then went in a completely different direction at times with the soundtracks for "Grease" and "Xanadu" as well as the album for "Physical". Was that a conscious progression?
ONJ: It is always determined by the song. Where I was emotionally in my life is the songs I would choose. I listen to different albums now and they reflect where you were then. If you were at a sad time or difficult time, you would pick something more melancholy. It is interesting to do that at times. But I think about the beautiful solos that were written for me by John Farrar like "Hopelessly Devoted To You" and "You're The One I Want" from "Grease" as well as "Magic" and "Suddenly" from "Xanadu"… he has written the most important songs of my career. My style of singing was always that I was lucky enough to sing every kind of music when I was starting out. I just liked to sing but I interpreted it in my own way.
CP: How did you first perceive a song like "Hopelessly Devoted To You"?
ONJ: I was in Los Angeles with John Farrar who wrote it and when we first recorded it, we were at his house in his studio. The words for me were so powerful that it wasn't hard getting into the idea of "loving" someone (laughing) or loving someone where it is unrequited. When you sing a song, you are really acting the vignette of life. I see it as a mini video/movie in my head. I could imagine the role, though at that point I had never experienced it. But usually, you are calling on an emotion. It is an important thing to transmit, in a song, the meaning behind the words. You have to put yourself in that place.
CP: You have been involved in some of the biggest movie musicals of all time which is exactly the melding of sound and visual.
ONJ: It is amazing how these musicals take on a kind of cult-like or iconic status with the audience. When I was very young, "South Pacific" was a big movie. I remember being quite obsessed with those songs and singing them over and over with my girlfriends. We'd put on performances. There is something magical about musicals. I definitely remember them as a young girl myself but it is interesting how they stick with you later in life. Musicals seem to leave a deep impression on you when you are very young—say between seven and 12. They are very powerful.
CP: Evolving from there, you will be singing some elements from your most recent album as well which integrates different aspects of music, even choral.
ONJ: "Grace & Gratitude" is an album I wrote about seven years ago. And I had been through a difficult time. I always find music very healing to me. When I lost my sister last year, I really couldn't sing. And the years before that, when I went through different things, music was always healing and pushed me forward. But this was the one that really knocked me off my feet. I couldn't sing for a while. But whether I am writing or singing it, music comes from my soul. It has a way of helping me deal with things.
CP: The allure of coming to Vegas for a residency also must be about not having to travel as much.
ONJ: You hit it on the head. To be in one place and be in a beautiful theater. The Flamingo is really beautiful, like old Vegas, because I worked Vegas in the 70s. When I first came to America—it might have been the late 60s even—I was working for Charley Richardson at the Hilton hotel. I worked with the Smothers Brother, Don Rickles; all these people I worked with or opened for. I was always through Vegas, in and out, all through my career.  The idea of being part of a residency now is really wonderful. I get to be close to home which is important. We spend most of our time in California near my daughter so I can be close to her. I can also sleep in the same bed for five or six days in a row (laughing) and not have to be on an airplane. All of these things are lovely.
CP: How did music speak to you initially?
ONJ: I don't know. It was just in me. I would just sing. According to my mom, I would sing from when I was a little child. I would sing along with the radio and sing harmonies. It was just in my blood. My father had a beautiful voice and he could have been an opera singer but he was also an academic. He chose to follow academia because he had a family to support. But he had a beautiful bass baritone. He was Welsh. I guess my Welsh genes were in there. My mother was also musical. But it wasn't like "Oh… I got to sing!" I just couldn't help it. My voice was just there. It did develop. I think your voice gets richer as you grow older and you pick up notes on the bottom and stuff like that. The first thing though is that I didn't have any lessons or any coaching. In fact my mother tried to encourage me to go to a singing coach and she took me—actually my brother-in-law at the time took me—to a famous singing coach in Melbourne. But I remember coming home and saying to my mum, "I'm not going back because I know he is going to change the way I sing". I had a very strong sense of wanting to be myself from the beginning.
Do you have a comment or question about this article?

Look for your question to be answered in either Casino Player or Strictly Slots Magazines.