Crazy Good
Incredible Technologies' "Crazy Money Deluxe" takes the cash-crazy theme to new heights
By Frank Legato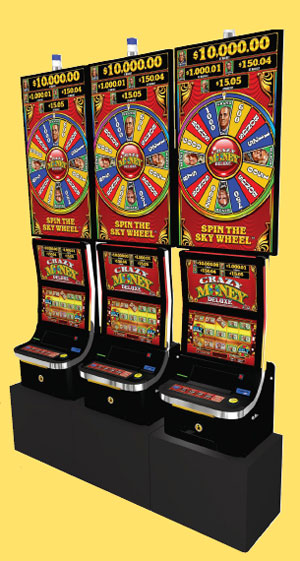 In the slot-machine business, great games become great sequels, and great brands. So it's been for Crazy Money, the most popular game produced by slot manufacturer Incredible Technologies.
It can be said, in fact, that Crazy Money put the Chicago-area company on the map as a producer of casino slot machines—an activity in which the company has only been involved for around five years. Six years ago, Incredible Technologies was known only as the largest U.S. manufacturer of coin-operated amusement games, including the legendary tavern hit "Golden Tee Golf."
Then, in 2011, the company launched its first slot games, including the original Crazy Money. An easy-to-understand theme with reel symbols resembling cash in bills of various denominations spinning on 3D gold reels—and the simple winning formula of the combined bill values times the line bet—was combined with an interactive bonus called the "Money Catch," in which players use touch-screen picks to "snatch" flying dollar bills.
Players loved that bonus, and everything else that went with the original Crazy Money. Inevitably, there would be a Crazy Money sequel, Crazy Money Millionaire, which added bonus events like a wheel spin and an animated trip across the country. Last year's Crazy Money II was the first on a sleek new cabinet, called Infinity U23.
While the various sequels all contain their own distinct features, those features still center around the popular Money Catch bonus, which is what drew players to the original hit game.
The Crazy Money brand has grown as Incredible Technologies has grown as a slot manufacturer. This year, the company is introducing its first "premium" series, on a new cabinet called the Infinity Skybox.
The Infinity Skybox adds an eye-grabbing 55-inch vertical monitor to the basic Infinity product. That monitor—a full foot larger than most vertical slot-machine displays—adds to an imposing 10-foot height and a flashy sign package that's hard to miss on the casino floor.
Naturally, the new Infinity Skybox is being launched with the latest version of—you guessed it—Crazy Money.
"Crazy Money is our most popular game," says Caitlin Harte, marketing manager for Incredible Technologies. "We consider it our flagship brand. When we launched Infinity U23, which is our core cabinet now, it was launched with Crazy Money II, utilizing a lot of the features from the original Crazy Money and adding a progressive. Players would still recognize the brand, but would have an added incentive to play. So, it was clear that when we launched Infinity Skybox that we would use the same brand.
"Crazy Money Deluxe uses the things we learned with the original Crazy Money and Crazy Money II, and adds overhead signage with a digital wheel."
Deluxe Treatment
Crazy Money Deluxe uses the Infinity Skybox to add a new, multi-layered wheel bonus—in grand fashion, on the oversized top screen—to the familiar Crazy Money game.
That primary game still offers familiar features like "AnglePay" line wins, which adds pattern line wins to winning combinations on the 15 main paylines. You'll also recognize the 3D gold reels and cash reel symbols, the amount on each adding together for the win when they land on a payline.
But very frequently—around every 48 spins, which is much more frequent than most video bonus events—you'll land bonus scatter symbols on the first, third and fifth reels to trigger the main Infinity Skybox feature, the "Sky Wheel."
The bonus wheel covers a large portion of the huge top box, underneath the four progressive meters. The wheel slices include bonus credits, extra picks, the Money Catch Bonus, and four progressive jackpots. One slice awards an instant credit amount and triggers a secondary wheel for a multiplier of up to 5X, or an extra wheel spin. The Money Catch slice triggers a secondary wheel that spins to award up to 100 "picks" from the air-blown bills on the screen in the familiar sequence.
The progressive slices award jackpots including the Mini, resetting at $15; the Minor starting at $150; the Major, resetting at $1,000; and the top Grand jackpot, which starts at $10,000.
The main draw of this new version of Crazy Money is that there's always something happening. Everything in the way of bonus events and progressives starts with the Sky Wheel, and that wheel is usually triggered quickly. (Instead of five bonus symbols like the first two versions of Crazy Money, the wheel is triggered with three scattered bonus symbols.)
"When we set out to make this game, I evaluated a lot of the wheel games out in the industry," says Dan Whelan, art director and senior game designer for Incredible Technologies. "One thing I noticed was the lack of frequency. I worked with our mathematicians to carve down the wait and get the wheel to happen as often as possible. When you're sitting in a bank, every couple of minutes, it's going to be going off."
He adds that every time that wheel goes off on the bank, others gather to watch. (You have to know what the next player gets on the wheel, right?)
Aside from the giant wheel and all the new bonus and progressive features, the Infinity Skybox treatment gives a new jolt to all the familiar Crazy Money features. "Our platform team did a great job to allow us to do the same things we would do on the base cabinets on the top," Whelan explains. "There are no restrictions to what we can do on the top screen. It runs at 69 frames per second. We're doing some cool things using our 3D engine for this game.
"My goal was for it to be bright and colorful, and something you could see from across the casino floor."
And, he adds, this is only the first in what will be a flood of Infinity Skybox games to come. "This game is going to set the tone for some new fun games we've got coming down the pike for the Skybox," he says.
Crazy Money Deluxe was the first of two games already out on what's called the Sky Wheel series. Since its launch, the company released a second game using the Sky Wheel and Infinity Skybox, called Money Rain Deluxe.
"We'll be launching many more titles for the Skybox," says Harte. "In development are more exciting game families utilizing different features on that 55-inch monitor, including some additional titles for this Sky Wheel category. There's definitely going to be a fun pipeline of games to fill these boxes."
For now, you'll find Crazy Money Deluxe in all 23 markets where Incredible Technologies games can be found. Since the game's launch last December, banks have appeared in Las Vegas, California, the South, the Midwest, Florida and elsewhere. They're placed in banks as small as two and, so far, as large as eight, Harte says.
Harte says the game has been more popular at the casinos than all other premium games launched at the same time. "It's drawing players that may not have sat down at Crazy Money originally," Harte says. "The sign package is definitely drawing new players. We've never seen numbers so high with a launch like this."
Harte adds that Crazy Money Deluxe is a huge step forward for Incredible Technologies as a slot-maker. "It is our first premium product line, and its numbers are great," she says. "It's giving us attention in the industry, where before we were kind of flying under the radar, and people thought it was 'cute' that we were there. Now, we're seen as a real (competitive) threat, which is great for us. It's starting to get a lot of buzz."
It all goes back to the wheel, and its frequency. "We knew players liked the feature, but the math on this is so good, that the wheel is triggering all the time," Harte says. "It's not one of those unapproachable games where you sit down knowing, 'I'm probably not going to get into the bonus.' It's going off all the time; there's lots of stuff happening, It's keeping players there."
Do you have a comment or question about this article?

Look for your question to be answered in either Casino Player or Strictly Slots Magazines.