BIG FISH
Self-made billionaire and business maverick Tilman Fertitta discusses success, vision and the future
By Tim Wassberg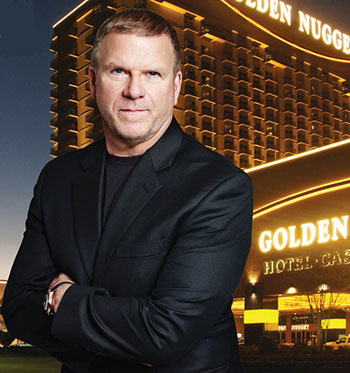 Knowing your identity in a crowded industry and finding vision across a variety of styles is an undeniable gift. Tilman Fertitta, the sole owner, chairman and CEO of Fertitta Entertainment, Inc., which owns both the restaurant giant Landry's and the Golden Nugget Casinos, has found his way with instinct and undeniable precision. From his transformation of the Golden Nugget properties to his shepherding of major restaurant brands like Landry's, Bubba Gump, Morton's and Chart House to his new outlay as a mentor/teacher on the CNBC show Billion Dollar Buyer Fertitta continues to be a maverick. Tilman sat down with Casino Player to discuss branding, vision and the future.
Casino Player: Looking at the Golden Nugget overall when you came in, what was the your instinct in terms of protecting the brand but making it your own?
Tilman Fertitta: What I loved about the Golden Nugget was it had a great name. It was run right from a service standpoint. It was all about the customer. What had happened was, it hadn't been kept up. I mean look what we even did to the outside of the Old Towers. It's a modern hotel… new sign, new look. And then I've redone it twice since I've owned it. It's a very modern property and I just thought it had strong enough brand that I could grow it around the country. So you have that vision to do it. We went to Atlantic City, went to Biloxi, went to Lake Charles… grew the brand even more in Laughlin. Now it's become a brand out there that's just known everywhere. And whatever market we're in, we are one of the top properties. Our facilities are nice, and I think why we're doing so well today is that people have just realized if you go to a Golden Nugget, you're going to get a very brand-new room, and a very nice property with very friendly service.
You've always built brand loyalty. You keep with the brands. You build them over time. Can you talk about that kind of time and space in terms of loyalty and how important that is to you?
Well that's why I preach [that] there are no spare customers. There's so much competition out there. One thing you always want to build is brand loyalty. That's what it's all about. When you get a customer, don't lose [them]. You outwork and out-service everybody else so people want to stay with you.
The aspect that I see from you is that it's all about the details. It's about knowing and seeing the numbers, making sure the numbers work, but also making sure that it's an experience. Can you talk about the balance of those two worlds from your point of view?
Well, that's what it's about – being a good operator. It's all about the numbers. You're here to make money. If you make money, you can continue to spend, make these bets on your property and make them top notch. But at the same time, you want to be a good operator. I still think what gives us an edge over anybody is our restaurants. It's no different than going into Vegas and having so many choices from a Vic and Anthony's, to a Grotto, to a Chart House, to a Cadillac Bar and on and on. But these are restaurants that people want to eat at. They're not just casual dining and they're not just "foo-foo". They're restaurants that people want to go to. A lot of times people get caught up in going after a certain kind of restaurant. Sure, you can say, "Oh. That's a great 'foo-foo', chef-driven restaurant but nobody's eating there. What difference does it make?" You want restaurants to bring customers in your doors, and that's what we have that other people don't have. But then we're able to go to Laughlin and put in a Saltgrass or a Bubba Gump. So we out restaurant everybody else in the business.
But it's also about making the hard decisions. You've always been able to do that, to be able to look at a brand, look at something, and say, "Okay. This is working. This part is working. This is not working." Can you talk about looking at that from a decision-making process?
I think one of the things we've always been good at is saying, "This is the restaurant concept that belongs here. This is who your customer is. Don't try to be something you're not." You know, I've watched other major companies go into markets like a Biloxi or Atlantic City, and try to do food concept restaurants and not know who their customer is, [simply] because that's what management wants, and that's what ownership wants. The biggest mistake that people make in the restaurant industry, even for the restaurant in their casinos, is they don't know who their customer is. They're trying to please themselves and not their customer.
Which is what I really like that you do. I've been to the Lake Charles property. You realized the potential there and acted on it. But you also went in and you turned what was the Trump Marina around into the Golden Nugget Atlantic City. Those are two very specific markets that are dictated by the people around it.
I looked at Atlantic City and I think part of the way we turned it around was with our restaurants. We went in there and we bought the third property. At the time, the Taj Mahal was making $40 or $50 million. The Trump Plaza was making like $20 million and the Trump Marina, which I bought, was losing $15 million. Well, today the Trump Marina, which is now the Golden Nugget, is open, and the Taj and the Trump Plaza are closed. So that probably is one of the things we're most proud of is that we took the dog and we made it successful and the big brother and big sister aren't there anymore.
You've also done great things in Houston with hotel expansions including Post Oak. Can you talk about widening the broad view? Creatively, you must have the juices running all the time.
I try to look at any market because my creative juices ARE always flowing. So what I always try to do is [ask] what does this market mean, not what do I want to put there. My juices can flow as much opening a new Mastro's in Post Oak, Boston or San Francisco. What strikes me is to know that we have the vision to know what goes where. It's not necessarily whatever the concept is. The name of the game is to be successful and knowing what to put where.
I enjoyed hearing about the fact that with Landry's as well as with some of your seafood concepts, it is always about putting the customer near the water and creating that juxtaposition. It seems like a simple idea, but it's not.
You know what? People don't think about eating beef when they're sitting there looking at the ocean. They think about eating shrimp and fish. It's no different than when you're in other parts of the country. You're not thinking about eating fish and shrimp, you're thinking about eating beef. But you'd be surprised. People don't understand how others' eating habits can change from season to season. People eat differently at different parts of the year and eat at different restaurants in different parts of the year.
Now taking this to the TV show Billion Dollar Buyer, you get to advise, and you get to teach. Can you talk about that and your approach to the show?
Well, it's fun to mentor people. And you know what everybody has said to me? I've met with a ton of companies, and it doesn't make the cut [on TV] a lot, but I would venture that 95% of the people that have appeared on the show have said to me at some point during the shooting, "You don't understand how much I've learned from this and how much, regardless if we do a deal together, [that it has made us] a different company today." That is the greatest feeling in the world, but it's not always part of the story, so they don't show it.
Has the texture of business – because of globalization, because of the way that the market works especially with the Internet and everything – changed the process at all? Or is the supply and demand the same as it's always been?
I think today if you don't change quickly in this restaurant industry, you're going to get left behind. I think the millennials are a totally different type of eater, and you have to understand them, and you have to get them what they want. But if you don't change quickly today, you're going to get left behind.
Has the gamer changed in that perspective as well?
I think the gamer has changed too. We're still trying to figure out the gamer. [Take] the young guy that's made a few dollars but rather go spend $5,000 in a club where he can entertain 8 or 10 of his friends for four hours instead of going and sitting at a blackjack table by himself and blowing it in an hour. The gamer's different, and I just think it's going to be something that we're going to have to see how we're going to develop in the next few years.
You've always been tried and true to your vision. Even coming up in the '80s, you were one of the first people that sort of spotted how the arcade games really worked and how you could make money off that. But you were competing against guys who could really be sharks in many ways. Could you talk about being true to yourself, gaining what you wanted, but still competing in the game, especially in that age?
You just always kind of find your place in the market. You try to find your niche. We're a very unusual company because we know how to financially do things. We know how to develop, and we know how to operate. It's just like us and our casinos. We operate all the retail, all the restaurants, and nobody operates on our properties. We're operators, and that's probably the difference. But then, we also know how to go in and redevelop something to make it look good, where most people just hire in management. There were never entrepreneurs in our industry, and so, therefore, they just know to go hire an architect and let an architect build these huge buildings that have wasted space. I mean, look at a lot of these big brand new casinos, how screwed up they were. Go walk the second floor of MGM where they built all those restaurants in a hallway that's 80 feet wide. It's about being an entrepreneur in the beginning. I think one of the reasons we're so successful in the gaming business is because we've watched every penny. I think that's truly what's helped us be successful in the business, that we knew how to modernize something without spending crazy dollars.
With the Golden Nugget in Vegas, when you first saw it, when you first started looking at it as an investment property, what was your first thought?
I mean it [was] just like me looking out there and seeing that ugly pool and saying, "You know what? I'm going to take this pool and I'm going to make it the visual, and I'm going to build something special. I'm going to put a restaurant there instead of having a closed-in wall. I'm going to open it up to the second floor. I'm even going to let the showroom look at it from the third floor." You look for visual quarters that make something look special.
We were talking about teaching on Billion Dollar Buyer. Who was your biggest mentor?
I never really had a mentor-mentor, but I paid attention to people that had great vision either financially, like a Michael Milken, or somebody like a Steve Wynn. I mean, Steve Wynn shows the world a vision. So there are different people that stick out in your mind like that. A Michael Milken that tells you better financially know how to do something and a Steve Wynn who shows you to have great vision of what's coming up in the future. These are two people today that I still have a lot of respect for, that are very kind to me.
Do you have a comment or question about this article?

Look for your question to be answered in either Casino Player or Strictly Slots Magazines.