A King's Tale
Excalibur's Tournament of Kings takes audiences through a romp of chivalry
By Lisa Robertson-Dziedzic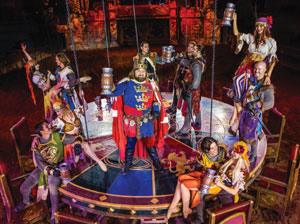 Once upon a time in a land far, far away, there sat the majestic castle Excalibur, replete with colorful turrets, a great hall, and an arena fit for a king.
OK, it's on the south end of the Las Vegas Strip, so maybe it wasn't so far away—but who's telling this tale anyway?
Named for the mythical sword of King Arthur, Excalibur is one of the country's most exciting and popular casino resorts where guests are transported back to medieval days of yore. With its magical white castle façade—complete with moat and a drawbridge—the castle-themed resort features a 100,000 foot state-of-the-art casino, nearly 4,000 rooms, six restaurants, a full service spa, nightly entertainment and one of the longest running production shows in Las Vegas—Tournament of Kings.
The award-winning Tournament of Kings dinner show is based on the tradition of royal families inviting guests to a festival and feast to watch brave kings perform feats of great strength and skill. The unique combination of a medieval banquet and thrilling competition captures the imagination and enthralls guests of all ages. From jaw-dropping jousting acts and exciting sword-play, to top-notch choreographed battled sequences complete with medieval weapons of all shapes and sizes and a delicious three-course meal, this one-of-a-kind show keeps guests entertained from start to finish.
As the story unfolds, Tournament of Kings transports the audience to King Arthur's court to celebrate the return of his son, Christopher. The traditional showroom is transformed into the Tournament of Kings Arena, a 900-seat theater in the round with an earthen floor. As the joyous Arthur gathers the rulers of Europe for a fantastic banquet and competition, the kings challenge their knightly skills while riding their faithful horses. King Arthur's hospitality is met with hostility when the evil fire-wizard Mordred invades the festivities. The kings of Europe must unite if the fire-wizard is to be defeated.
The production show has a sizable cast of 30 actors and musicians, 20 horses and an audience of 900. "Audience participation is an integral part of the show," said Director Phil Shelburne. "They will be singing, cheering and up on their feet."
Dinner is served medieval style, without silverware and is designed to be eaten with your fingers. To start, lords and maidens pour a tasty appetizer of creamy tomato soup, followed by a hearty meal of well-seasoned Cornish Hen, salted red-bliss potatoes, broccoli, hand-made biscuit and a warm apple tart for dessert.
Audiences sit in sections of the theater labeled with the name of a country—Ireland, Spain, Russia, Norway, Hungary and France—who cheer for their country's king as they engage in battles, horse races and medieval sporting activities. The Dragon Knight, who plays "dirty" and whose master, Mordred has fire-blowing weapons, has his own section and the battle between good and evil unfolds with stunning visual effects and high-caliber pyrotechnics.
After good prevails over evil, a coronation act is performed that includes a beautiful dance number with eight elegantly dressed maidens and a skilled equestrienne. This equine master, Iranda Dyer, appears astride Noblissimo, an Andalusian commonly called "the horse of kings" and commands this majestic animal through a performance of Dressage. Considered an art, Dressage is a routine in which horse and rider make precise movements as one harmonious team.
Certain to please families and medieval fans alike, Tournament of Kings is a far greater value than any other dinner show in Las Vegas. The dinner show runs Monday and Friday 6 p.m.; Wednesday – Thursday and Saturday – Sunday 6 p.m. and 8:30 p.m.; dark Tuesdays. Tickets are $59 plus tax and fees. Tickets can be purchased by calling (702) 597-7600 or booking online at excalibur.com.
Do you have a comment or question about this article?

Look for your question to be answered in either Casino Player or Strictly Slots Magazines.