A Jersey Thing
Back to the neighborhood with a film adaptation of "Jersey Boys"
By Tim Wassberg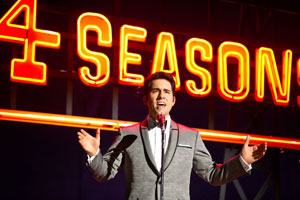 The story of Frankie Valli and the Four Seasons resounds as showbiz legend. Having taken Broadway by storm as well as the stage in Las Vegas and around the country, this story of ambition and talent finally makes it way to the big screen courtesy of director Clint Eastwood. Michael Lomenda, who plays Four Seasons member Nick Massi, originally performed his part in Toronto and on the National Tour before he was selected to embody the man on the big screen. He and costume designer Deborah Hopper sat down with Casino Player to talk about the gritty, cool and unique world of the film adaptation of "Jersey Boys".
Casino Player: Was there an adjustment of perspective to play the new world of this story on film?
Michael Lomenda: It's wild. When you've done a stage production as much as we have… of the four of us [playing The Four Seasons], three had done the stage production before. Collectively, we've all done it about 3,000 times onstage. Onstage, you do it the same way every night within a spectrum of course but we're not allowed to improv. It was interesting here because the very first day of shooting the film set the tone for the whole movie. It was me and a couple other actors as well as Tommy and Frankie sitting in a room improv-ing. You just had to be prepared for everything. What is great about Mr. Eastwood's films is the level of humanity he likes to represent. He really sort of captures that. This is a really gritty "Jersey Boys"; a slightly darker "Jersey Boys". It goes back to the "neighborhood" and the relationship these guys had along with their music and how it exploded into existence.
CP: The suit makes the man and especially with a film like "Jersey Boys", it is about the guys owning the room.
ML: I think any man who puts on a suit immediately feels different. We are so used to daily casual in this day and age unless we are working in the business world. Certainly, as an actor, I wear jeans and a t-shirt on a daily basis. But you put on a suit and that totally changes the way you walk. It changes the way you feel. And it changes your personality to a certain extent. This is what these guys lived in most of the time. They were from the wrong side of the tracks. They were blue collar guys. But, in this time period, they were a little more put together. And I think Nick Massi, specifically in his character, was a guy who was a little more concerned with that aspect of the group. I remember hearing a story about him showing up in a green jacket and everybody saying "I guess we're wearing the green jacket". He was sort of the unofficial costumer for the group. He was totally concerned about that kind of stuff. A suit totally changes the way you walk. It is like your armor and you're like superheroes in a certain sense.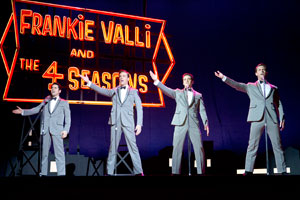 Deborah Hopper: The first thing I did when I heard we were doing "Jersey Boys" was go to see the musical because I hadn't seen it. But basically I knew it being a musical and this being a film, it would be two different venues. Having worked with Clint over the years so many times, I knew he would make it into a character piece. It does tell the story of the musical as well but I knew he would delve deep into the characters themselves. It is not a musical where they sing and dance throughout the entire movie. It's not like that. The costumes themselves would be a little more real. That is what Clint likes. He doesn't necessarily like a lot of colors. He likes everything muted, talking about real people with real stories.
ML: And although Deborah talks about muting some of those colors, she still keeps a lot of the punch of the awesome costumes you see in the Broadway production. She humanizes the whole thing. Because on stage you want to bump it up… you want to give it a little more punch so they can see it at the back of the house. What she did was find this great kind of… there's this one suit that we wear where the fabric the suits have is kind of like a vinyl record… so she has these subtle nods to the era while keeping it in the right sort of character and feel.
DH: And, as far as that balance goes, because three of the actors were actually from Broadway themselves, there was the aspect of performing where we had to accommodate their costumes as far as fit and what they might do in them. But as far as their characters, it is fairly self explanatory. I know with the Frankie Valli character he used a lot of turtlenecks throughout the years. But [by far] there was more color on this film than Clint usually does.
CP: Can you talk about the approach to the music and capturing that energy in a medium sometimes encompassed in artifice?
ML: Typically for the stage you go to a rehearsal hall and you sit down with the score and you learn it all ahead of time. [In terms of] Mr. Eastwood… a lot of people do not realize how musical he is. He plays a lot of different instruments including the guitar. I've seen clips of him performing at Carnegie Hall. He commissions jazz scores. He is definitely a musical guy so I think he appreciates the music side of things. This gave him a keen eye to the details of this particular musical. He was kind of adamant about having a live band for us any time we were performing numbers. A live drummer on stage? You can't get that same thump of the drums from a pre-recorded track! We recorded a lot of the music live off the floor while we were performing. It definitely created a vibe of what it was probably like for these guys. Half the time they probably showed up a couple hours before the gig, set up the sound system and kind of tweaked it on the fly.
CP: Having been part of this cast, and knowledgeable of the life these characters led, has Vegas ever been in your cards?'
ML: I had never really been to Vegas and I was on tour with "Jersey Boys". The four of us "Jersey Boys" were like…"we've got to go to Vegas!" So we figured we could fly from Calgary to Vegas for the weekend… and then fly to Portland in Oregon where our next stop was. We did a two day bender in Vegas having a great time. Two of us had been there before and two of us hadn't. I went to the blackjack table for the first time. I won 80 bucks or whatever it was. For us, as a group of four guys, it was an incredible bonding experience just to be there living it up. It was a memorable guys weekend in Vegas in the middle of this great experience which is probably something like the real guys would have done a million times. So it was like art imitating life in the best possible way.
Do you have a comment or question about this article?

Look for your question to be answered in either Casino Player or Strictly Slots Magazines.