YOU SAW IT FIRST HERE: Snoqualmie Casino is first to launch new games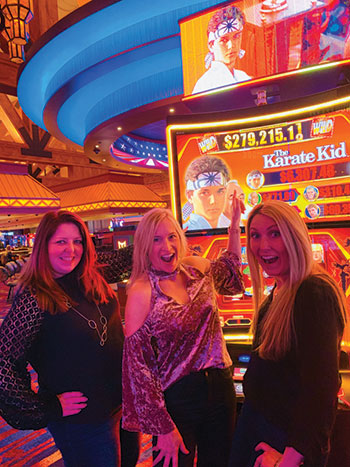 Anticipation was high when Snoqualmie Casino in Snoqualmie, WA, announced that it would be the first casino in the country to premiere Everi's new slot machine, The Joker's Wild featuring Snoop Dogg.  Inspired by the classic TV game show hosted by the infamous hip hop superstar, The Joker's Wild offers fans a fun gaming experience integrating present day graphics and attitude with traditional reel slot play of the past. "When we learned that The Joker's Wild was in development, we expressed our interest in being the first to launch the product at Snoqualmie Casino," says Director of Slot Operations, JT Manning.
Moments after The Joker's Wild went live, the team at Snoqualmie Casino made their way over to a second bank of machines guaranteed to offer movie fans a different take on two iconic films of the 80s and 90s.
Both The Mask and The Karate Kid offer action packed video sequences integrating the memorable scenes and music that made each film a Hollywood classic. Since the release, guests have gravitated toward the pair of games, enjoying the nostalgic movie clips featuring favorite characters and the anticipation of hitting a bonus round and jackpot. "These games are so much fun," said Snoqualmie Casino guest Kelly Coughlin. "They take me back to my youth. I love watching my favorite scenes on the slot screen. There's so much going on with both games, they are visually engaging making it tough to leave."
Offering exceptional gaming and award-winning dining with breathtaking mountain views, Snoqualmie Casino is a must-do when visiting the Pacific Northwest.  For more information, visit www.snocasino.com.