WSOP.com Hosts Record-Breaking Online Series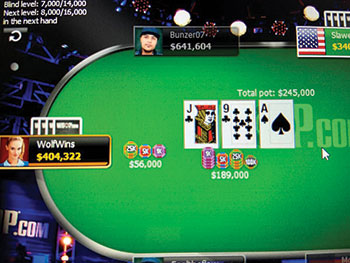 The first ever WSOP.com Online Super Circuit Championships showed a record-breaking event.  The 18-event series ran March 14 – 31 and  featured 18 WSOP Circuit ring events – the most ever for an online Circuit series.
The series guaranteed a total of $1.24 million with each of the 18 ring events guaranteeing between $30,000 and $200,000. Every guarantee was met and 12 of the 18 were at least tripled. The series ended up awarding a grand total of $3,945,350 for an average of $219,186 per event. The largest prizepool came in Event 16: $525 Main Event, which drew 1,134 entries and generated a $567,000 prizepool.
The Main Event was also the largest event of the series in terms of number of entries. The 1,134 entries (with 763 unique players) was the largest WSOP.com  Online Circuit event ever. It surpassed Event #2: $215 No-Limit Hold'em from the opening weekend of the series, which at the time had set the record for most entries in an Online Circuit event with 941 entries (720 uniques). The nearly three-week long series drew a total of 11,786 entries for an average of 654 entries per event, making the series the largest WSOP.com Online Circuit series of all-time.
The largest payout of the series was to Main Event winner, Champie Douglas. He earned $130,410, his first Circuit ring, and a seat to the 2020 Global Casino Championship for his victory. The average first place payout of the series amounted to $53,294 and averaged a return on investment of 135 buy-ins.
On average, 79 players cashed per event. Arkadiy Tsinis finished the series with the most cashes, cashing in nine of the 18 events and collecting $9,488 in total tournament earnings.
Comparing the Online Super Circuit with the previously held WSOP.com Online Circuit (Feb. 25-March 8) shows huge percentage increases across the board, with entries up 47% (654 vs. 443), average prize pool up 61% ($219,186 vs. $136,133) and average first place prize up 56% ($53,294 vs. $33,993). Both series' had a $525 Main Event on the final Sunday of the series. The Online Super Circuit Main Event had 43% more entries.
Matt Stout earned Casino Championship honors and will be joining Douglas at the 2020 Global Casino Championship. Stout won two Circuit rings, reached three final tables, cashed six times, and collected $122,389 in tournament earnings to secure the title. Stout defeated a 941-entry field in Event #2: $215 No-Limit Hold'em to earn $43,286 and his fourth career WSOP Circuit ring. Nine days later Stout won his second ring of the series, fifth career ring, and an additional $63,234 for defeating a 531-player field in Event #11: The BIG $500 – No-Limit Hold'em.