TRIBAL TRIUMPH
Indian Gaming Has Changed the Casino Landscape
By Sharon Harris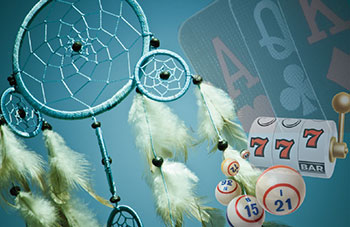 No one predicted it and almost everyone got it wrong. Who could imagine that a small legal battle over bingo in the mid-1980s would create a nationwide, multi-billion-dollar Indian gaming industry?
Historically, centuries of poor living conditions meant a dismal existence for multiple generations of tribal members. Through the late 1980s, tribes across the U.S. could barely support their communities and bingo or small games of chance provided limited economic sources of survival. Rural areas without access to large population centers faced greater hardships.
The small Cabazon tribe in southern California changed all that, never realizing the power of just fighting back when they took their battle to Washington. With its 6-3 ruling on the California v. Cabazon Band of Mission Indians case in February 1987, the Supreme Court forever changed Indian Country across America.
CABAZON MOTIVATES A MOVEMENT
The saga began with two small Cahuilla tribes near Palm Springs in California. The Cabazon Band has lived in the Palm Springs region since 1876. Its reservation occupies 1,706 acres in Coachella and its small tribal population totals about 800.
The Cabazon and the smaller Morongo Bands of Mission Indians each owned and operated bingo parlors on their reservation lands. The Cabazons also ran a public card club with poker and other games. Ironically, their best customers were non-Indians from multiple nearby resort towns and cities.
Without any provocation, California officials took the bold step of attempting to shut down both tribes' gaming rooms in 1986. Law enforcement claimed that high-stakes bingo violated state gambling regulations and warranted court action.
Refusing to back down and lose their key source of income, the Cabazons disputed the issue all the way to the Supreme Court. They prevailed in February 1987 and remained open.
The Cabazon victory had far reaching effects that would bring great changes to Indian tribal life. The favorable Supreme Court decision stopped California's attempts to prevent instate tribes from conducting high-stakes bingo on their own reservation lands.
No one could definitively explain California's reasoning. After decades of operating, what sparked this landmark legal case against such a small tribe at that specific time? What was California's rationale?
Seemingly out of nowhere, California officials had reached back to obscure federal legislation-called Public Law 280-from 1953. The law transferred immediate federal law enforcement authority over specific tribes within state governments in California, Minnesota, Nebraska, Oregon and Wisconsin. Alaska was added in anticipation of its admission to the Union as the 49th state, which it was on January 3, 1959.
How California viewed gambling at any given time determined when they would take any legal action. If state lawmakers considered tribal gambling a criminal activity, the state could use Public Law 280 as the basis for law enforcement action.
The Cabazon's legal team argued that California's gambling laws were actually civil regulatory laws, not subject to California's jurisdiction over their tribal lands. Tribal leaders accused the state of being punitive-after decades of peaceful operation-and decided to fight in court. Fortunately for them and the millions who have benefitted from gaming's expansion, they triumphed.
The Supreme Court heard oral arguments in December 1986 and quickly handed down a 6-3 decision on February 25, 1987. The language of the ruling simply stated that "Indian reservations may not engage in a form of gaming when that form is illegal in the state; conversely, Indian reservations may engage in a form of gaming when that form is legal in the state?'
Because California law did not prohibit gambling as a criminal act, and even operated its own state lottery program, bingo halls must be considered regulatory and not subject to powers granted by Public Law 280.
That landmark ruling was the foundation for transforming and expanding tribal gaming. Following the Cabazon ruling, Congress enacted the comprehensive Indian Gaming Regulatory Act (IGRA) in 1988. It designed a system that would promote Indian gaming across every U.S. region.
Tribal reservation lands became more valuable and introduced business opportunities that helped entrepreneurial tribal leaders improve their members' lives. The often-primitive conditions of yesteryear, when daily life equaled struggle and despair, have virtually disappeared. Profitable operations have improved Indian life in these 30 years more than almost anything else during the prior 100 years.
Many of the 21st century properties nationwide extend beyond just a casino floor. They have grown to full-service resorts that include hotels, spas, golf, world-class dining, entertainment and retail. Geography is not the key factor… quality is. California, Oklahoma and Florida are the three most successful states in earned income, each topping $5 billion in revenues.
Beyond the business of gaming operations, tribes have also flourished in other tangible ways. Community services like new schools, hospitals and roadways have exceeded anyone's expectations.
Today, Indian gaming tribes own and manage more than 500 gaming locations in 28 states. The National Indian Gaming Commission (NGIC) in Washington reported income of $32.4 billion in 2017, up 3.9 percent from 2016.Tribal gaming almost equals commercial operations, accounting for 45 percent of the U.S. market.
A separate September 2017 American Gaming Association analysis revealed that tribal gaming operations supported 635,000 direct and indirect jobs. As major taxpayers, gaming tribes are integral economic contributors within their communities. They also generated $96.64 billion in total annual economic output and paid $16 billion to federal, state and local governments.
TRIBAL GAMING BEFORE IGRA
Since the 1800s, the federal government has owned all Indian reservation land in the continental United States. Legislation allowed the Department of the Interior (DOI) to take Indian lands into trust. These laws are technically still on the books.
The federal government defended its action by declaring it had to "protect" tribes from selling their lands to anyone considered unscrupulous. Heidi McNeil Staudenmaier, an Arizona Indian gaming attorney since the 1980s, claims that tribes believe in their inherent rights of self-determination. She says , "Many have viewed this paternalistic philosophy as archaic and condescending to tribes."
Prior to IGRA and the NIGC, Indian gaming was a patchwork of individual insular operations that were managed on separate tracks. Wisconsin Oneida Gaming Commission Gaming Commissioner Mark Powless says Oneida gaming began in 1976.
"I have seen it all since taking an active role in tribal gaming issues in 1978. There was no IGRA, so everything was done by trial and error. The entire tribal budget then was minimal. Today it is about $400 million. We had no experts, but after more than 40 years, we are now the experts who have developed very successful businesses," Powless says.
The Oneida gaming activity in the early 1980s centered around bingo, which was expanding. Powless states that multiple groups who felt threatened by potential competition worked against them. These prominent organizations included many in Congress, Las Vegas interests, the National Governors' Association (NGA), the National Association of Attorneys General (NAAG) and plus religious groups.
"This mixed group of opponents even included then casino owner Donald Trump. In those years, he personally lobbied against our expansion, even investing his own money in the effort. However, once the IGRA passed years later, Donald Trump wanted to develop some investment opportunities with different tribes," says Powless.
Trump figured that if he could not beat them, he would join them by developing partnerships. He failed in one California attempt, but the Twenty-Nine Palms Band of Mission Indians of California did align itself with Trump in April 2002. They named their Coachella venue the Trump 29 Casino. After ending the relationship and buying out the Trump contract for $6 million in early 2006, the tribe renamed it Spotlight 29 Casino.
In Washington D.C., the mood was changing as legislators realized the growing strength of Indian tribes and their operations. The DOI decided to take a closer focus on Indian gaming and created the subsidiary Bureau of Indian Affairs (BIA) department in 1982.
Powless states, "The tribes lacked management experience back then. Unfortunately, there were unscrupulous operators who exploited the tribes. However, these same tribes ultimately assumed the responsibilities, which then allowed the BIA to take on a more advisory role.
The DOI, through the work of the BIA, also established the National Indian Task Force on Gaming in 1982. The Task Force traveled the country to assess the national situation and develop a strategy. I was the first Chairman of the 24 participating tribes."
An invitation from the Seminole Tribe prompted the group to convene in Florida in December 1985. With their research in hand, the Task Force incorporated the National Indian Gaming Association (NIGA) to further advance tribal causes.
NIGC's stated mission is to "protect and preserve the general welfare of tribes striving for self-sufficiency through gaming enterprises in Indian Country. To fulfill its mission, NIGA works with the Federal government and Congress to develop sound policies and practices and to provide technical assistance and advocacy on gaming-related issues. In addition, NIGA seeks to maintain and protect Indian sovereign governmental authority in Indian Country"
WHAT DID IGRA DO?
Following the Cabazon case and IGRA becoming law, the floodgates of opportunity opened for those tribes who embraced this opportunity. IGRA mandated that tribes were to be the primary beneficiaries of gaming revenues.
IGRA's language established clear guidelines, and potentially greater sovereignty, by emphasizing three important areas. First, it provided for Indian gaming regulation via the establishment of the NIGC. As an inde-pendent federal regulatory authority, the NIGC's mission is to oversee the management and regulation of Indian gaming. It also is charged with ensuring integrity while thwarting organized crime and corruption.
IGRA outlined additional DOI powers when dealing with federal crimes related to tribal gaming. It also offered prosecutorial authority to the Department of Justice (DOD. Typically, the Federal Bureau of Investigation (FBI), a department under the DOJ, holds federal criminal jurisdiction over many types of criminal acts. However, little is done because the DOJ has allocated minimal funding towards investigating Indian gaming violations for years.
Within those stipulations, IGRA specifies three gaming categories, or "Classes," for legal purposes:
Class I traditional Indian games include charitable and social gaming with nominal prizes. States have no regulatory authority over them.
Class II allows certain games such as bingo and games similar to bingo. Class II gaming is regulated wholly by the tribes and federal government.
Class III requires negotiated multi-year tribal agreements, called compacts, to regulate these high-stakes Las Vegas-style gaming operations. Class III includes high-stakes bingo, casinos, slot machines and other commercial gaming.
For Class III operations, IGRA allowed compacts to be negotiated within individual states. Once settled, the DOI has the authority to approve or reject these compacts.
Staudenmaier claims that tribes have always believed they have the inherent right to operate gaming activities on their reservation lands. As a compromise, IGRA provided a regulatory structure for Class II and Class III gaming. From the tribes' perspective, they were agreeing to let the state and federal governments participate despite inhabiting reservation land for generations.
In order to conduct specific forms of gaming, each tribe would have to attain federal recognition before negotiating with their individual states. Staudenmaier has helped tribes and the State of Arizona navigate these federal statutory mandates.
She describes specific restrictions, saying, "IGRA only allow tribes to conduct gaming on land recognized as reservation lands, or designated `Indian Lands' eligible for gaming before October 17, 1988. There are certain exceptions, including newly federally-recognized tribes, tribes with federal recognition restored and tribes settling land disputes?'
However, many who have lived and worked in Indian Country are big fans. With decades of administrative experience, Oklahoma Indian Gaming Association (OIGA) Executive Director Sheila Morago believes IGRA has been the most successful economic legislation ever created for Indian tribes. She also served as the former executive director of the Arizona Indian Gaming Association (ALGA), Morago explains that while prior economic tools worked for metropolitan areas with built-in infrastructures, rural tribes that needed infrastructure funding often lost out. IGRA provided a framework to "level the playing field."
Maximizing a compact's impact has been a learning curve for both tribes and their state governments and not all has gone smoothly since 1988. Each state has taken a different approach to negotiating compacts. Some compacts have few rules and little involvement while others mandate extensive regulatory oversight and operational limitations.
In some early cases, states quickly agreed to compacts to minimize the issue, thinking tribal gaming would never succeed. They soon recognized their miscalculations and requested renegotiations to correct their oversights. Other states refused to negotiate at all and faced legal challenges.
IGRA prohibits a state compact from taxing tribal casinos. However, revenue sharing agreements or an annual flat fee payment for Class III gaming is permitted if the tribe receives some benefit in return. Tribes do have autonomy when operating Class II bingo.
The law also established standards for tribal land acquisitions and any future off-reservation gaming operations.
NIGA and the NIGC have occasionally operated at cross-purposes. Some NIGA member tribes have occasionally rejected the NIGC's position, accusing the organization of infringing on their compacts and sovereignty. Some of these conflicts have sparked litigation that reached the Supreme Court. Cases arose over questions of whether the NIGC and the DOI should or could effectively regulate individual tribal economic decisions relevant to Indian gaming.
TO AMEND OR LEAVE IT ALONE
Indian gaming's explosive growth has motivated efforts to amend IGRA over time. Most legislation does face some revisions after years of being in effect. Typically, not everyone is in agreement about what to do. The argument stems from tribal leaders and Congressional legislators who prefer the status quo versus others seeking reform.
The late Senator John McCain (R-AZ) was at the forefront of trying to get reform legislation through Congress back in 2005. McCain chaired the Committee on Indian Affairs and accused Congress of ineffectiveness. He worried about what he perceived as the NIGC's eroding oversight role and the lack of specifics relating to casinos located far from a tribe's reservation land.
McCain held hearings, but his committee members disagreed on the leniency or restrictiveness of any proposed changes. Some constituent groups wanted the NIGC left alone to avoid close examination.
One huge issue has been the unequal distribution of land and assets among tribes. Some tribes have little or no land, either near or far from lucrative gaming areas. Others operate casino resorts on thousands of acres or prime property.
One suggestion was to compensate these tribes by permitting them to gain federal recognition on land not connected to their reservations. More than a decade later, the issue remains volatile because three different presidents have had three different policies since 2008.
In January 2008, President George W. Bush wanted to prevent any type of "reservation shopping?' His DOI used a single criterion—the distance from the reservation—as the foundation for any decisions. At that time, several tribes applied for recognition and approvals on lands that either crossed into another state or were located as far as 1,550 miles away from the applying tribe's reservation.
During the Obama Administration, the DOI supported favorable policies for tribes seeking new land, but some resulting disputes have faced federal and state court battles. Since taking office in January 2017, the Trump Administration has slowed and proposed changes to the existent land-into-trust process that has taken up to 10 years from application to decision.
To avoid wasting time and resources, Trump officials want to realistically convey the tribe's probability of approval. It proposes that tribes be informed up front of their actual chances.
Kiowa Tribe member and Acting Assistant secretary for Indian Affairs John Tahsuda joined the Trump administration last year. In October 2017, he testified to the Senate Committee on Indian Affairs, saying, "…the commitment of time and resources required can be exorbitant, particularly if that proposal is denied. Therefore, we believe it is important to be upfront about proposals that may not be acceptable?'
Now it appears that the Trump Administration may restore that earlier Bush standard, or at least partially reverse the Obama protocol. In his Senate testimony, Tahsuda conceded that the "commutable distance" standard will be considered and demonstrating the potential profitability of gaming will not be enough.
HOW ARE THEY DOING TODAY?
In 2018, tribal casinos of all types and sizes are everywhere. Indian tribes operate 500 metropolitan and rural gaming locations in 28 states. In many cases, these have evolved into sophisticated, full-service resorts located in some of America's most desirable geographic regions. Smaller rural operations have had a tougher time, but most tribes have learned how to generate the highest revenues while helping their communities.
Some states have taken the lead on promoting gaming operations. After President Ronald Reagan, who was the governor of California from 1967-1974, signed IGRA in 1988, California's tribal market took off.
After years of opposition from Nevada casino companies, California voters amended the state's constitution by passing Proposition 5 on March 7, 2000.The legislation authorized Nevada-style casinos on in-state tribal land. In less than 20 years, California's tribal gaming market value has now surpassed the Las Vegas Strip revenues, topping $8 billion annually for the first time in 2016.
As a prime resort market, California has numerous gorgeous properties. The San Manuel Band of Mission Indians broke ground on July 25 for its first onsite hotel, a world-class entertainment center and new dining, retail and meeting spaces.
Located one hour from Los Angeles in Highland, the San Manuel Band of Mission Indians is among the top 10 private employers in San Bernardino County. Its operation employees more than 4,900 staff members and generates more than $1 billion in annual regional economic activity.
Close to San Diego, the Viejas Casino & Resort has recently completed its seven-year renovation and expansion. Since 2011, the tribe has built three hotel towers and redesigned the entire site to provide guests with a comprehensive resort experience. The first two hotel towers opened in 2013 and 2015 and are family-friendly destinations. The newest tower, the all-adult Willow Hotel & Spa, opened last February.
This project culminates long-term plans for the Viejas Band of Kumeyaay Indians. Since purchasing its Alpine, California reservation land in 1932, innovation and growth has been the goal. They opened The Viejas Bingo Room in 1977; its original Viejas Casino opened in 1991.The bingo hall was incorporated into the property in 1994.
 Tribal and resort Chairman Robert Welch, Jr. said, "It took seven years to bring our vision to reality and create a truly remarkable casino and resort, where our guests can enjoy all the new offerings and amenities. The expansion also connects us to a broader audience because we now have something luxurious and exciting for everyone to enjoy."
Florida is another top tourist and locals jurisdiction on the East Coast. The Seminole Tribe of Florida ranks among America's most successful tribal gaming operations. Its 4,100 members, whose history dates back to the 1500s, live on and off reservation lands in Southeast and Southwest Florida.
They opened their first high-stakes bingo hall, called the Seminole Classic Casino, debuted in December 1979.The Seminoles used outside management throughout those early years, but transitioned towards self-management by 2000.
Steady, capable leadership has transformed the Seminole Tribe business portfolio from a regional company, operating five Florida casinos, into a global conglomerate. CEO James Allen had the vision to take the company international in 2007. The Seminoles acquired Hard Rock International (HRI) in the U.K. for $965 million. Now one of the world's most recognized and respected brands, HRI currently operates 11 casinos, 180 cafes and 25 hotels in 75 countries.
Their Florida empire continues to grow. Construction of its $1.5 billion expansion of Seminole Hard Rock Hotel & Casino Hollywood—the company's flagship property—includes a new Events Center and the 10,000-square-foot Hard Rock Cafe Hollywood. The Cafe, opened last month, will be the new brand redesign for Hard Rock Cafes. The iconic guitar-shaped hotel tower is scheduled to open in Fall 2019.
Hard Rock's future seems secure in Florida. Thanks to a 20-year com-pact, signed in 2010 and in effect until 2030, a revised tax structure required that all Class II bingo-based machines be converted into Class III slot machines within five years. Its successful implementation by 2015 resulted in approximately $300 million paid to Florida during this past fiscal year.
Allen has never forgotten his Atlantic City roots and took advantage of another out-of-state investment opportunity for the Seminoles. He was key in the purchase and reconstruction of the former Trump Taj Mahal into the Hard Rock Atlantic City. At a $500 million price tag, the Seminoles completely dismantled the prior venue down to its foundation and rebuilt a dazzling resort property within a year.
Hard Rock Atlantic City officially opened last June 28, complete with the brand's signature music memorabilia. It has already proven to be one of Atlantic City's most popular casino, dining, spa and entertainment properties. There is live music in multiple venues every day.
Soon to leave office to become a United States Senator, outgoing Governor Rick Scott has reported that during his eight-year tenure, the Seminole compact generated more than $1.75 billion to invest in Florida's public services like education and the environment.
In New England, the award-winning Foxwoods opened in 1992. Located in southeastern Connecticut near the Rhode Island border, Foxwoods was the first superstar Indian casino on the East Coast. It is owned and operated by the Mashantucket Pequot Indian tribe. The Mashantucket Pequot Indian tribe owns and operates Foxwoods and has lived on the tribal land for more than 10,000 years. Currently, there are approximately 700 to 800 tribal members on 1,392 acres.
Next came the equally sophisticated Mohegan Sun, which opened in 1996.The Mohegan Tribe of Connecticut owns that site, but has also ventured to other regions in Pennsylvania, Atlantic City and Washington State.
While these popular casino venues may get most of the attention, more obscure states like Oklahoma can also boast about their tribal gaming industry. Morago describes many new facilities, plus enlarged and remodeled existing properties, with popular amenities like movie theaters, spas, bowling and hotels.
"Oklahoma has 39 tribes, 31 signed compacts and 135 casino operations. OIGA's 25 members operate diverse properties; she says.
With so many billions at stake, one unexpected by-product of such successful operations is greater political clout. Spectrum Gaming Group is a Pennsylvania non-partisan gambling consultancy company that has provided independent research and professional services to public- and private-sector clients since 1993.
According to Managing Director Fredric Gushin, "Oklahoma, New York and southern California tribes are prime examples of major voting blocs. The knowledge and sophistication they have gained since 1988 has motivated many younger post-college members to return and use their solid management skills?'
Morago agrees that tribes enjoy political opportunities. She says, "We cooperate with each administration and praise tribes for their voting record that may change the ballot difference margin by a few percent?'
IS TRIBAL SPORTS BETTING COMING SOON?
Sports lovers who visit tribal casinos and dream of legalized sports betting may have to wait a bit longer. Although the May 2018 Supreme Court decision created equal opportunities for Indian tribes to develop their own sports wagering programs, the future remains uncertain. Tribes must often navigate bureaucratic tribal, federal and state laws not applied to commercial public gaming locations.
Indian gaming has long faced skepticism about running sports books. This uncertainty goes back to the original 1992 Professional and Amateur Sports Protection Act (PASPA) law that banned sports betting for most of the U.S. Former Arizona Democratic Senator Dennis DeConcini authored PASPA to deter poor tribes in Arizona from potential infiltration of organized crime.
Twenty-five years later, DeConcini has come full circle in his thinking. He is unconcerned about operational integrity and has said, "I know in Arizona, the economic benefit from gaming has been substantial on some very, very poor reservations?'
Now potentially available, launching sports betting at tribal casinos requires more examination because of existing negotiated compacts, sovereignty issues and taxation questions. For the tribes, what are the costs of expanding infrastructure and seeking approvals? Is sports betting worth it?
Because the NIGC considers sports betting as Class III gaming, states will be involved and must review their compact approach to tribes. Some may have to amend state constitutions. If set payment fees are in place, what about possible revenue sharing options? It may be too overwhelming to even start a program.
Although not currently on California's legislative agenda, the United Auburn Indian Community (UAIC) in metropolitan Sacramento has partnered with MGM GVC Interactive to potentially supply all of MGM's brands and proprietary technology. It would be utilized for retail and mobile sports betting, online poker and online casinos games at the UAIC's Thunder Valley Casino Resort. The property could only benefit from MGM's recent deal with the National Basketball Association (NBA) league.
California attorney Jane G. Zerbi, who practices law in Sacramento, confirms that many negotiated tribal compacts have long-range expiration dates. Some expire in 2020, but several amendments extend to 2030 or 2040 so there would be renegotiation work to do.
Compact revisions will alter the tribal regulator's role. Now in his seventh term, National Tribal Gaming Commissioners & Regulators (NTGCR) Chairman Jamie Hummingbird is also the Cherokee Gaming Commission Director in Oklahoma. He boasts that Indian gaming evolved from a "mom and pop business with humble facilities" to an industry totaling almost half the U.S. gaming dollars and in the forefront of technological advancements and integrity standards.
Addressing both current and future gaming, including sports betting, Hummingbird says, "We want a balanced approach to regulation and new technology that protects tribes and consumers. If it is good for business and legal, we should find a way to make it happen?'
Tribes nationwide will have to make their decisions as to their potential return on investment, but some already have. In Mississippi, the Mississippi Band of Choctaw Indians opened two new sports betting sites. The tribe was the first to offer sports betting outside Nevada.
The Pearl River Resort complex recently celebrated the opening of its sports book at Timeout Lounge in late August, where customers may bet on both professional league and collegiate sports. The newly renovated, non-smoking lounge features 20 televisions connected to all major sports networks, three in-person wager stations, 12 state-of-the-art wager/odds boards displaying all the games and scores, a full bar with mobile device charging stations and sports bar food and drinks.
The Choctaw also opened its first satellite sports book on its Bok Homa Casino gaming floor on September 1. It also offers a complete roster of professional and college sports wagering.
The Sportsbook at Bok Homa features 13 televisions that display both odds/wagers and game content, access to feeds of most major sports networks and one in-person wager station. Mobile wagering anywhere on the casino grounds is in the planning stage.
On October 16, New Mexico introduced its own sports book at the Santa Ana Star Casino & Hotel in Santa Ana Pueblo near Albuquerque. As New Mexico's largest city with more than 500,000 people, metropolitan Albuquerque is the state's most profitable casino region. Only retail gaming is permissible; mobile wagering is not part of the sports wagering program.
Santa Ana opened in 1993 and now has more than 1,000 slot ma-chines and a small area of table games. New Mexico is the first state west of the Mississippi, excluding Nevada, to offer legal single-game sports wagering.
New Mexico sports betting became possible, not because the state allows it, but because state compact language does not specifically prohibit it. When the New Mexico legislature passed compact agreements with the tribes in 1995, it allowed traditional casino gaming with slot machines, table games and poker rooms on Indian lands. The compacts also authorized slot machines in the state's horse racing tracks. These compacts are effective through 2037.
The New Mexico statutes define gambling as any bet that depends on chance, but accompanied by some skill. Most experts believe sports betting clearly falls within those parameters.
Santa Ana opened in 1993 and now has more than 1,000 slot ma-chines and a small area of table games. New Mexico is the first state west of the Mississippi, excluding Nevada, to offer legal single-game sports wagering.
GROWTH TODAY, MORE IN THE FUTURE
The phenomenal expansion of gaming, not only in commercial properties but also on historically tribal reservation land, is now considered mainstream among most communities. Public acceptance continues to grow as jurisdictions seek the economic, entertainment and lifestyle benefits of a successful casino operation. Many have transformed themselves from small gaming centers, often operating in tents or trailers, into large multimillion-dollar properties with diverse gaming, dining, retail, spa, entertainment and meeting options.
Looking ahead, other external factors may impact tribal gaming operations. For example, the Seminoles may benefit from the future closure of dog tracks in Florida. After almost 100 years, Florida voters overwhelmingly decided to eliminate greyhound racing statewide. The question won on Election Day last month by 69 percent. At election time, Florida hosted 11 of the 17 active U.S. dog tracks.
Plans to completely shut down will take effect by January 2021.This action will mean freeing approximately 6,000 greyhounds for adoption.
Opponents to the measure blamed negative advertising for conveying many lies about the industry. They also charged that dog racing was an easier target than horse racing because the horses attracted more money. Although dog track employees will face unemployment, those with betting experience could find work in the expanding Seminole portfolio of properties.
Although IGRA has been a mixed bag for tribes, no one can deny the law set in motion unprecedented economic opportunities. The legal certainty also comforted potential investors and introduced a new segment of customers to major equipment manufacturers. On balance, IGRA has been a win-win for all sides.
After the blockbuster successes of the first 30 years of tribal gaming, what can American tribes anticipate in the next 30? Powless is optimistic and eagerly looks ahead. He is delighted with Indian gaming's results, saying, "It's been an amazing journey. Thanks to tribal gaming, we have enjoyed 100 years of growth within 30 years of time."