TRIBAL TRIUMPH
Seneca Gaming Corporation celebrates winning pair of anniversaries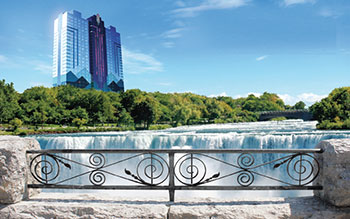 For generations of tourists, Niagara Falls has stood as a majestic, must-visit destination. For the Seneca Nation, it is where it started an ongoing journey that has made a generational difference in the lives of the Seneca people, as well as the surrounding region. Two decades later, the company is doubling up on anniversary celebrations in 2022.
Twenty years ago, through the Seneca Nation's vision and commitment, Seneca Gaming Corporation—and all of Western New York— began a remarkable journey. On Aug. 18, 2002, Seneca Nation leaders signed a Compact agreement that cleared the way for casino gaming to come to Western New York. Just 100 days later, the Nation and Seneca Gaming Corporation had completed a stunning $100 million transformation of the former Niagara Falls Convention & Civic Center. On Dec.31, 2002, Seneca Niagara Casino opened its doors to the world.
Crowds of people lined up outside, eager to see Niagara Falls' latest marvel. And they've kept coming ever since.
"That opening day was a defining moment," said Seneca Gaming Corporation President & CEO Kevin Nephew. "From that day forward, we have welcomed tens of millions of guests from around the world, and brought some of the biggest names in entertainment to our region. As important, that transformational investment by the Seneca Nation paved the way for Seneca Gaming Corporation to create thousands of new jobs right here in Western New York."
Seneca Niagara quickly established itself as the premier gaming and entertainment destination in the region. The excitement—and the property—continued to grow. Three years to the day after Seneca Niagara opened, Seneca Nation and Seneca Gaming Corporation unveiled their next accomplishment, opening the first floors of the luxury hotel at Seneca Niagara. At the time, it was the tallest hotel tower in New York State outside of New York City. The expansion included additional gaming, restaurants, a spa and salon, meeting and conference space and the Seneca Event Center.
Additional projects have included a dramatic renovation of the original gaming floor, hotel room renovations, the $40 million Seneca Arrival Experience project, and the recently renovated Lounge 101, located in the hotel lobby.
Today, the iconic 26-story hotel tower at Seneca Niagara Resort & Casino dominates the Niagara Falls skyline and beckons visitors to enjoy the world-class experience that awaits within. The resort features 147,000 square feet of gaming space with more than 2,600 slot machines and over 60 table games, 10 restaurants, live entertainment and a AAA Four Diamond Award–winning hotel with 604 deluxe rooms and suites, a spa and salon, fitness center, indoor pool and STIR feature bar with live entertainment, signature cocktails, and a stunning 43-foot high-definition video wall, as well as the first of its kind on the East Coast—Lightning Link Lounge.
On its own, Seneca Niagara would stand out as a generational accomplishment and profound success. However, the Seneca Nation and Seneca Gaming Corporation have not been focused on Niagara Falls alone.
With the success and growth of Seneca Niagara, along with Seneca Allegany Resort & Casino, which opened in 2004, the Seneca Nation and Seneca Gaming Corporation next turned their attention to what was then an underdeveloped former industrial area in downtown Buffalo.
Seneca Buffalo Creek Casino opened 15 years ago, on July 3, 2007. The success and excitement were immediate. Just as when Seneca Niagara opened, a line of people quickly formed outside the doors to the original, temporary Seneca Buffalo Creek Casino to see what the Seneca Nation and Seneca Gaming Corporation had done.
"And what did we do?" Nephew said. "We kept going and building and pushing forward."
The original casino facility twice had to be expanded before planning and construction were complete on the current casino in 2013. Another major expansion followed in 2017.
Fifteen years after welcoming its first guests, Seneca Buffalo Creek Casino stands as a central destination in the completely reimagined Cobblestone District, with a growing number of other attractions just blocks away. Inside the casino, guests can enjoy nearly 1,100 slot machines and more than 30 table games, STIXX Sports Bar and B-LO Bar, and three dining destinations including WD Bar & Grille, with incredible views of the city skyline.
The numbers behind Seneca Gaming Corporation tell an impressive success story: 20 years, more than $100 million in completed construction projects, three world-class properties, and more than 3,000 employees to date. For Nephew, the anniversary celebrations in 2022 are as much about looking ahead as they are looking back.
"The journey has been remarkable," he said. "We have a lot to celebrate, and we're just getting started." ´