Tribal Leaders
Tribal gaming continues to grow and these properties are leading the way
By Sean Chaffin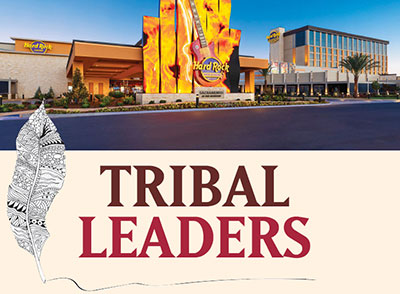 Tribal casinos have played a pivotal role in the American gaming industry for decades. Millions of Americans visit these stellar casino destinations each year. Tribal properties, and the tribes themselves, have become leaders in the greater casino industry. They continue to show that as casinos around the country reopen and welcome back visitors and employees.
Despite the pandemic of 2020, many tribal properties not only contributed to their local communities but also worked to help the industry survive and work for the well-being of their employees. As the country puts COVID in the past, the Native American gaming community looks to the future and many properties continue to innovate, expand and reach out to continue offering a great experience for guests. In the process they share their unique culture and way of life with others.
Currently, there are 524 tribal casinos in 29 states contributing to the American economy and improving the lives of tribe members as well as other employees. In 2019, tribal casinos produced a record $34.6 billion in gaming revenue. The industry has reported growth each year since the Great Recession of 2007–09 and many have become major enterprises, competing with private gaming companies in commercial casino markets like Pennsylvania, Arkansas, Indiana and others.
Beyond mere profits and losses, Indian casino revenue also improves the lives of tribe members through economic development, hospital and healthcare initiatives, school improvements, senior care and other community efforts and programs. Many of these properties also embrace their Native American history in spirit and design, keeping these tribes' cultures alive for Americans around the country to see and appreciate.
The months ahead should bring some major news for the industry as properties around the country unveil major expansions, renovations, partnerships and other economic efforts. Here's a quick look at some of those to watch.
Growth and Expansion
The last year may have been rough for many industries, gaming included, but many tribes are bullish on the future and making additions and expansions to their properties in the coming year. The San Manuel Casino is located just outside Los Angeles and has become a popular destination for California gamblers. The property, owned by the San Manuel Band of Mission Indians, is now also undergoing a major expansion.
San Manuel is adding its first hotel this year, with 429 luxury rooms and suites, premium dining venues, an elevated pool experience, spa, retail spaces and a premier event venue. The $550 million project includes an elegant new entryway and rooftop lounge with views of the surrounding mountains. The opening of the casino's expanded gaming space, dining and retail shops is set to open this summer, with the hotel debuting this winter.
Also in California, the Hard Rock Hotel and Casino Sacramento at Fire Mountain, which opened in late 2019, is already growing. The property is expanding with two major construction projects worth $65 million: a 2,500-seat Hard Rock Live music and entertainment venue, and a gas station and drive-through smoke shop. The project began in June and is expected to be completed by May 2022.
The projects are expected to create 250 construction jobs and 200 new permanent full-time and parttime positions. The Hard Rock Sacramento is owned by the Enterprise Rancheria Tribe and operated by Boyd Gaming. The tribe also recently completed a refinancing of its outstanding debt.
"We would not be where we are today if it wasn't for the support we received from our community and the loyalty we have experienced from our guests," Rancheria chairwoman Glenda Nelson says. "We have created an amazing destination property coupled with an unparalleled partnership with Hard Rock International, and our Tribal Council and Enterprise membership has an unwavering commitment to our long-term vision of growth and prosperity."
Gamblers in the Sacramento area also have another property coming their way. Boyd and the Wilton Rancheria Tribe announced in March plans to break ground on the tribe's new Sky River Casino on tribal trust land in the city of Elk Grove. The casino will house 2,000 slot machines, 80 table games and food and beverage offerings featuring local and regional brands from across Northern California. The casino is expected to open in the fall of 2022.
"Today we celebrate the hard-fought determination of generations of Tribal members to create a future of dignity and self-sufficiency for Wilton Rancheria," Wilton Tribal Chair Jesus Tarango said at the groundbreaking. "This will be a transformative project that will provide resources to invest in housing, education, and healthcare for our more than 800 members, to preserve our language and culture, and to give back to the community for decades to come."
Tribes in Maine may soon have the right to open casinos on their lands for the first time. The state legislature approved a bill in June that would allow them to open casinos on tribal lands. Native American tribes fall under state law per the 1980 Maine Indian Land Claim Settlement. Sponsors of the bill hope it will help some of Maine's tribes that are struggling financially. If the governor signs the bill, the state could negotiate with individual tribes on casino projects.
In Michigan, Gun Lake Casino marked the property's 10th anniversary this year as a premier entertainment destination in the Midwest. The property is owned by the Match-E-Be-Nash- She- Wish Band of Pottawatomi Indians. The casino has grown throughout the past decade and that continues with the unveiling of a $100 million expansion by the end of the summer. The development adds room for 450 more slots, 12 new table games, a larger non-smoking area, and more dining and entertainment options—with 72,000 square feet added to the existing 156,000- square-foot facility.
In April, Gun Lake Casino announced plans to build a $300 million hotel with a year-round, glass- dome pool, private cabanas, entertainment and a restaurant. Construction wil begin this summer following the completion of the current expansion project.
Gun Lake converted part of its Stage 131 venue into the Stage 131 Sportsbook & Lounge, taking sports bets there beginning in October. In addition, Gun Lake launched an online casino in April, PlayGunLake, powered by Parx Casino. Gun Lake is also getting its name out in the community in other ways. In June, the casino became the name-in-title sponsor of the 20 Monroe Live entertainment complex.
Oklahoma's Choctaw Casino Durant has been a leader in the state and has been undergoing the fourth expansion in the property's history. The latest is a $500 million project that includes a new 19-story hotel tower with VIP suites as well as expanded gaming space, a new pool, retail and dining options, movie theater, laser tag and arcade, a new bar and grill and event center. The project is set to be completed this summer and employ 1,000 people.
Also adding additional hotel space is the Northern Quest Resort and Casino, owned by the Kalispel Indians and located in Spokane, Washington. The tribe is adding a new wing to the property with 190 additional rooms and suites. The new structure will include five connected buildings inspired by a historical piece of Native American history and culture—a fish weir. These were constructed and used by tribes as a community-focused fishing technique where members could gather to fish, trade and celebrate.
The project is expected to be completed by early 2023. In addition to the hundreds of temporary construction jobs this project will bring to the Spokane area, the expansion will bring about 150 permanent new jobs.
In other Washington State news, on June 10, The Washington State Gambling Commission approved amendments to gambling compacts for 15 Native American tribes that are a major step to allowing those tribes to offer sports betting at their casinos.
Commissioners voted 7-0, with two excused, on the requests from all 15 tribes to approve the amendments and send them to Gov. Jay Inslee for his approval.
This was the next step in the complicated process of allowing sports betting, following approval last year by the state Legislature.
"We have 15 sports wagering amendments going to the governor's office," commission chair Bud Sizemore said after the vote.
If the governor approves, the issue will be sent to the federal government for approval.
In North Carolina, Harrah's Cherokee has been undergoing a project of more than $250 million that will include 725 hotel rooms including 70 suites, a terrace pool and fitness center, parking garage, restaurant and retail space, and 175,000 square feet of conference, exhibition and meeting space. The project is set to open this fall.
No doubt other tribes across the country are already working on expansion and construction projects—providing jobs, economic benefits to their communities, and a great gambling and entertainment experience for visitors.
New Properties and Economic Leadership
Beyond mere additions and renovations, many tribes are taking leadership roles within the greater gaming industry, expanding beyond traditional Indian gaming enterprises and fostering innovation and growth outside their own traditional locations. From new casinos to unique partnerships, tribes have shown a willingness to take the lead and work toward greater stability and growth within the sector.
Connecticut's two tribal casinos have expanded outside their own state recently. The Foxwoods, owned by the Mashantucket Pequot tribe, announced in early 2021 that the property was partnering to reopen the historic El San Juan Casino in Puerto Rico. Rebranded as the Foxwoods El San Juan, the casino will receive a $12.5 million facelift and the Tropicoro entertainment venue will also return with live entertainment and events. The San Juan debuted in the 1960s and has hosted stars like Frank Sinatra, Tony Bennett, Sammy Davis Jr., Liza Minnelli and others. Visitors can now head to the enchanted island for a great beach getaway with some gambling fun mixed in at this historic venue.
The Mohegan tribe already owns Connecticut's Mohegan Sun and also owns or manages properties in Pennsylvania, New Jersey, Washington, Canada and South Korea. The tribe is now branching out to the hotbed of American casinos—Las Vegas. Mohegan Gaming operates the casino at the new Virgin Hotels Las Vegas, formerly the Hard Rock. The completely refurbished property opened up in March with the 60,000- square-foot Mohegan Sun Casino in Vegas even utilizing the company's Momentum Rewards program.
In Florida, the Seminole tribe has been a consistent leader in the state's gaming industry. The tribe unveiled its "guiter hotel" expansion in 2019, a $1.5 billion project that included 195,000 square feet of gaming space, a 13.5-acre pool and lagoon experience, a 42,000-square-foot spa and fitness center, entertainment and dining options, high-end retail stores, and 150,000 square feet of meeting space.
The Seminoles have also been leaders in corporate growth and expansion for a tribal gaming group. Along with six properties in Florida, the company also owns the Hard Rock International brand with hotels, casinos and restaurants around the world. The Seminole Hard Rock properties in Florida were among the leaders in reopening the casino industry in the U.S. last summer. That included numerous safety protocols as part of the "Safe & Sound" program.
The tribe also recently negotiated with the state of Florida for a new gaming compact. The 30-year deal would give the tribe the exclusive rights to sports betting within the state. While the Tribal Gaming Compact received bipartisan support in the legislature and will bring considerable revenue to the state, it will most certainly face legal challenges by gambling opponents on state and federal levels. Stay tuned.
Oklahoma's tribal casinos have shown how Native American projects can be successful and benefit their communities. In June, the Osage announced two new casino resorts planned for Pawhuska and Bartlesville, located in the northeast part of the state. Both projects will feature casinos and hotels totaling $90 million in development costs and expected to be complete by the fall of 2022.
In other expansion news, Agua Caliente opened a property in Cathedral City, California, just before Thanksgiving. The Agua Caliente Band of Cahuilla Indians already owns two properties in the state in Rancho Mirage and Palm Springs. That now includes a third major gaming and entertainment destination in the state. The new casino includes 30,000 square feet of gaming space, 500 slots and eight table games. An outdoor pavilion is also planned for live entertainment, food trucks and other events.
Arizona's Gila River Hotels and Casinos group has entered a unique partnership to bring some sports-themed branding and amenities to its properties. The company is owned by the Gila River Indian Community, an alliance of the Akimel O'odham (Pima) and the Pee Posh (Maricopa) tribes.
Gila River operates three casinos in the state and in November announced a partnership with the NBA's Phoenix Suns and WNBA's Mercury.
The deal includes team-themed hotel rooms at Gila River's Wild Horse Pass (Suns) and Vee Quiva (Mercury) property. Visitors will also notice an all-new collection of gaming chips and table felts donned with the Suns' burst and Mercury planet logos at those two properties as well as the Lone Butte casino. The teams will also be reflected in other aspects around the venues and the partnership is a first for an NBA team.
Beyond that deal, Wild Horse Pass is also undergoing a major expansion this year. The $143 million project includes a second hotel tower, 22,000 square feet of indoor and outdoor conference space, two new pools, restaurants, and major updates inside the casino with new colors, carpeting, lighting and more. The new hotel tower adds 205 additional rooms including 37 suites as well as a rooftop restaurant with views of the Estrella Mountains.
The growth of sports betting is also bringing some new opportunities for growth among American tribal casinos. For example, the state of Washington recently approved 15 new compact agreements with the state's tribes. The moves are part of a process to begin allowing sports betting at the state's tribal casinos. Numerous casinos across the country have also opened up the betting windows.
Beyond sports betting, online gaming offers further opportunities for tribal gaming (see Michigan sidebar). In May, Connecticut Gov. Ned Lamont (D) signed a bill legalizing online casino gaming, sports betting and poker. This came after signing agreements with the Mohegan and Mashantucket Pequot, which would allow both tribes to offer online gaming.
The success of the American tribal casino industry is a testament to a people that have overcome hardships, setbacks and great loss. Along with great economic benefits for Native American tribes, this success can serve as an inspiration and keep their spirit and way of life alive.
Sean Chaffin is a freelance writer in Crandall, Texas, and senior writer for Casino Player and Strictly Slots magazines. Follow him on Twitter @PokerTraditions or email him at seanchaffin@sbcglobal.net for story assignments.e gaming via the internet already underway.