Three Times a Charm at Ocean Casino Resort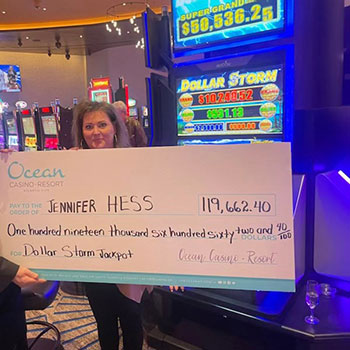 Good things come in threes at Ocean Casino Resort! In early February, three lucky guests rode the rails on Ocean's exclusive All Aboard slot machine, each hitting jackpots totaling $57,554.46, and all in the same week of Feb 7.
Jackpot number one was $16,023.40 on a $1 bet; jackpot number two was $17,040.44 on a $3 bet; and jackpot number 3 hit for $24,490.62 on a $5 bet.
Later in the month, a massive jackpot was hit on Feb. 23. Slot player, Jennifer Hess, was playing another player-favorite slot, Dollar Storm, when the reels lined up and she took home a $119,662.40 jackpot.