THREE SPIN JACKPOT AT AGUA CALIENTE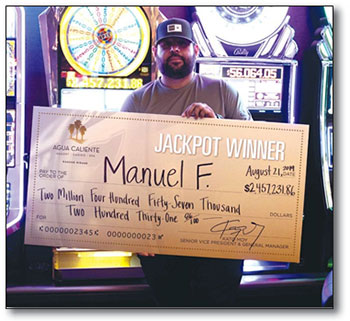 "All the struggling I have had to do… I will never have to struggle again," said Manuel F. as he stood in shock after winning the progressive jackpot on the Wheel of Fortune, an IGT $5 slot machine.
On just a normal Wednesday afternoon for Manuel, AKA, "Manny," he realized he had forgotten something up in his hotel room at Agua Caliente Resort Casino Spa Rancho Mirage, and wanted to retrieve it before checking out of the hotel after a night's stay with his daughters. However, he had a $40 slot ticket that he wanted to use before leaving the casino when the Wheel of Fortune progressive slot machine called his name. Manny walked into the High Limit Slots area and headed straight for the Wheel of Fortune slot machine on the back wall, inserted his ACE Rewards Players' Card and inserted his ticket. Manny made three $10 spins without much excitement to speak of.
And then, on the last $10 bet left on his ticket, he spun the reels and watched as three Wheel of Fortune logos popped up on the center line one after another.
"I thought at first that maybe I had won a couple of hundred dollars or something," said the landscaper business owner and car aficionado. "And then, I just kept looking at the symbols and seeing the amount, and it still didn't really sink in," Manny said calmly as he just stared at his winning slot machine still not sure what to think of his enormous win.
Agua Caliente Casinos have celebrated a string of spectacular jackpots this year. Vice President of Marketing Michael Facenda said, "Seeing this extraordinary win, and knowing that we just watched someone's life change forever in such a positive way is so fulfilling. Having the opportunity to stand next to Manny, and present him with a check for nearly two and a half million dollars, makes us all feel like winners."
When asked what Manny would do with his newfound millions, he answered after a pause and said, "I think I will buy a house and maybe just save the rest. I don't know. My heart is still jumping everywhere.
This is certainly something I was not expecting."