These exciting new slots are waiting for you – once casinos reopen
Drum Roll, Please

Dancing Drums, one of the hottest games on casino floors, is now available in a thrilling stepper version! The brainchild of Scientific Games, Dancing Drums Reels is the debut title on the stunning new TwinStar 5RM cabinet, which boasts five dazzling reels with full RGB LED backlights, LED reel dividers, and bezel lighting.
Similar to the hit video version, Dancing Drums Reels is a Reel Ways game with 243 ways to win and showcases beautiful Asian imagery, a unique Free Games Bonus, and four levels of progressive jackpots that are won in the beloved Fu Bat Jackpot feature starring the famous Fu Babies! If a Fu Bat symbol appears on reels, players may be randomly awarded the feature where players pick from 12 golden lucky coins to match three Fu Baby symbols that awards the corresponding jackpot.
The Free Games bonus is triggered when three or more scattered Drum symbols appear, awarding the player 3, 5, 10, or free games with a random multiplier. During the Free Games bonus, two or more scattered Drum symbols on adjacent reels award three additional free games.
When one or more Fu Bat symbols appear on the screen, the Fu Babies bonus is triggered, and a pick field is displayed with 12 pick options. Picks will reveal a Fu Babies symbol corresponding to one of the Fu Babies Jackpots: Mini, Minor, Major, or Grand. Picks are made until three like Fu Babies symbols are revealed, and the value displayed in the corresponding meter is award.
And New From IGT…

High-denomination players and fans of the Jeopardy! game show who seek Multi-Level Progressives will fall in love with this hot IGT slot, that's a natural fit on the large-format MegaTower Universal gaming machine.
Players are eligible for the bonus with a 6, 10 or 20-credit bet. Wagering 10 credits gives players four more paylines and increases their Daily Double chances in the Jeopardy! Bonus. Wagering 20 credits gives players even more Daily Doubles, and increases their chances at a progressive jackpot.
The Jeopardy! Bonus is triggered with three bonus symbols on a paid payline. Five initial free games are awarded. Anytime a bonus symbol lands on the reels, it awards a random prize from the Jeopardy! board that can include a progressive jackpot, and the number of free games is reset to five.
If three "bonus" symbols land on a payline, players advance to Double Jeopardy!  Any credit value awarded in the Jeopardy! or Double Jeopardy! bonus rounds can be doubled if a Daily Double is revealed.
When the free games end, players advance to Final Jeopardy!, where they get to keep what they've already won or risk it for a chance at a bigger award. If players opt to play Final Jeopardy!, up to four positions are selected from the Final Jeopardy! board, with the total of those credit values being the new offer. Players can accept this offer or pass and keep playing. Final Jeopardy! continues until players either accept an offer or a third and final offer has been made.
Konami Linked Progressive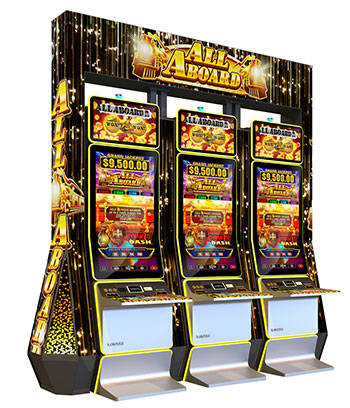 Symbol-driven excitement is just around the track with the All Aboard linked progressive series! All Aboard is an original debut game for Konami Gaming, Inc.'s new DIMENSION 49J cabinet, which features a 49-inch, 4K Ultra High-Definition (UHD) portrait screen with a relaxed lower "J" curve.
The series includes a multi-level progressive, with comprehensive multi-denom options. Six or more train symbols trigger a Stay & Spin feature, taking players on a journey to ample rewards and action-packed bonuses. Players have the opportunity to redeem their collected credit prizes and jackpot awards multiple times over in a single bonus round.
Available All Aboard base games include Dynamite Dash and Piggy Pennies.  Dynamite Dash offers increased wilds during the free game feature, while the Piggy Pennies showcases gigantic symbols throughout the free games.