THE RISE OF TRIBAL GAMING
Tribal casinos continue to expand their reach and deliver creative new programs
By Sharon Harris-Zlotnick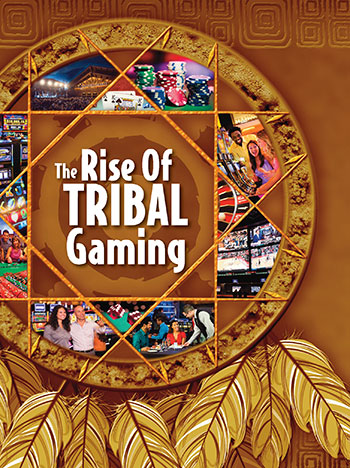 Indian gaming throughout the U.S. continues to flourish every year, thanks to expansion and new construction. The number of tribal properties and their economic successes have created an unprecedented industry where revenues total almost half of American gaming industry income.
The 1987 Cabazon v. California court case began it all. During that legal battle, the Cabazons successfully stopped the California government's plan to prevent instate tribes from conducting high-stakes bingo on their own reservation lands.
The case made its way up through the legal system to the U.S. Supreme Court. The Cabazons' 1988 victory from the Court's decision allowed all federally-recognized tribes to potentially enter into compact agreements within their own states to develop individual programs.
Over 30 years, the number of states welcoming tribal gaming grew to 29 when Indiana became the most recent state to offer tribal gaming in 2018. By late 2018, 514 metropolitan and rural tribal operations were open for business, with revenues now approaching $34 billion for 2019.
These totals disprove the original intent of the Indian Gaming Regulatory Act (IGRA) in 1988.The law was written in a way that could actually restrict tribal gaming's growth, but it failed as tribal gaming exploded across the U.S.
The American Gaming Association's (AGA) 2019 "State of the States" industry analysis reported that "there are now more tribal than commercial gaming properties across the country and more states with tribal gaming than commercial casino gaming."
Dozens of today's tribal casinos are sophisticated, full-service resorts that are located in the most popular regions nationwide. Smaller, rural tribal operations may face greater challenges, but most have discovered how to generate the highest possible revenues as they help their communities. Tribal gaming has continually grown over the past several years and, at that rate, may be on track to surpass commercial casinos by 2030.
One potential complication to this growth is land acquisition.
The Obama Administration set aside 500,000 acres in trust for tribes, resulting in federal and state approvals in California and elsewhere.
The Trump Administration later halted that process and then reversed an Obama-era decision in September 2018. The federal government nullified a prior plan to place 321-acres in trust for the Mashpee Wampanoag Tribe in Massachusetts.
To avoid these restrictions, some sovereign tribal nations, like the Seminole Tribe of Florida, have taken alternative steps and targeted specific commercial gaming markets. In June 2018, the Seminoles debuted their totally rebuilt and rebranded $500 million Hard Rock Hotel & Casino on the site of the former Trump Taj Mahal in Atlantic City.
Connecticut's casino juggernaut Mohegan Gaming and Entertainment (MGE) continues its successful aggressive approach, becoming a global player in the gaming industry, operating several casino resorts across the U.S. with plans to expand into new markets. Its growing portfolio includes their flagship property Mohegan Sun, Mohegan Sun Pocono, Resorts Atlantic City, ilani, and Paragaon Casino Resort.
Always with an eye on the future, MGE recently added inter- national management to its list of accomplishments, becoming the service provider for Fallsview Casino Resort and Casino Niagara, both located in the heart of Niagara Falls' tourism district. Growth will continue when Mohegan Sun Casino at Virgin Hotels Las Vegas opens its doors later this year, introducing MGE into the most popular global gaming market. In addition, MGE is developing two different billion-dollar international integrated resorts, Inspire South Korea and Inspire Athens.
Oklahoma tribes, which are the second most successful in the nation, have also moved forward with operational plans that include expansion into Pennsylvania and Arkansas. Speaking of Pennsylvania, the Poarch Band of Creek Indians of Alabama purchased the Sands Bethlehem property for $1.3 billion in 2019.
Many tribes hope to continue growing as they explore online and sports betting opportunities now available at many commercial casinos in numerous states. However, they may also face legal challenges. Launching a tribal sports betting operation has inherent complications because of sovereignty and compact language renegotiations.
Two exceptions are Mississippi and New Mexico tribes. They never confronted these obstacles since their existing compacts' language permitted a quick introduction of sports betting operations.
Gaming across America is extremely popular and an economic engine within dozens of states. This wide-open gaming opportunity has motivated many tribes to open or begin construction on expansion projects that will enhance their value and financial solvency.
Let's take a look at some of the movers and shaker in this ever-changing gaming landscape, exploring what makes these unique tribal properties so successful.
Catering To Players
Coushatta Casino Resort offers the loosest slots in the region
Experience the thrills and excitement of the largest gaming floor in the region, featuring the games you like, the jackpots you love, and the personal service you deserve! Step into Coushatta Casino Resort in Kinder, Louisiana. From slots to table games to championship golf, this property has something for everyone—including some of the loosest slots in the region, as certified by Strictly Slots magazine.
A premier casino destination, this property is owned by the Coushatta Tribe and features 100,000 square feet of casino space with 2,800 slots and more than 65 table games. Opened in 1995, Coushatta caters to both Louisianans and Texans across the border. Table game offerings include blackjack, roulette, craps (with 20x odds), pai gow poker, three-card poker, and more. The 20-table poker room offers plenty of action including numerous games, stakes, promotions, and tournaments. Need even more action? Head to the off-track betting or bingo pavilion Wednesday through Sunday for big fun and shot at big bucks.
Coushatta also offers the best in dining and lodging options. For a flavorful steak, visit the Big Sky Steakhouse or for some great Louisiana seafood like gumbos, oysters on the half shell, or fried seafood dishes, Gumbeaux's fits the bill perfectly. With seven more restaurants and bars, there is something for every appetite.
For an overnight or weekend stay, Coushatta has many options. Top of the list is the all-new Grand Hotel. Coushatta's flagship luxury hotel, The Grand Hotel has been completely renovated into an adult- exclusive property reserved for guests ages 21 and up, offering you a relaxing and refreshing escape.You're also connected to the region's largest gaming floor so you don't have far to go to get in on the action. Other options include the fashionable and comfortable suites at
Seven Clans Hotel or the deluxe lakefront RV and chalet resort at Red Shoes Park. For the golf enthusiast, the Koasati Pines golf course is located in the area's natural wetlands surrounded by magnificent pines and huge live oaks and offers a brilliant 18-hole, par 72 layout. And for entertainment, check out national touring acts at The Pavilion as well as live music and dancing at the Mikko Live. Grab a bowl of gumbo and bring your lucky charm!
From the certified loose slot machines to the tables to the eateries to some after-hours fun, Coushatta makes for a great getaway. Load up the golf clubs or just bring some positivity for the casino floor for some fun times. Experience upscale Southern Hospitality and hopefully some big luck follows you to those loose slot machines. For more information, visit www.CoushattaCasinoResort.com.
Southern Comforts
Great gaming and exceptional guest service are the hallmarks of Pearl River Resort
Owned and operated by the Mississippi Band of Choctaw Indians, Pearl River Resort is the South's premier resort destination. Pearl River Resort's portfolio of assets includes Silver Star Hotel & Casino, Golden Moon Hotel & Casino, Dancing Rabbit Golf Club, and Geyser Falls Water Theme Park located in Choctaw, MS, and Bok Homa Casino located in Sandersville, MS. "We are centrally located in the great state of Mississippi and tribally owned by the Mississippi Band of Choctaw Indians. Not only do we have Las Vegas-style gaming, but we also have two state-of-the-art golf courses, great restaurants, Geyser Falls Water Theme Park, and a full- service sportsbook," stated Sonny Johnson, President and CEO for Pearl River Resort. "Pearl River Resort is a spectacular blend of casino thrills, family style fun and dazzling live entertainment with downhome southern hospitality."
The Silver Star and Golden Moon Casinos feature a variety of gaming options, hotel rooms, dining options, retail offerings, conference facilities, live entertainment and a full-service spa. Pearl River Resort also offers the latest first-in-state slot machines, elevated poker room, a stunning video wall, refreshed buffet, updated promenade, and deluxe resort-style pool and lounge, Infinity Pool at Golden Moon.
Golden Moon also houses The Sportsbook at Timeout Lounge which gives fans the opportunity to place wagers on their favorite collegiate or professional sporting events. Mobile Betting, Kiosks and Crystal Betting Terminals are other ways fans can place bets at Pearl River Resort.
During their visit to Pearl River Resort players can also expect a sizeable number of promotions and special giveaways to help make their visit more fun and exciting.
"At Pearl River Resort, we offer our guests the opportunity to participate in a variety of exciting monthly promotions and weekly tournaments including poker, slots and the wildly popular bingo. Luxury car giveaways, cash prizes and vacations are among the great prizes we offer players in our drawings and promotions." Said Johnson.
Need to take a break from gambling and relax for a bit? If golf's your game, you won't be disappointed thanks to the Dancing Rabbit Golf Club which boasts two championship courses. "Not every game at Pearl River Resort involves the spin of a wheel, a roll of the dice or the turn of a card – one involves the swing of a club," said Johnson. "Pearl River Resort has two award-winning, par-72 golf courses: The Azaleas and The Oaks, both from the inventive minds of Tom Fazio and Jerry Pate.
"Our guests can also enjoy shopping at any of our five retail outlets and the Resort features excellent dining options, including our award-winning Phillip M's that won Wine Spectator's Award of Excellence."
According to Johnson, what sets Pearl River Resort apart from other casinos is their promise to deliver the best casino experience for their guests. "It is actually our intimate, easygoing approach to service – above all else – that sets this Resort apart as a truly special place. We focus on building experiences that cannot be easily duplicated."
For more information about Pearl River Resort visit www.pearlriverresort.com.
Top Property:
Seven Feathers Casino Resort The Pacific Northwest's premier casino destination
The Cow Creek Band of Umpqua Tribe of Indians opened the Cow Creek Bingo Hall in 1992 in Canyonville, OR, which is now Seven Feathers Casino Resort. Today, Seven Feathers Casino Resort has over 900 slot machines, table games such as blackjack and pai gow poker, a bingo hall and keno in the 68,000-square-foot gaming area.
In 1997, the larger-than-life bronze eagle, Skookum Hyak, landed at Seven Feathers to grace the main entrance. At over 33 feet high and weighing over 10,000 pounds, it is the largest bronze casting of an eagle in the world!
Seven Feathers Hotel hosts 300 recently remodeled guest rooms, a beautiful guest reception area and lobby, wonderful concierge and valet services, the Kabi Café, the River Rock Spa, an Arcade, Gift Gallery, an impressive business center and FREE shuttle bus service. Truly a wonderful getaway experience to be enjoyed!
Guests with RVs can stay at their nationally recognized, award-winning RV Resort. Free shuttle service means RV guests will never have to miss any of the gaming action or amazing live entertainment.
Seven Feathers Casino Resort ranks in the top 20 of Pacific Northwest properties according to TripAdvisor (based on guest reviews) and is one of the fastest growing destination resorts in the region. It's a place where service is delivered by the friendliest people in a location of out- standing natural beauty and the amenities allow you to enjoy a premier resort experience.
The property offers seven different restaurants, one for every day of the week. Enjoy locally raised beef, reared on tribally owned land, hand selected for the premier K-Bar Steak House. The restaurant pays tribute to their own ranch, K-Bar Rogue River, a unique section of land located at the base of the Table Rocks, along the Rogue River. Experience the best cuts of beef, as well as fresh seafood overflowing with flavor, and delicious vegetables served with local wine from the Umpqua Valley and neighboring regions.
Be sure to try the Gathering Place Buffet. Explore a mouth-watering array of Asian, Italian, Mexican, Mediterranean and classic American dishes. Did someone say seafood? Jackpot! Fill-up on crab legs, oysters and more every Friday night in the Gathering Place.
Sit down with the family for breakfast, lunch and dinner at Cow Creek Restaurant. Cow Creek serves American cuisine in the heart of the casino. For breakfast, think Belgian waffles served with warm syrup, challah French toast prepared with house-made egg bread and finished with a berry medley, & huevos ranchero topped with guacamole and eggs made to order. The lunch menu offers a host of burgers and sandwiches served with a choice of side dish. For dinner treat yourself to a 16oz.grilled ribeye steak, a selection of Italian dishes or international salads.
If burgers and beer are calling your name, Stix Sports Bar has just the ticket. Sample a selection of craft beer paired with non-stop sporting action. Stix's Sous Chef recommends experiencing their Signature Grinder, a classic guest favorite, layered with roast beef, ham, turkey and bacon topped with Swiss and cheddar cheeses, tomato and onion served on a hoagie roll with our zesty bistro sauce, toasted to melted perfection! And be sure to take advantage of the $6 happy hour menu, punching its way into the ring, Monday thru Friday, 4 to 6 p.m.
The fun never stops! Rock out to legendary performers lighting up Exit 99 both inside and out. Seven Feathers has a whole host of events for guests to enjoy including the Tattoo Expo, Bites Blues and Brews Festival, Live Action MMA and stadium acts such as Ron White, Joan Jett & the Blackhearts and Styx.! For more information on all that Seven Feathers Casino Resort has to offer, visit www.sevenfeathers.com.
Wind Creek Hospitality
Tribe dedicated to providing a first-class guest experience
The Poarch Band of Creek Indians is made up of descendants of a segment of the original Creek Nation who once covered almost all of Alabama and Georgia. Unlike many southeastern Indian tribes, the Poarch Creeks were not removed from their tribal lands and have lived together for over 150 years near Atmore, Alabama.
On April 13, 1985, the Poarch Band of Creek Indians opened a 1,500-seat high-stakes bingo hall in rural Escambia County, Alabama. Creek Bingo Palace immediately created 130 jobs in the small town of Atmore. It also set the Poarch Band on a path towards self-sufficiency and improving socio-economic standards.
Now Wind Creek Hospitality is the principal gaming and hospitality entity for the Poarch Band of Creek Indians. Dedicated to providing a first-class guest experience, in just a few short years they have become one of the most respected brands in the gaming industry. Wind Creek's portfolio includes 10 properties located throughout the United States and the Caribbean, with each destination providing a uniquely entertaining escape for guests.
Wind Creek currently owns and operates four Wind Creek branded casino resorts in Alabama and Pennsylvania, along with the Renaissance Aruba and Renaissance Curaçao Resorts & Casinos in the Caribbean. Their portfolio also includes a Greyhound racing facility in Alabama, two pari-mutuel tracks and poker rooms on the Florida panhandle, and the Wa She Shu Casino & Travel Plaza in Nevada. Wind Creek also operates a robust social gaming application, WindCreekCasino.com, which is an extension of their industry-leading customer loyalty program, Wind Creek Rewards.
Wind Creek Rewards Membership is like nothing else. No other casino resorts offer players the same level and variety of rewards just for playing the games they love. Every point you earn brings you closer to amazing dining experiences, incredible getaways and giveaways, luxurious hotel stays, and more. Just some of the benefits of being a Rewards member include:
Participate in drawings, promotions, and special events
5% discount on cash purchases at WStore or Essentials and food and beverage venues
5x bonus points on table play
One discounted three-night stay at any resort
Play online games for FREE
Access to a community manager
Check rewards availability online
Participate in online auctions
Participate in online tournaments
Participate in online drawings
Wind Creek Hospitality is headquartered in Atmore, Alabama, which is home to their flagship property, Wind Creek Casino & Hotel Atmore. Atmore's amenities include a AAA Four-Diamond-rated luxury hotel, world-class spa, gourmet culinary studio, infinity pool, outdoor amphitheater, movie theaters, arcade, yogurt shop, multiple dining venues including the top- rated steakhouse in Alabama, and an RV Park. Of course, Atmore also has great gaming excitement in the casino, which features over 1700 of today's most popular games.
PROPERTY HIGHLIGHTS
With 10 casinos across the US and the Caribbean, Wind Creek Hospitality continues to expand and grow their brand. Here are a few highlights of some of their US properties.
Wind Creek Bethlehem is situated on the site of the historic Bethlehem Steel plant in Bethlehem, PA. This one-of-a-kind casino and resort destination features hundreds of tables, plus slots, dining, shopping, entertainment, and more.
Wind Creek Montgomery is Memphis in Montgomery, AL; where Beale Street Blues meets honky-tonk swag, with great southern cuisine served on the side.
Wind Creek Wetumpka is the Las Vegas of the South, a AAA Four- Diamond resort destination with world-class gaming, entertainment and dining in Alabama.
For a list of all locations and more information on all that Wind Creek Hospitality has to offer, visit www.windcreekhospitality.com.