The Good, the Bad & the Ugly
Shining a light on some great (and not so great) blackjack games around the country
By Henry Tamburin
I have several reporters who visit casinos in different areas of the U.S. and then file reports on the blackjack playing conditions, which are published in my Blackjack Insider e-Newsletter. Based on these reports plus information I glean from Current Blackjack News (www.bj21.com), and comments I receive from players, here are some tips on where you will find some good (and bad) blackjack games.
Gulf Coast region
The big news in Mississippi was the opening of Jimmy Buffet's beached-themed Margaritaville Casino & Resort in Biloxi. According to a report filed by Riverboat Flyer (www.bjinsider.com, August issue), the rules specify that dealers stand on soft 17 (s17) on all their blackjack games. This is a pleasant surprise because most of the blackjack games in this area have changed from s17 to h17. (The house edge is lower by 0.22% when the rules are s17 compared to h17.)
Margaritaville has two-, four-, and six-deck blackjack games, with modest betting limits of $5 and $10 up to $500 (good for players with a limited bankroll). According to Riverboat Flyer, "The casino is fun and relaxing. They play feel-good music, with words that you can understand. Of course, everything is new and clean. There are no cigarette burns in the table felt or sticking buttons on the machines. The employees are eager to please and they leave a good impression."
The facility features a buffet, the sit-down Margaritavlle Restaurant, the Landmark Landing, where you can dock your boat, and an outdoor area for entertainment and dancing. Riverboat Flyer adds, "The casino doesn't have a Player's Club booth location, instead you see casino staff equipped with iPhones and they can sign you up for their players promotion club very quickly." Thumbs up to Margaritaville for offering s17 on all their blackjack tables, and for eliminating the long lines at Player's Club booths.
NY State

A disgruntled blackjack player emailed me about an incident that happened to him at the Turning Stone casino. He decided to play the casino's double-deck game, and when he attempted to double down after splitting a pair (das), the dealer told him he couldn't because of "house rules." The agitated player spoke to a supervisor about the fact that the casino doesn't post their playing rules on the tables (if he knew DAS was not allowed in their double-deck game, even though it is allowed on their six- and eight-deck games, he wouldn't have sat down and played).
By not allowing players to double down after splitting, the house advantage against a player in a double-deck game with das increases from
0.19% to 0.32%. Thumbs down to Turning Stone for not posting their playing rules, and for not allowing das on their double-deck game.
Pennsylvania Casinos

I've received good reports from players, and from my Pennsylvania BJI reporter Mark Gruetze, on the blackjack playing conditions there. The state's Gaming Control Board has mandated that all casinos must offer blackjack games with s17, das, and ls (late surrender). This is an excellent game for blackjack players, with a
0.33% house edge against a basic strategy player. Furthermore, the Gaming Control Board recently proposed to allow double-deck pitch games with the same rules. Thumbs up to the Pennsylvania Commission for offering a player-friendly blackjack game to their players.
Barona Casino

Last year, I rated the single-deck game at Barona casino (San Diego) as the best blackjack game in the country (2011 May issue Casino Player). The reason was the liberal playing rules, which included h17, das, ls, rsa, with a 3-2 payoff for a blackjack. This game gave the basic strategy player a tiny edge over the casino without card counting. Unfortunately, this great single-deck game was replaced with the lousy single-deck SuperFun 21 game with h17 (house edge 0.94%). Thumbs down to Barona.
Las Vegas

It's no secret that the big-name casinos on the Strip have some of the worse blackjack games for recreational players. Just about all of them have single-deck blackjack games where the payoff for a blackjack is reduced from 3-2 to 6-5 (which increases the house edge to a ridiculous 1.4%).
As bad as this is, some greedy casino managers have upped the ante on bad games by paying 6-5 on their multi-deck games. Depending upon the number of decks, this increases the house edge even more, up to 1.78% to 2.04% (the greater the number of decks, the greater the house edge). According to the July issue of Current Blackjack News, 14 casinos on (or just off) the Strip, and another four casinos downtown, offer 6-5 multi-deck games. So before you sit down and play blackjack in Las Vegas, make sure you know what the payoff is for a blackjack (if it's 6-5, say "Adios").
Then there are the new "party pits" that you'll find in many Las Vegas casinos. Many feature scantily clad, well-endowed, female dealers (you get lots of cleavage with your cards), who deal the cards with loud rock music playing in the background. This eye candy comes at a cost—these are some of the worst blackjack games you'll encounter. (The pits often have names, such as Wicked 21, Fetish Pit, and Hell's Belles.)
According to BJI contributing writer Stu D Hoss (August issue BJI), Caesars Palace has recently taken the party pit to a new level with their Pussy Cats pit, featuring go-go dancers in cages with blaring music. Hoss states, "This pit features arguably some of the worst blackjack games you will ever see. Nine of the twelve tables in the pit are six-deck games that pay only 6-5, dealers hit soft 17, players can double down on only 10 and 11, and double after splits is not allowed." Ouch!
One final caveat: Playing conditions in casinos often change. You can stay current by subscribing to the Blackjack Insider Newsletter (www.bjinsider.com), Current Blackjack News (www.bj21.com), or viewing the Las Vegas Blackjack Survey on www.wizardofvegas.com. (Note: For a limited time, you can get a free three-month trial subscription to the BJI by going to www.bjinsider.com/trial.)
Tamburin's Tip of the Month
How Would You Play This Hand?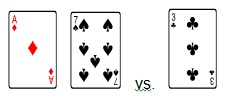 If you stood on your 18 in a typical 6-deck, s17, das game, you would win 57.5% of the resolved hands. If you doubled down, you would win only 54.5% of them. (That's because if your single draw card is a 4 through 9, you'd wind up with a hand worse than 18. So nine cards make your hand worse, only three cards, the ace, 2, and 3, make it better, and the four tens give you the same result.) Even though you win slightly fewer hands, doubling down is the preferred strategy because you'll win more money by winning 54.5% of the time on a doubled bet compared to 57.5% of the time on a single bet. The next time you are dealt a two-card soft 18 and the dealer shows a 3, make the right play and double down.